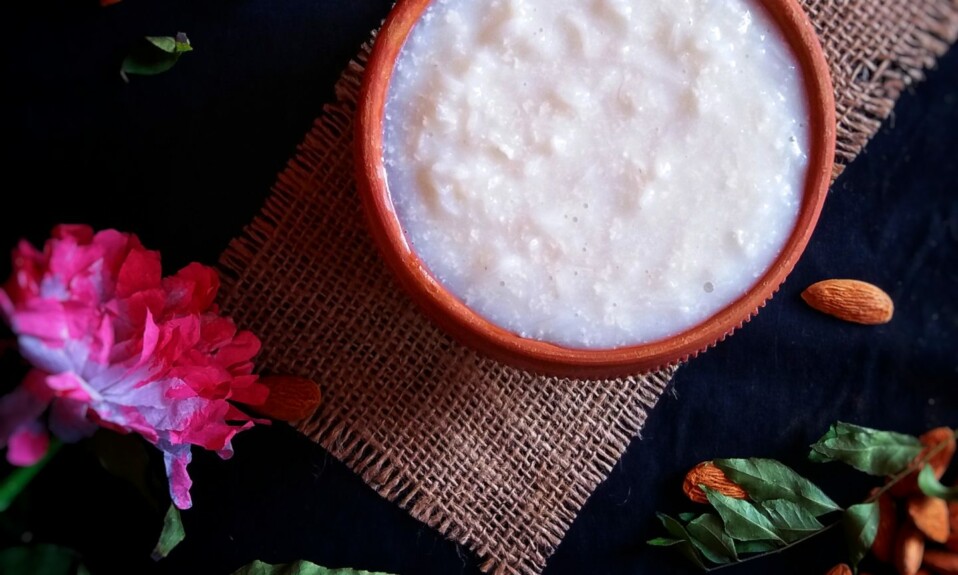 curd rice recipe with step by step photos. Curd rice is a popular South Indian rice dish that is generally made with precooked rice, curd, and tempered spices. And it is served with papad, pickles, onions, etc. But here, I'll show you something different from the regular one. This curd rice is made with rice, yogurt, sugar, and a bit of salt. Basically, this is a sweet dish and very nutritious for toddlers. This is also known as dahi chawal. In South India, curd rice is made as prasad during pooja. And distributed in between all worshippers who come there to worship.
What is curd rice ?
Curd rice is made with precooked rice with curd and some tempered spices. First, you need to cook rice with some salt then set aside to cool down. Add curd and mix well. Prepare some tempering with curry leaves, green chili, mustard seeds, and some gram or yellow dal. Pour the tempering over curd rice and serve it with pickle. This method is the traditional one. You can also make this.
Now my version of sweet dahi chawal. First, wash the rice then add curd. Mix well and cook for 30 minutes or until the rice is mashy. Then add sugar and salt, cook for more than 3 minutes. And it is ready to serve. In this recipe, you do not need any tempering. It is very healthy and nutritious for toddlers. You can give this curd rice 2 to 3 times a week. In this recipe, we are using curd which also helps in digestion or provides a soothing effect during summer.
Tips & Suggestions
Rice: Use fresh rice or freshly cooked rice. Here we are using basmati rice. Avoid using leftover rice because it is unhealthy to eat such rice that contains bacteria. You can also use brown rice.
Curd: Use fresh curd for nice flavor. I don't like sour curd. If you like then you can use sour curd too.
Sugar : Balance the quantity of sugar as per your taste. Or if you are making savoury rice then avoid adding sugar and follow the next step.
Some other sweet recipe on this blog…..
INGREDIENTS
1 handfull basmati rice
600 to 700 ml curd
50 ml water
3 to 4 tablespoon sugar
1/2 teaspoon salt
40 ml milk
| | |
| --- | --- |
| Total time | 30 to 35 minutes |
| servings | 3 to 4 |
How to make sweet curd rice
Take some rice and wash them a few times.
Whisk the curd well with the help of whisker. Or with any spoon.
Add rice directly with curd and mix it. I prefer this method because the rice absorb the flavour of curd well.
Now cook on medium flame for 5 minutes and stir it continuously. Then on low flame cook until the rice is completely cooked or mashy in texture.
Cook on high flame for 4 minutes.
when rice completely cooked then mashy it little bit with masher.
Add salt in it.
Add sugar. And cook for 3 minutes on medium flame. Do not worry about curddled curd. Allow it to come at room temperature then add milk and serve it.
You can store it in refrigerator and enjoy chilled curd rice. Or if you are making savoury then in last add tempering over rice and avoid milk and sugar. Otherwise, all the process is same.