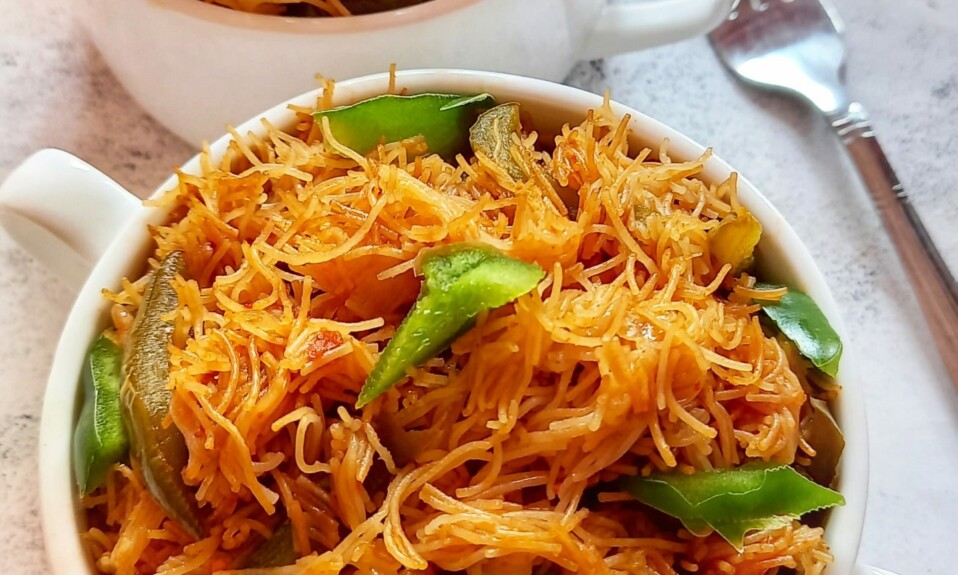 Chinese style vermicelli upma | Semiya upma | Learn how to make semiya upma in Chinese style with step-by-step photos and video. Chinses style semiya upma is a breakfast recipe that is made with vermicelli. You can make them Chinese by adding some capsicum, onions, soy sauce, vinegar, tomato sauce, etc. Serve this with some ketchup on top and it tastes delicious. You can also make this upma for your kid's lunch box. And if you are using pre-roasted vermicelli for this recipe, it takes only 5 to 8 minutes. So it is a quick and delicious recipe that you can make in hurry. And you can also add other veggies as well. and it will be loved by your kids.
What is upma?
Upma is a popular south Indian breakfast recipe that is made with semolina, curry leaves, salt, chilis, peanuts, onions, and potatoes. And this is also a quick and healthy breakfast recipe. you can also have different veggies and nuts in your Rava upma. Now, you can get a lot more different varieties of upma like semiya upma, quinoa upma, veggie upma, etc.
How to choose vermicelli?
You can use thin or thick vermicelli. If possible, always use thick vermicelli for upma. But you can also use thin as I use here. And the most important thing is that, use the right amount of water for cooking vermicelli. If you add too much water, it becomes soggy and mushy. That's why always read the packet instruction for this. Or you can go with this method that I use here? Water quantity depends on the thickness or size of your vermicelli. So first add some water then add more if requires. When you see the vermicelli is covered by water. It is the perfect measurement for cooking semiya.
some other recipes from this blog…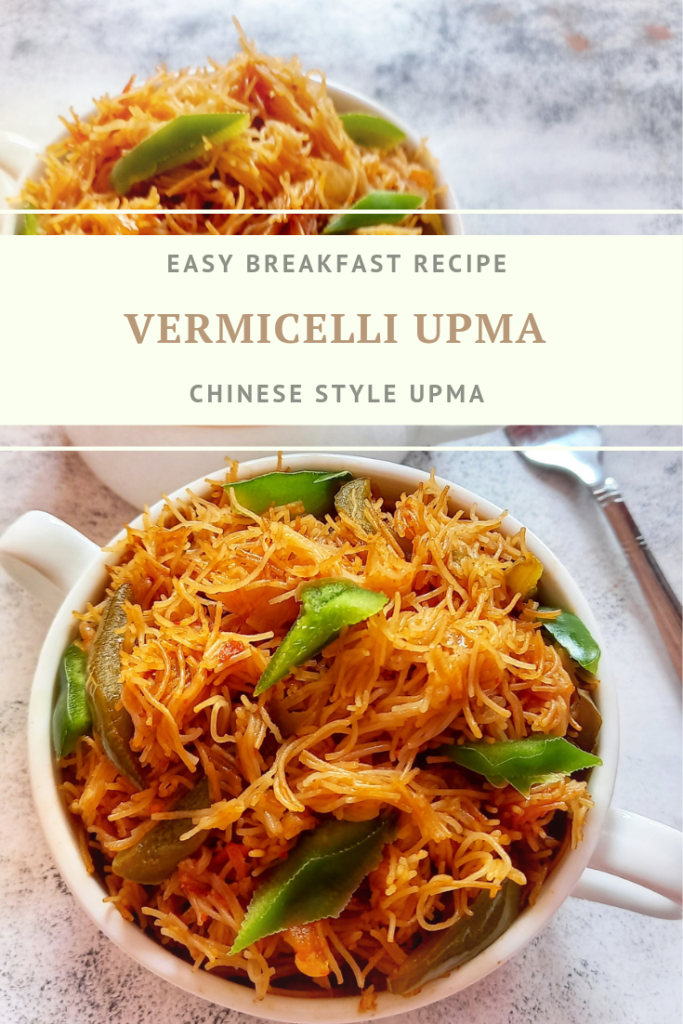 INGREDIENTS
1 to 2 cup of vermicelli
2 to 3 tbsp oil
1 chopped onion
1 tbsp crushed garlic
1 chopped tomato
½ tbsp salt
½ chopped capsicum
1 tbsp red chili powder
1 tbsp vinegar
1 tbsp soy sauce
5 to 6 tbsp tomato ketchup
250 to 270 ml water(as required)
How to make chinese style semiya Upma?
First take a pan, add semiya. Now dry roast them on medium to high flame. Keep stirring. When it turns golden in color, turn off the heat.
Take another pan. Add some oil and heat it for 30 seconds. Then add chopped onions and garlic. Cook them until it turns golden in color. After that add tomato. Add salt. Cook them until it turns mushy.
Add red chili powder. add capsicum.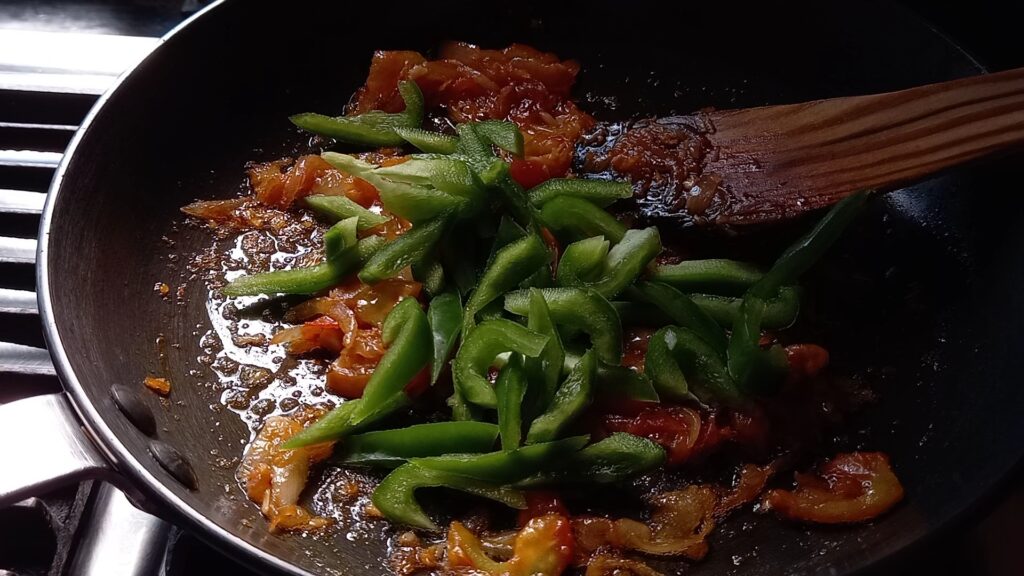 Sauté it for 20 to 30 seconds. Then add sauce, soya sauce, vinegar. Mix well and cook for 30 to 40 seconds on low flame.
Add dry roasted vermicelli. Mix them well with the sauce.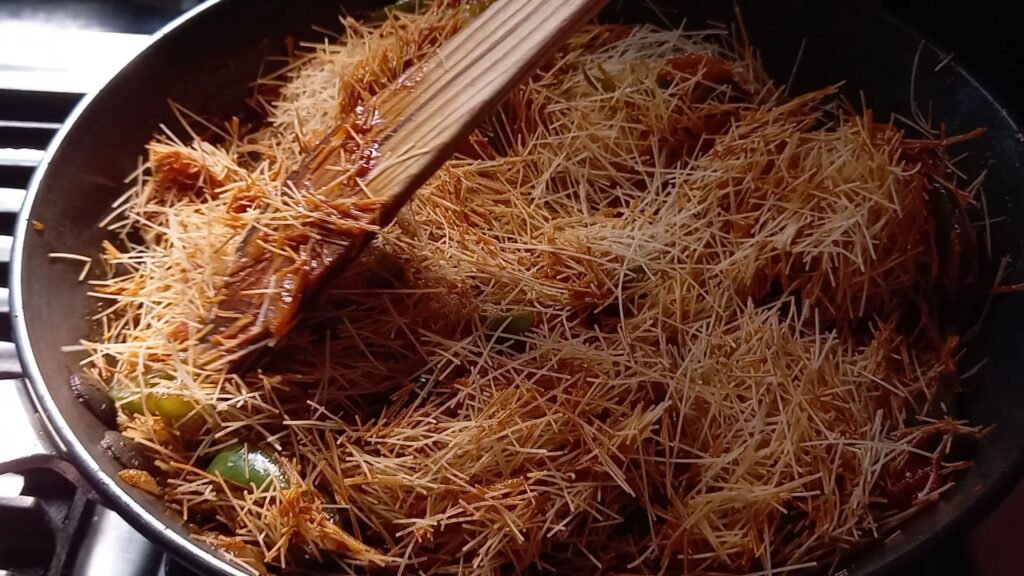 Then add water.
Cover the pan with lead and cook them for 10 to 12 minutes on low flame.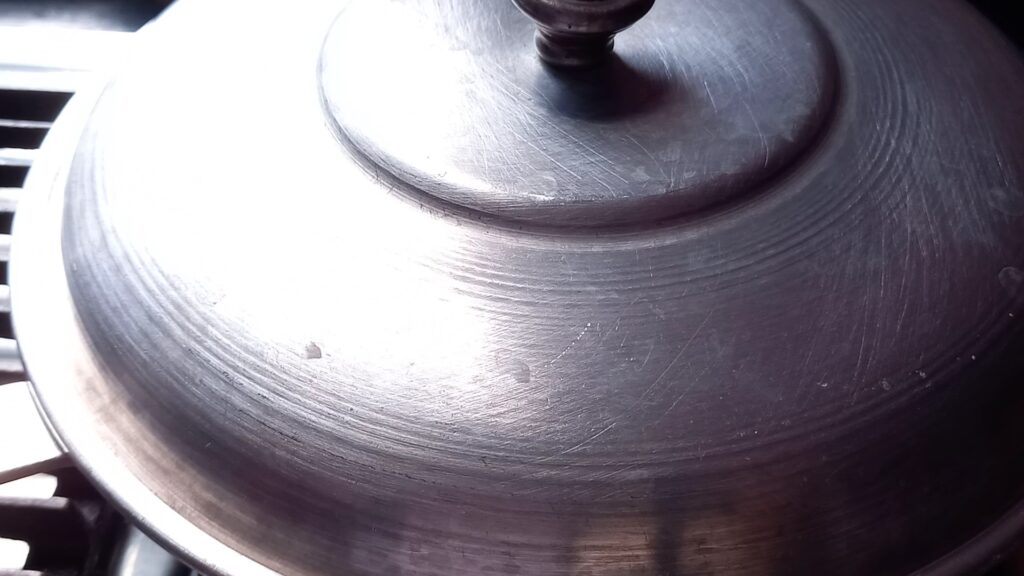 After 12 minutes, water is absorbed by vermicelli. If not cook for more.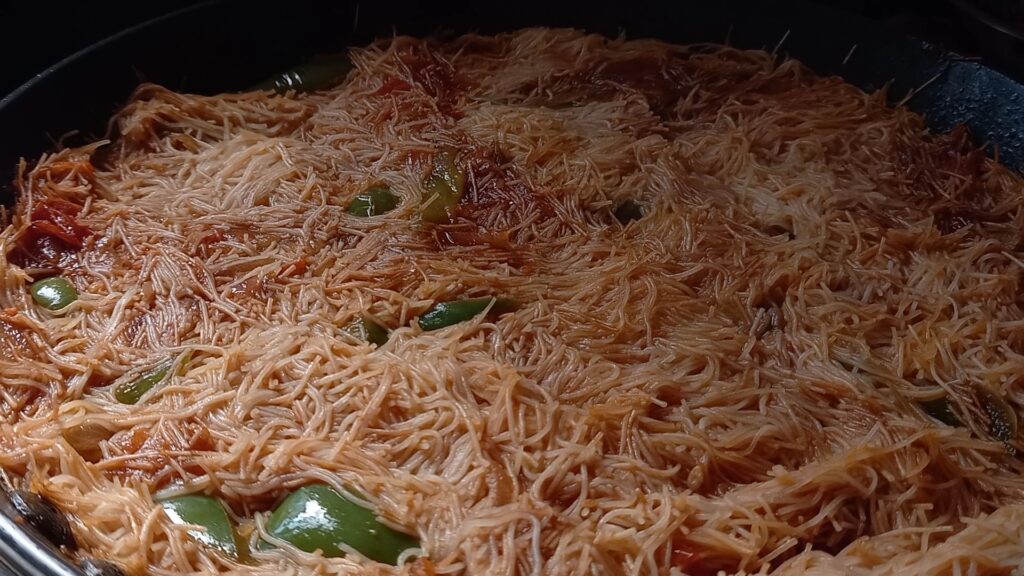 Now turn off the heat and again cover it for 5 to 6 minutes. After that mix them well serve with some tomato ketchup. You can adjust the salt, sauce, and chili as per your tastes.