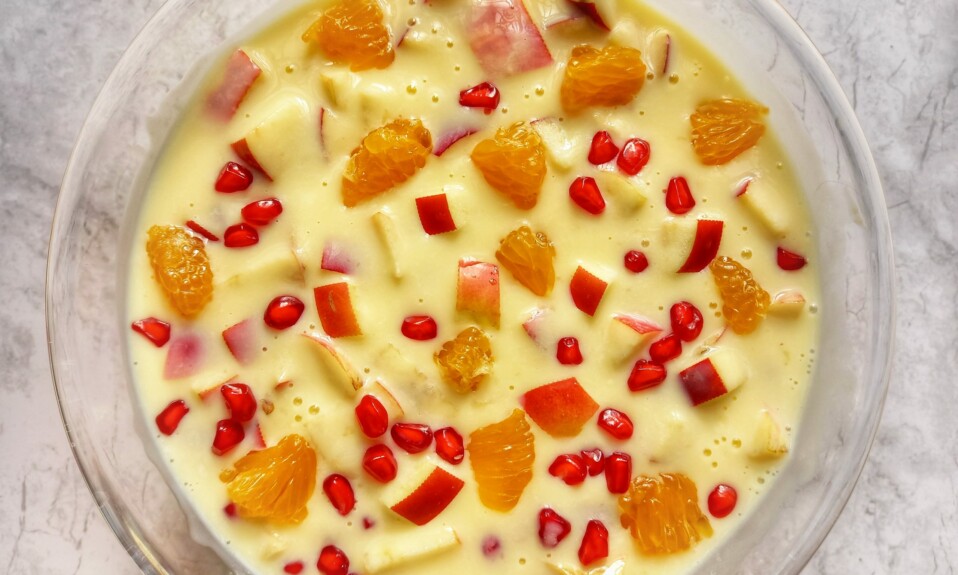 Fruit custard | Vanilla custard | Eggless custard with fruits | Learn how to make eggless fruit custard with step-by-step photos and video. Fruit custard is a delicious and eggless recipe that is made with custard powder, milk, sugar. In this plain vanilla custard, you can add your favorite fruits. You can also make this custard without fruits. And serve this dessert chilled. So you can make this dessert either in summer or winter. You can also make this custard recipe for any type of house party because it is very easy to make. And it takes only 5 to 10 minutes. You can store this custard base for 1 to 2 days in the fridge. That's why it is perfect for any occasion.
Fruit Custard
Fruit custard is made with custard powder and milk. First, you have to make the pudding then chill the custard. After that add chopped seasonal fruits. That's it, it is ready. But traditionally, the custard is made with egg, cream, and milk. So this is the vegetarian version and in Indian cuisine, we always go with this one.
Custard Powder
You can use any type of custard powder. so choose the best brand and go with that. Here I use vanilla flavor. But you can also use banana, strawberry, pistachio, Kesar, lemon, flavor. And it is easily available in any grocery market. Choose your favorite one and use it.
How to make custard without custard powder?
If you do not want to use custard powder or it is not available. So in the place of custard powder, you can use corn starch/arrowroot. The quantity and making process in same. You just have to incorporate flavor in your custard. And the store-bought custard powder is also made with corn starch. So you can use anything.
Some other recipes from this blog…
INGREDIENTS
4 to 5 tbsp vanilla custard powder
700 to 800 ml milk
2 tbsp water
4 tbsp suagr
Some seasonal fruits
How to make fruit custard?
First, take a bowl. Add custard powder.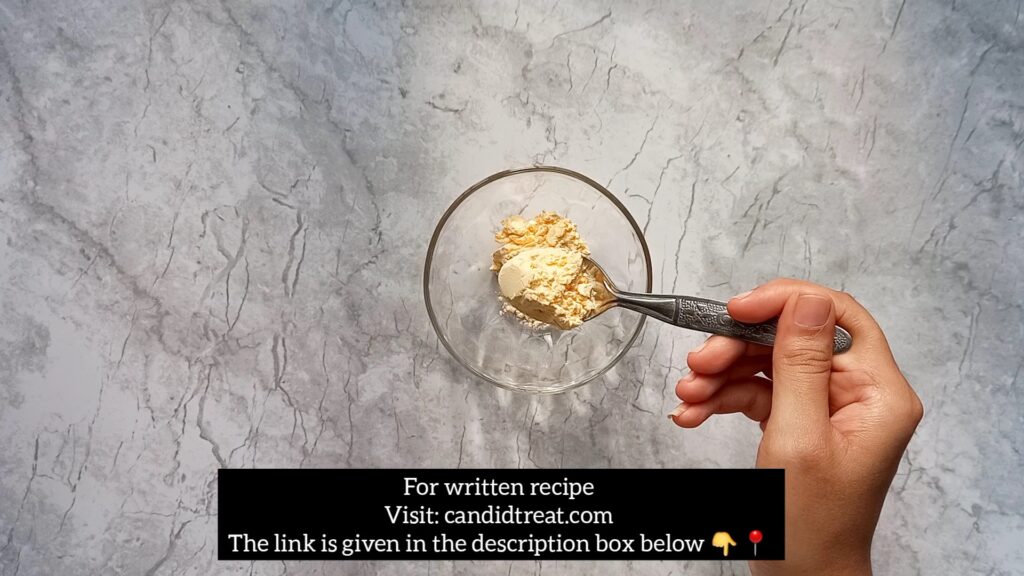 Add 2 tbsp water. Mix well.
Now take a saucepan or pan. Boil some milk on high flame. Then turn the flame on low. Add sugar. Mix well.
Then add the custard powder. Make sure to pour the custard on low flame and stir the milk continuously. Do not stop your hand at this time.
After that stir the milk on medium to high flame. And cook them for 3 to 4 minutes until it turns thick. Here, if your custard is thin in consistency add more powder and mix them in the milk. Or if your custard looks thick, add more milk and mix well. We do not want too thick or thin consistency. After 3 to 4 minutes, turn off the heat. And leave it to cool down. You can keep them in the fridge to chill.
When it is completely chilled, chop some fruits into small cubes. And mix them in the custard.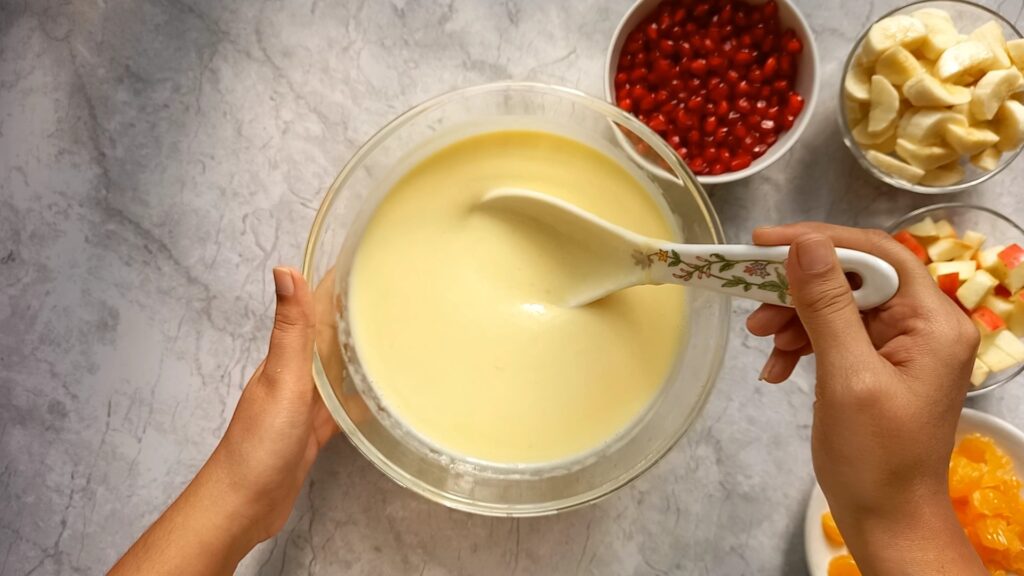 Here I used orange pulp, apples, bananas, pomegranate seeds. You can also add kiwi, strawberry, grapes, blueberry, mangoes, etc.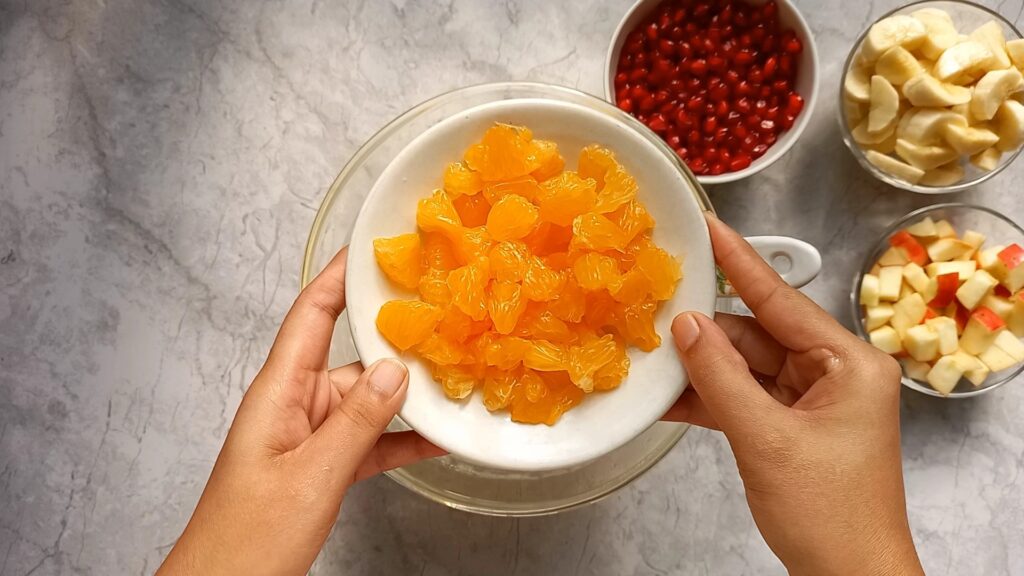 One most important thing is that always add fruits at the time of serving. Do not add them before serving. So you can store the plain vanilla custard base for 1 to 2 days in the fridge.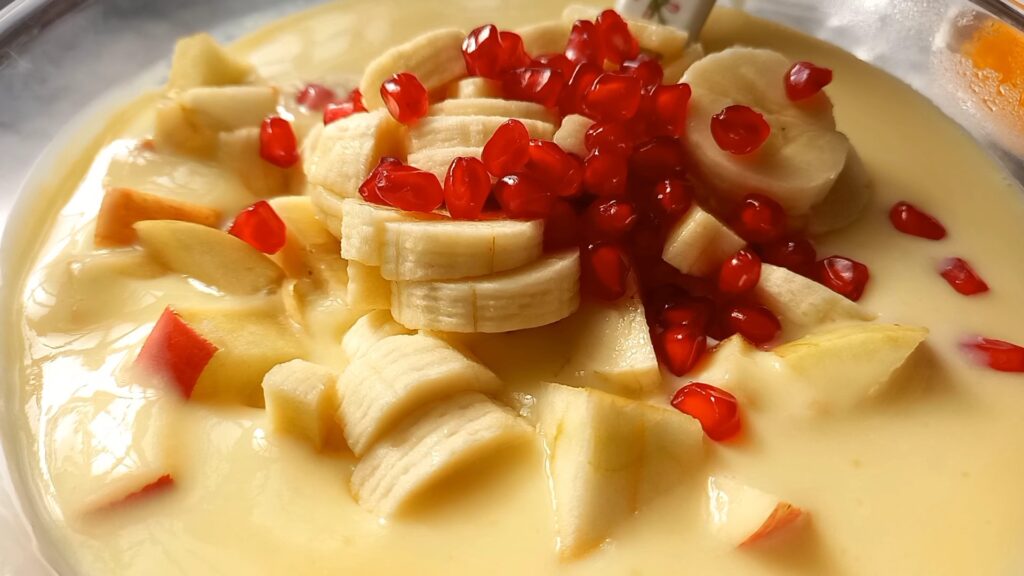 Fruit custard is ready to serve.