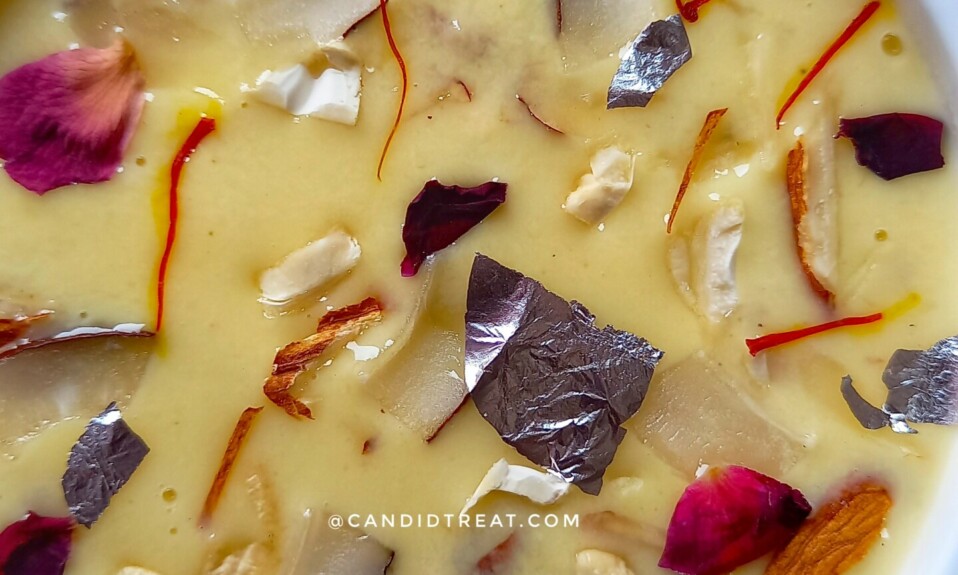 Basundi Recipe | Learn how to make this delicious basundi at home with step-by-step photos and videos. Basundi is a traditional Indian dessert recipe from West India. It is very popular in Maharashtra and Gujrat. Basundi is a rich and creamy milk-based dessert flavored with some spices, and nuts.
Traditionally, it is made during festivals like Diwali, and Gudi pawda. But you can make this recipe to celebrate any special occasion. And you can also prepare this dessert a day before any occasion. Today I am using saffron and some nuts to flavor my basundi.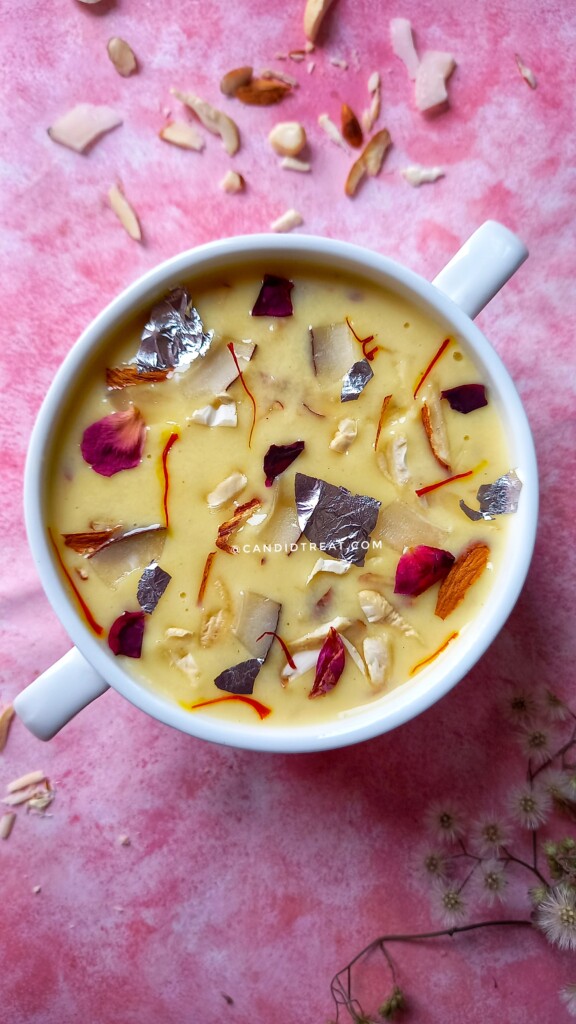 Basundi is made with milk. You have to simmer the milk on low flame for hours to reduce. Then add some flavorings like Kesar, cardamom, and sugar. But if you are in hurry and want to make this in a jiffy, reduce the milk on medium to high flame until it turns a little bit thick. Just a problem with the fast method is that you have to continuously stir the milk.
Basudi is very similar to rabari, but rabari has a thick pudding-like texture. And basundi has a smooth and thin texture. Now let's start the recipe…
Indian dessert recipes
RECIPE VIDEO
INGREDIENTS
1 liter of full fat milk
1 tsp saffron
1/2 tsp green cardamom powder
2 tbsp sugar
chopped nuts(almonds, cashews, dry coconut, pistachio)
Method of making Basundi
First, take 1 liter of milk. Here you can also add more milk if you want to make this for more. In 1 liter of milk, you can serve this for 2 to 3 people. Now boil the milk on a high flame. After one boil, add saffron.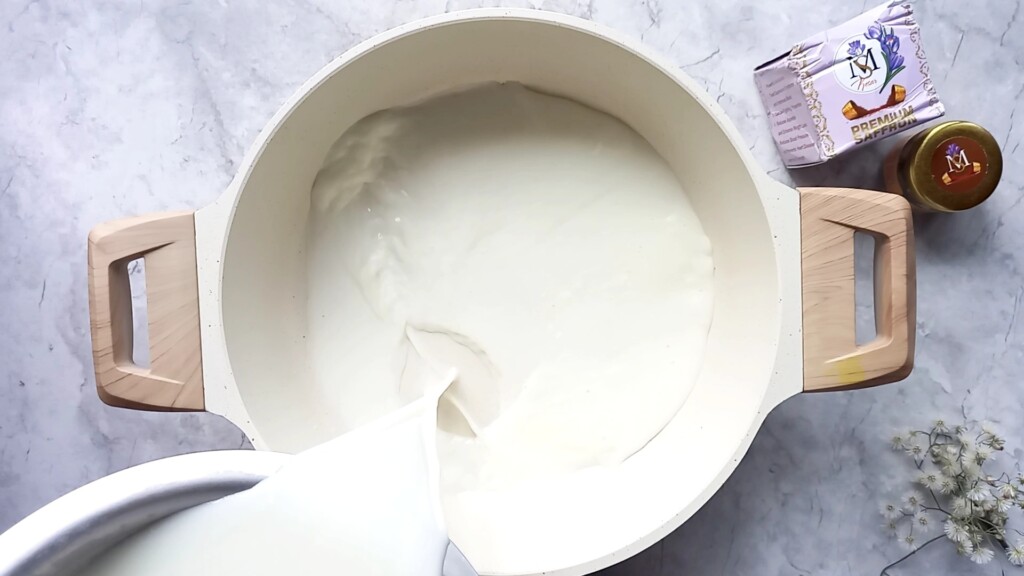 Cook the milk on medium to high flame and continuously stir the milk. You have to reduce the milk to almost 400 to 500 ml. After that, add cardamom and sugar.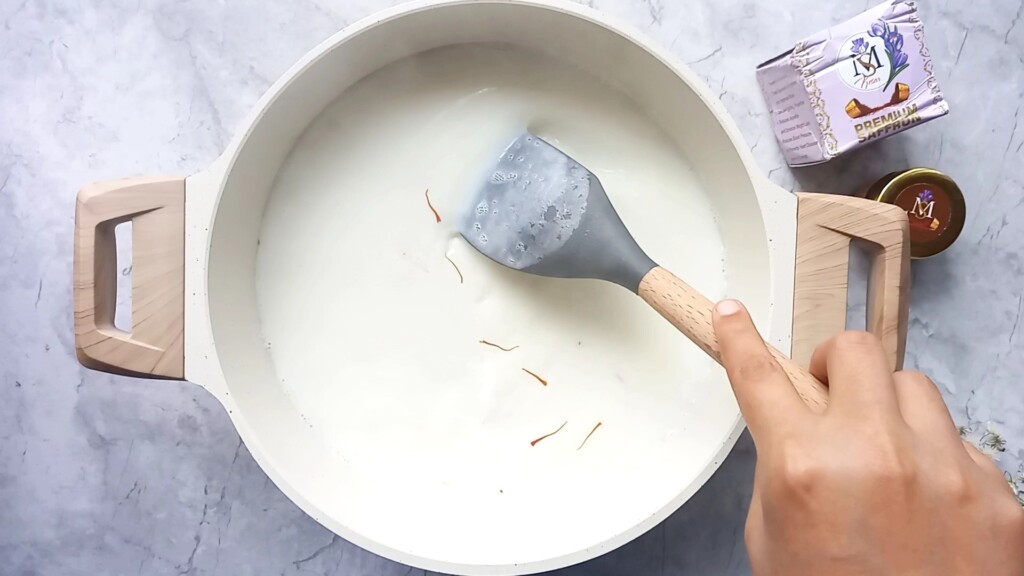 Add nuts. Mix it and cook for another 2 to 3 minutes. Then turn off the heat and allow it to cool down. Keep them in the fridge.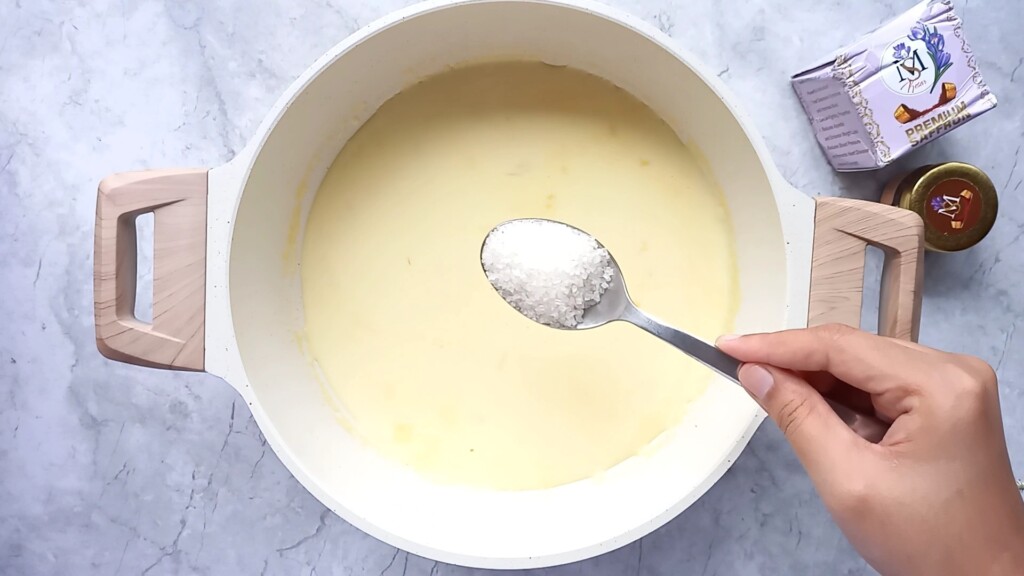 Serve it chilled. Basundi is ready to serve.