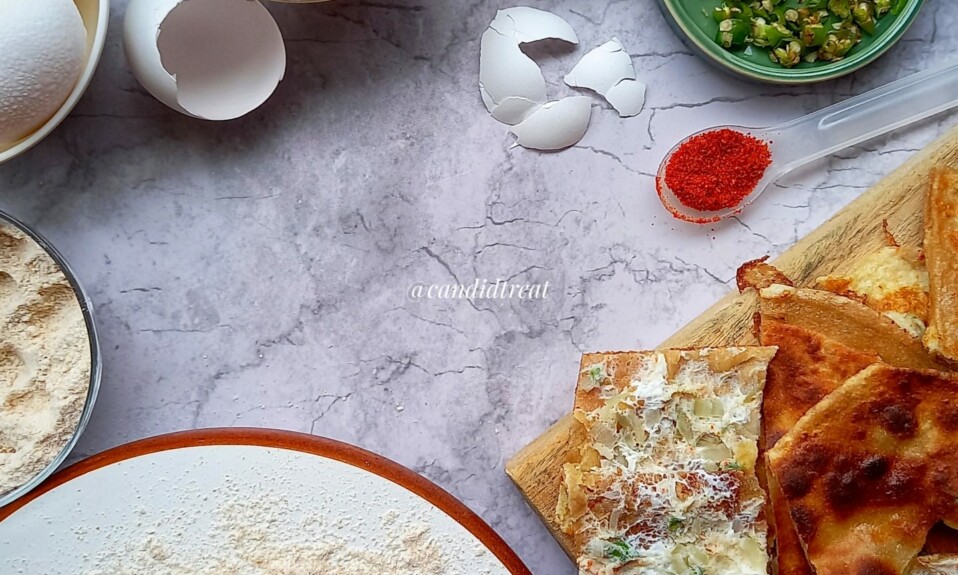 Egg paratha recipe | Anda paratha recipe | Learn how to make egg paratha with step-by-step photos and video. Egg paratha is very simple to make. You can make this paratha for breakfast, lunch, brunch, or even for dinner. Egg paratha is a protein-rich, healthy, and tasty recipe. It is also loved by kids very much. For this recipe, you can use readymade paratha. However, I have also made the basic paratha recipe in this post. So you can go with this because it is very easy to make.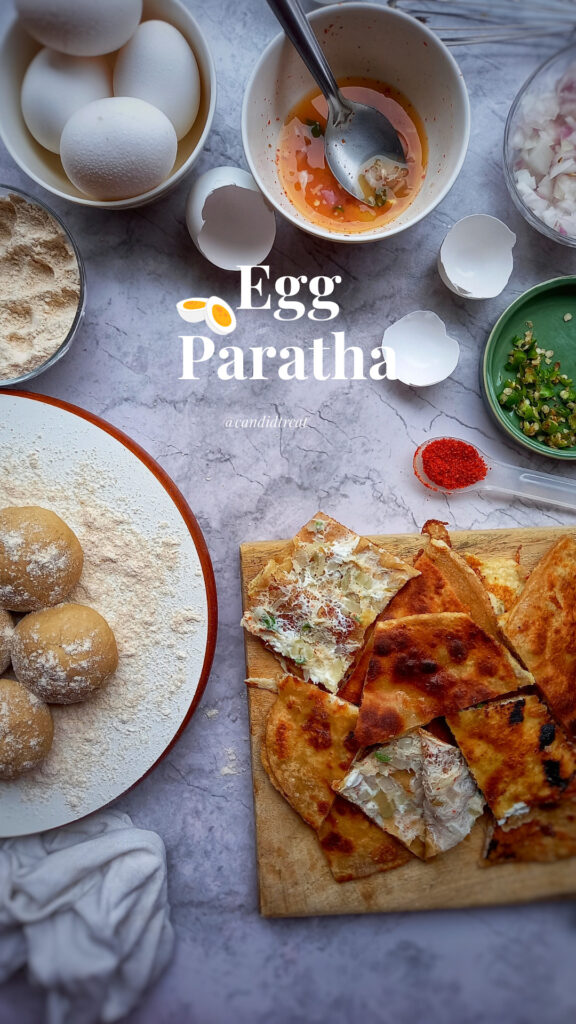 Egg Paratha/Anda Paratha
Egg paratha is a perfect breakfast or brunch recipe for all egg lovers. Or because it is a protein-rich and delicious recipe. for this recipe, we use a whole wheat flatbread that is also called paratha in Indian cuisine. you can pair this with a cup of tea. I love eggs so much that I can eat this for my breakfast, lunch, or dinner. So you can make this whenever you want to eat. And it is also a very popular street food in India. You can get these parathas almost in every stall during winter. These egg parathas are tasty, crispy, scrumptious, and so full filling.
Try some other recipes from this blog…
INGREDIENTS
1 or 2 cups of wheat flour
Water as required for kneading
1 to 2 eggs (2 eggs per 2 parathas)
1 chopped onions (2 to 3 tbsp per 2 parathas)
3 chopped green chilies
½ teaspoon salt
½ teaspoon red chili powder
Some chopped coriander leaves
Oil for toasting
How to make egg paratha?
First, take a bowl, add wheat flour. You can adjust the quantity as per your preference.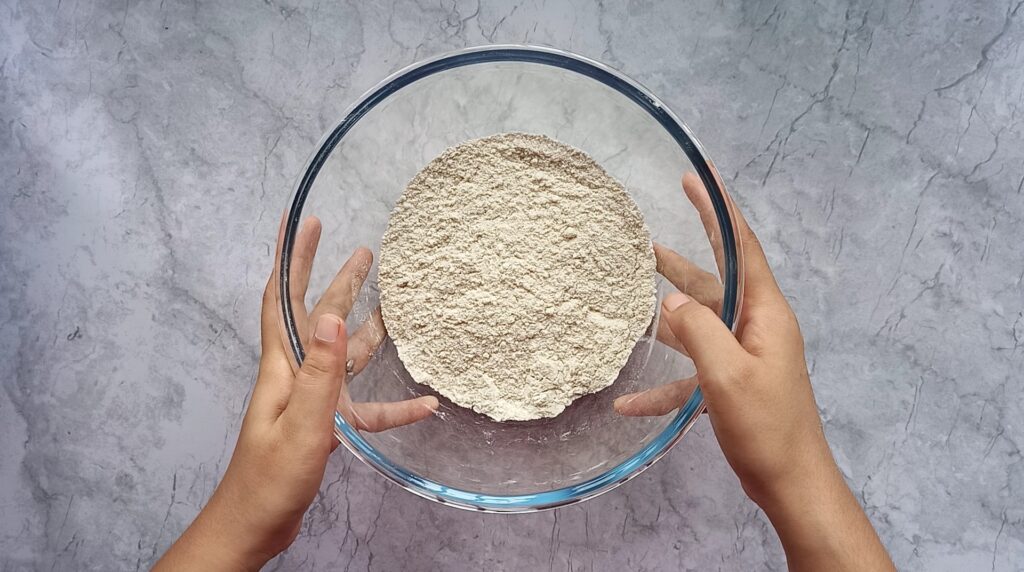 Then add water in batches.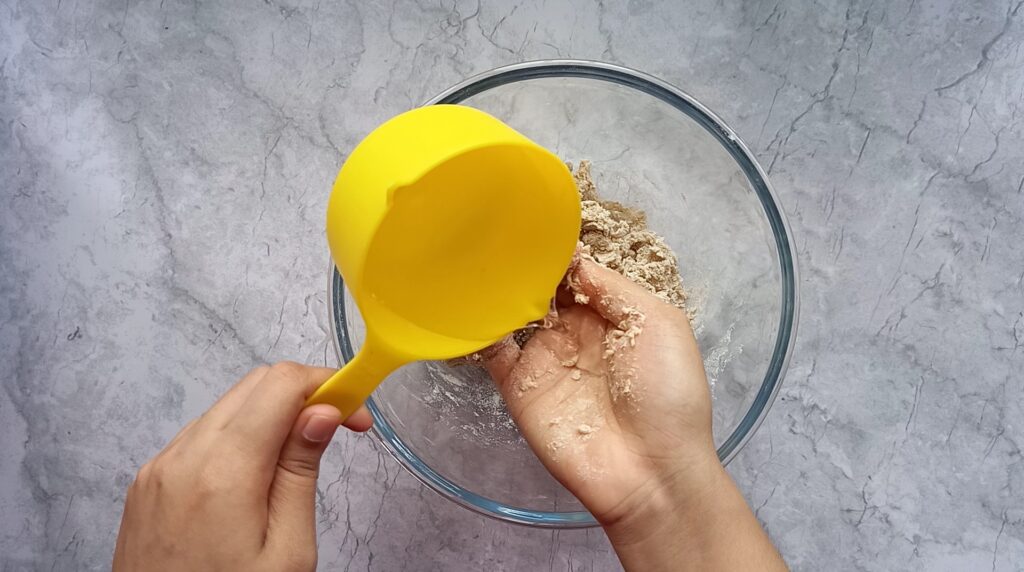 Knead a soft dough. It is a normal roti dough that we make on regular basis.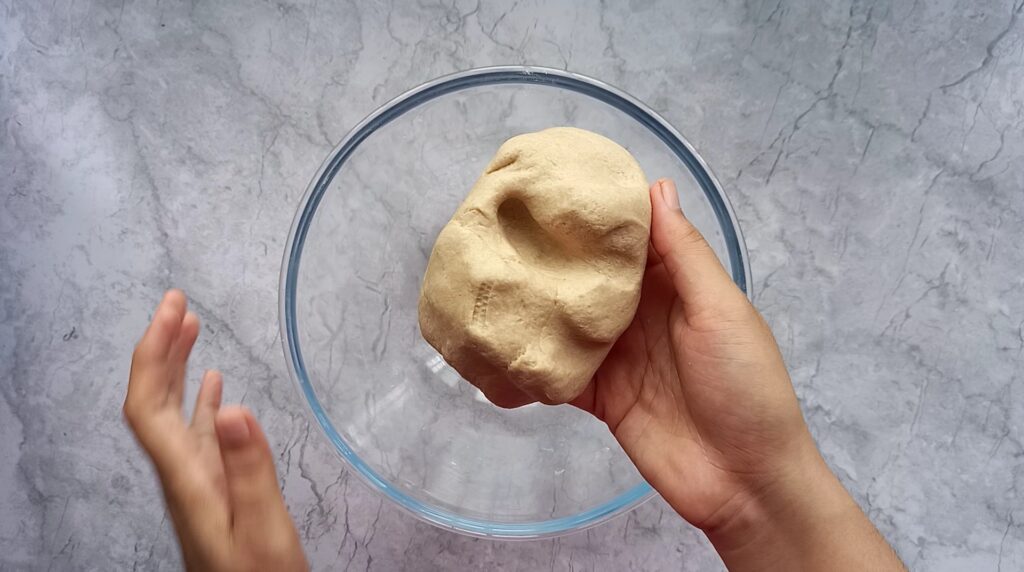 For stuffing, take a bowl. Add 2 to 3 tbsp chopped onions. Add 1 tbsp chopped green chilies.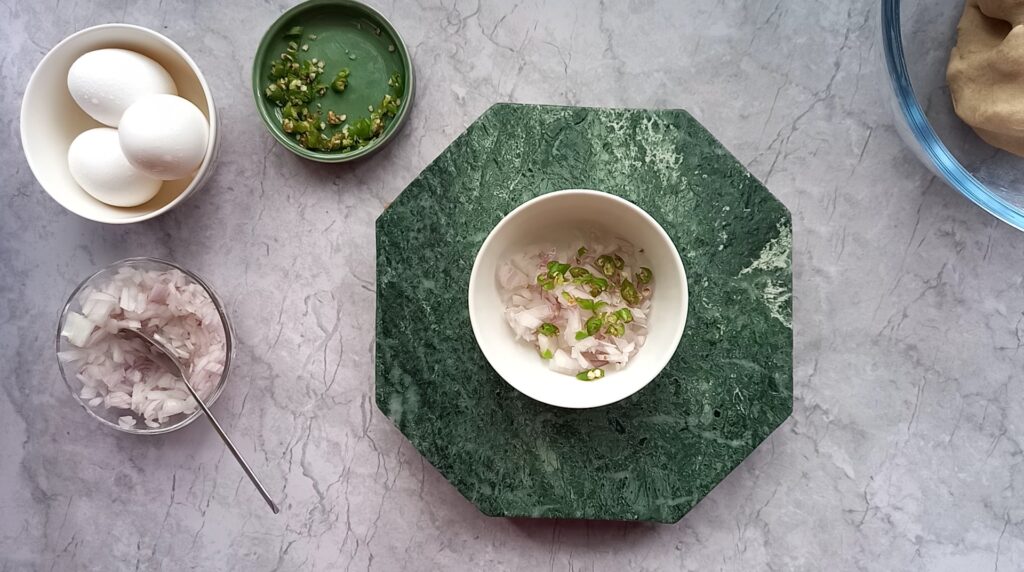 Add 2 eggs. this filling is for 2 parathas.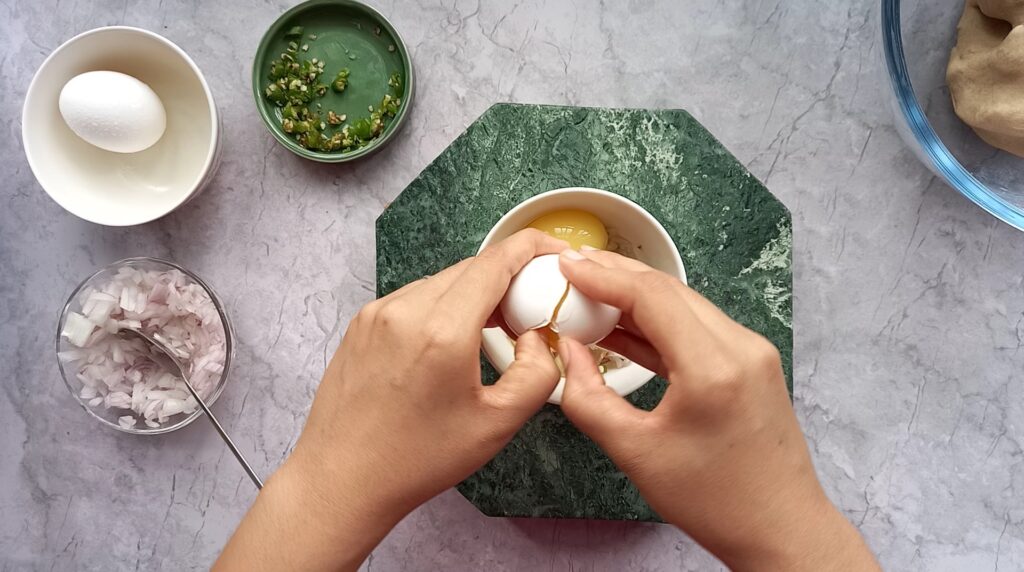 Add salt as required.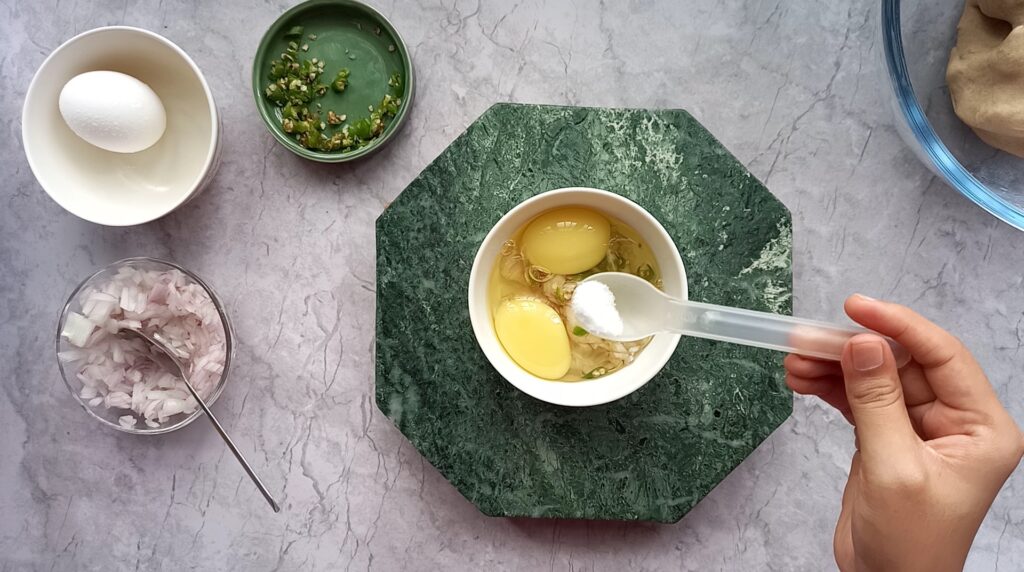 Add red chili powder.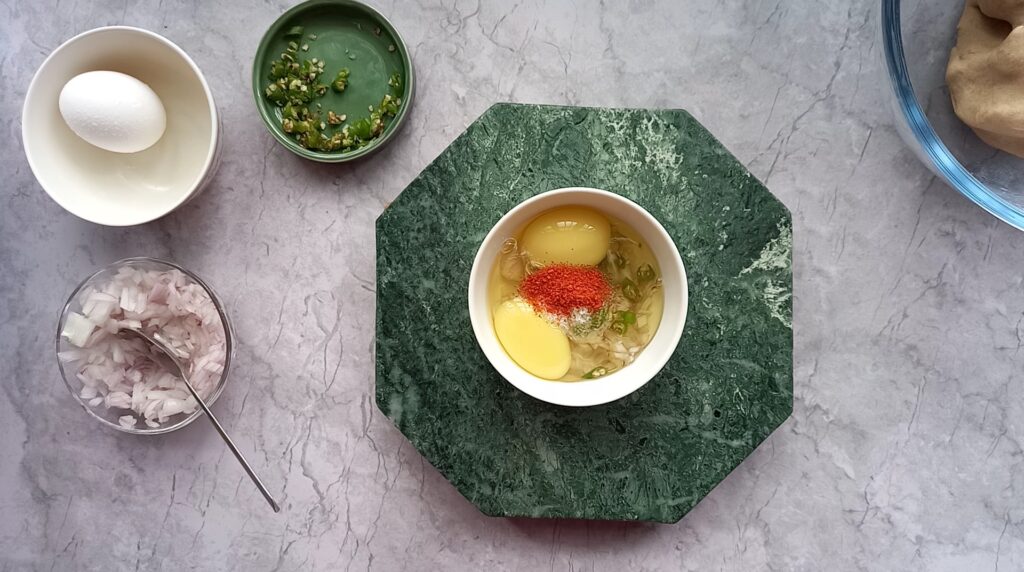 Mix them well and keep them aside.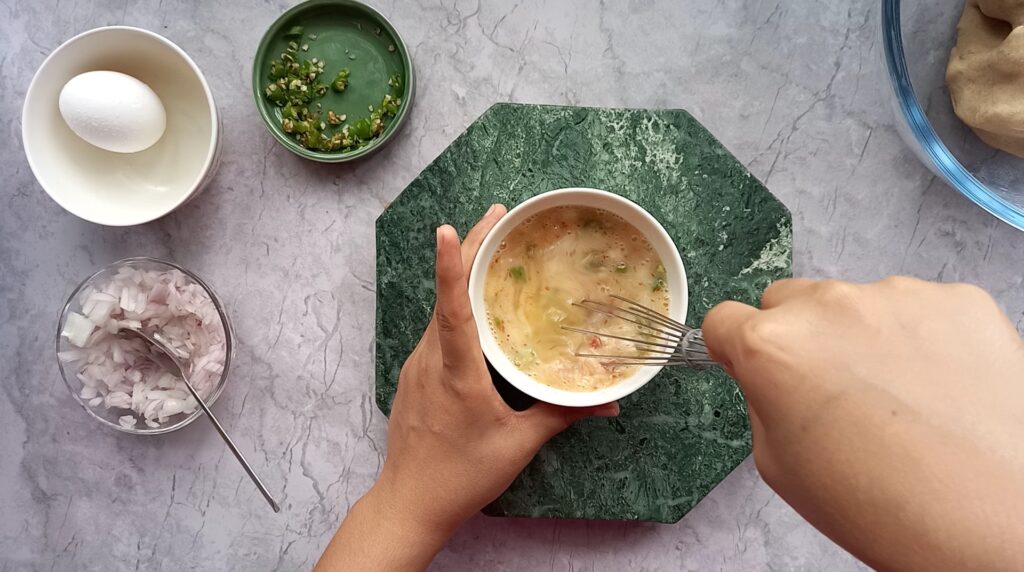 Now, sprinkle some flour on the surface. Take a medium-sized dough.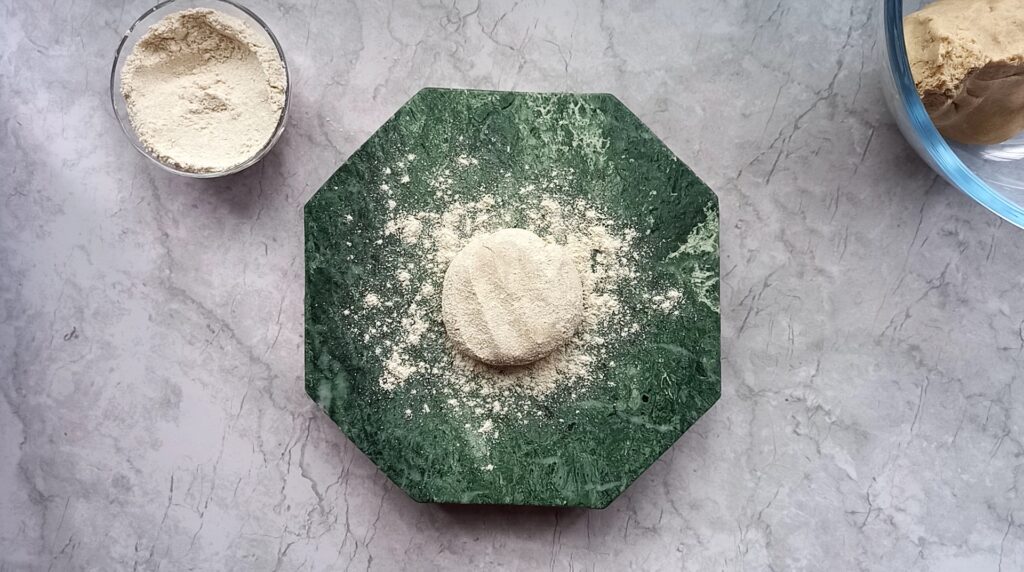 And roll it in a circle.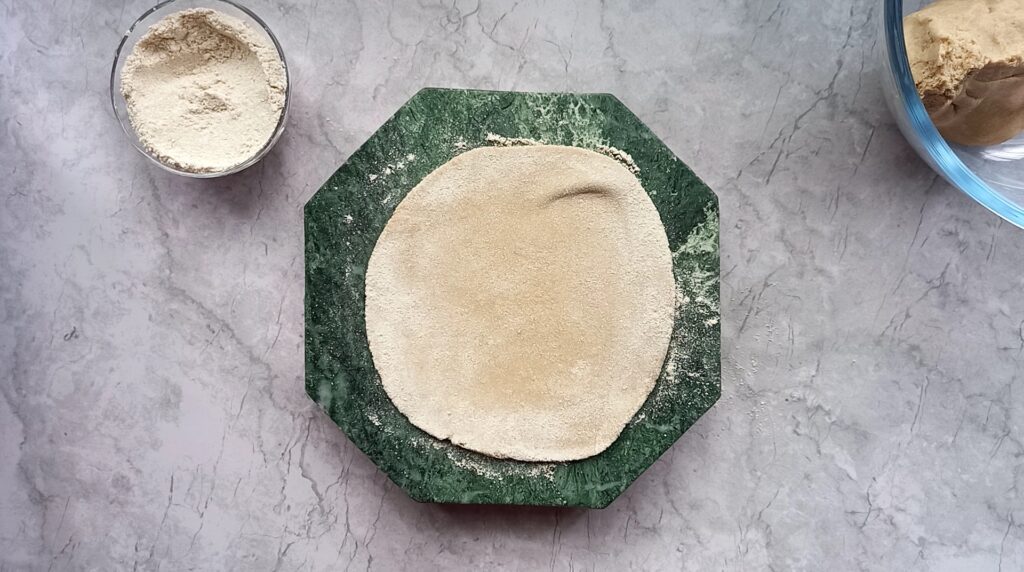 Take 1 to 2 teaspoons of oil. Spread it evenly on the roti.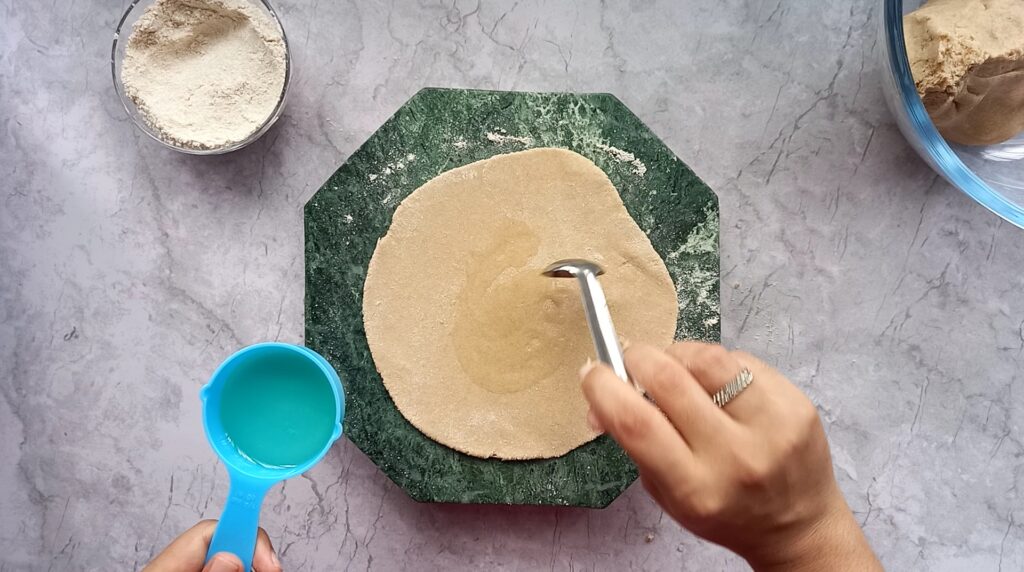 Fold it in half. Again smear some oil.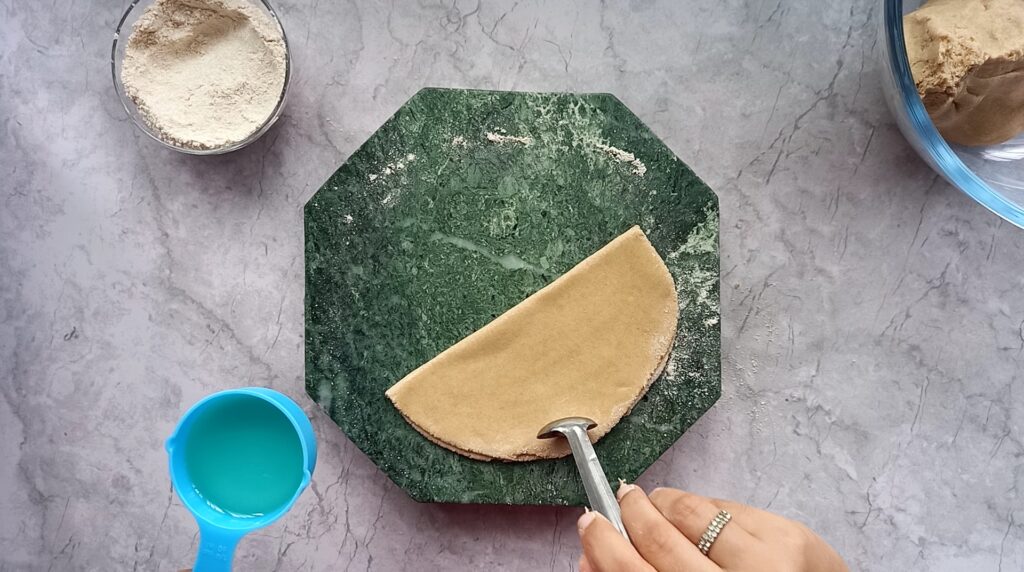 Fold it again into a triangular shape. Dust some flour.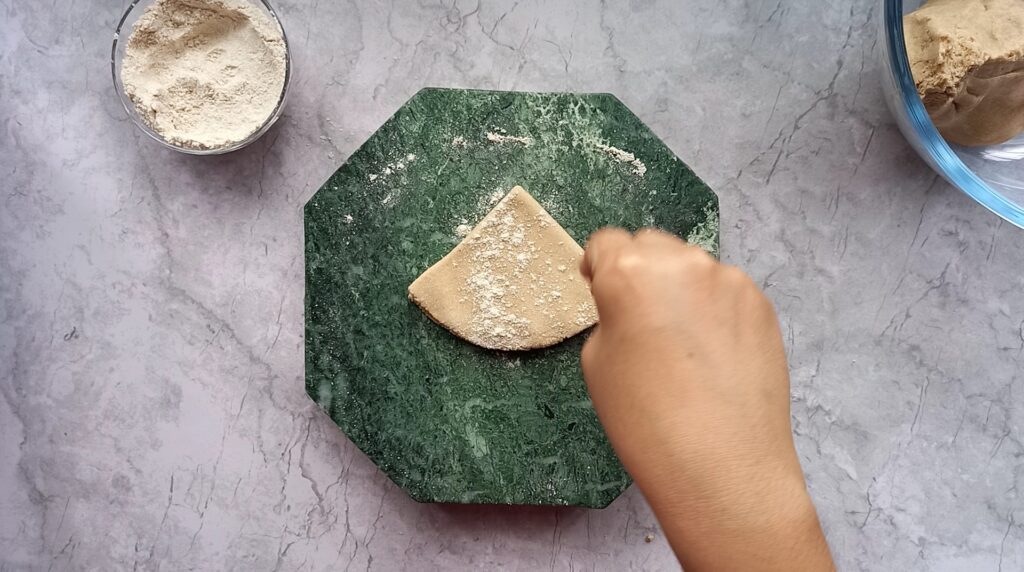 And roll it out.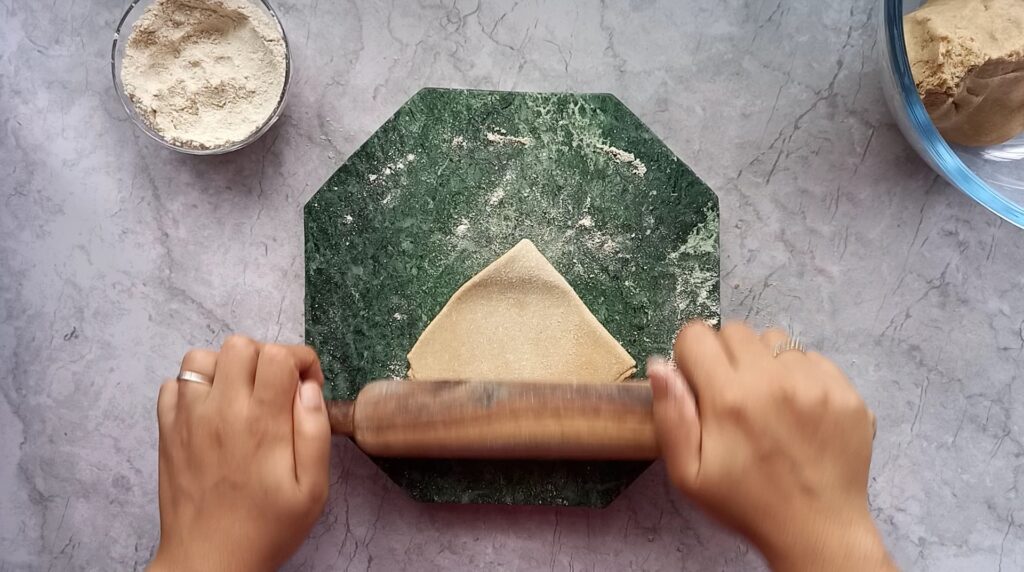 Make all of them like this.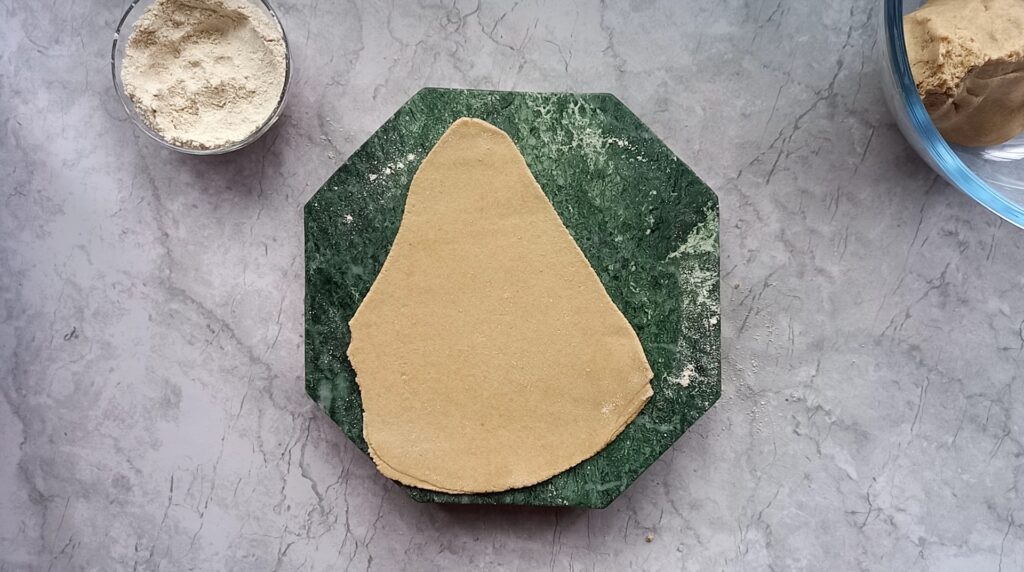 Now take a tava/iron griddle. Heat it for 10 to 20 seconds on a high flame. Then place the roti.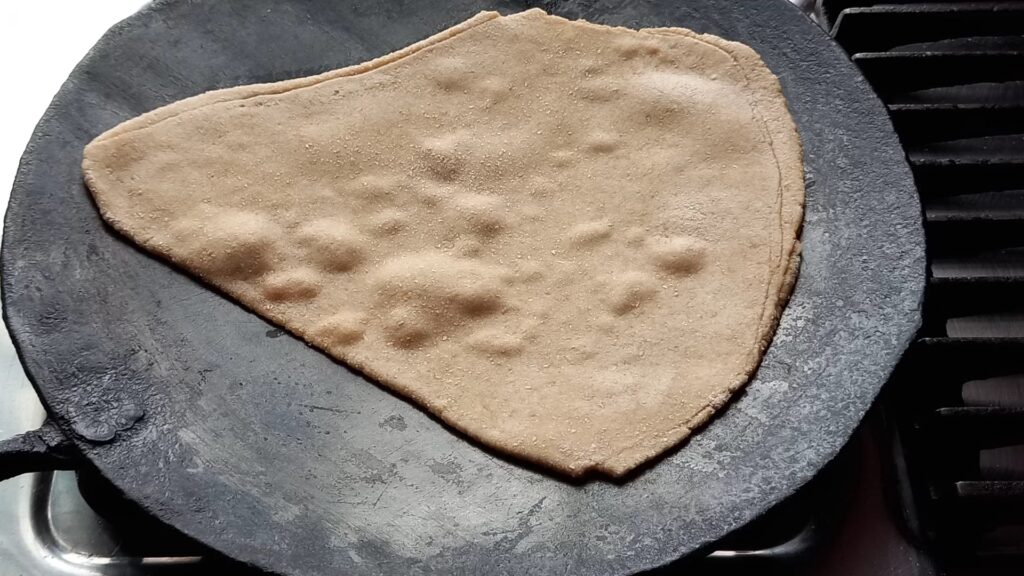 Cook it from both sides. It takes 40 to 50 seconds. When roti begins to puff up. Toast it directly on the burner or on the tava.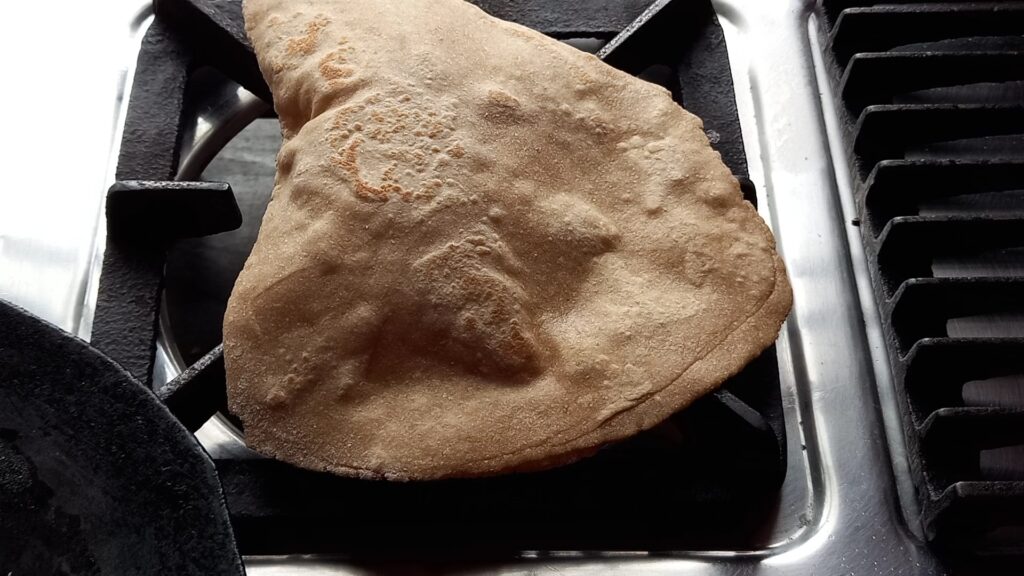 So here make all of the rotis before adding stuffing. Now, open up the roti from one side.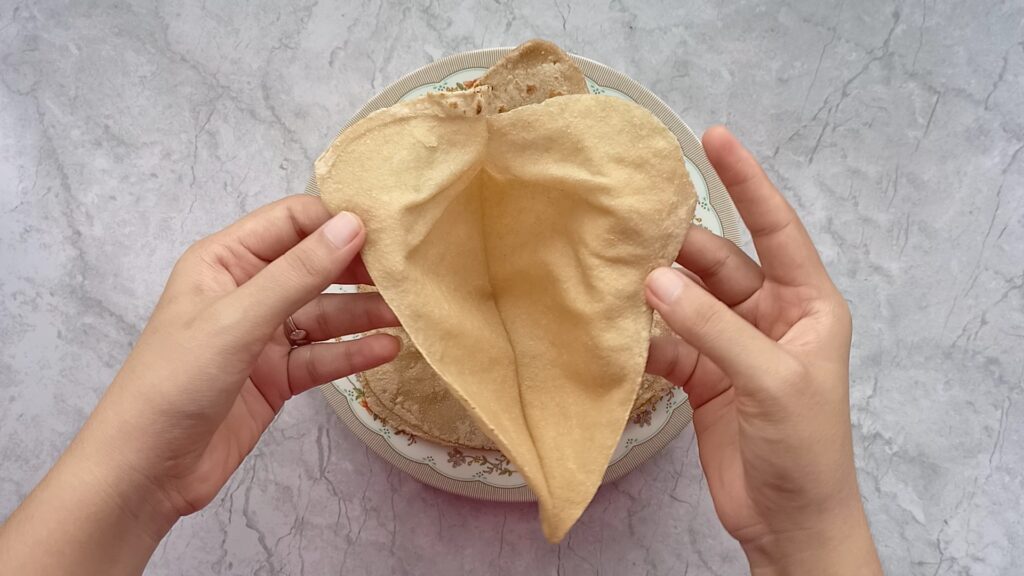 Again place the roti on tava. Turn your flame on low.
Now, add 4 to 5 tbsp egg stuffing into it.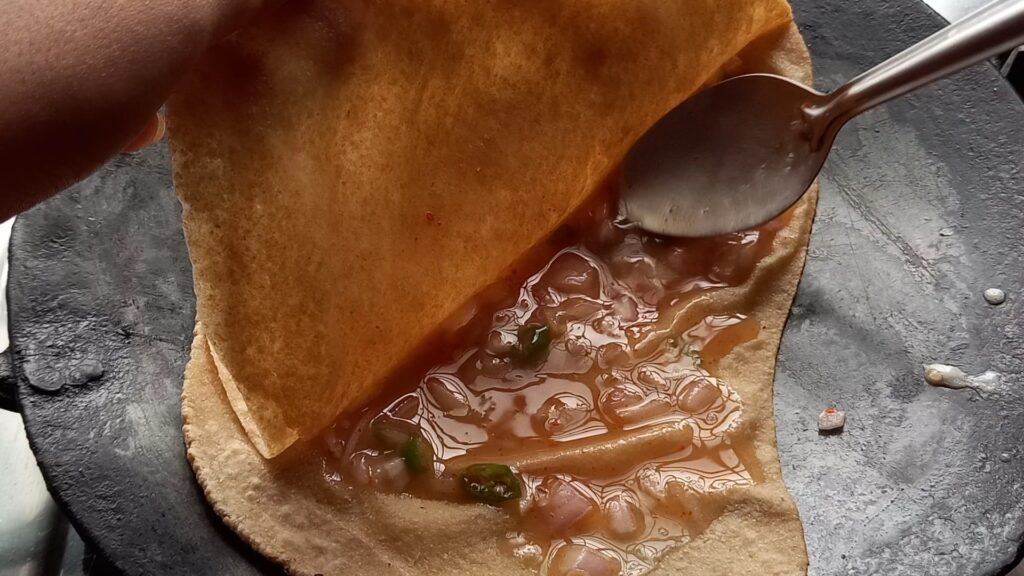 Smear some oil on both sides and cook it. Turn the flame on high and cook it from both sides.
When you see the golden color and crisp crust on it. Remove it from the heat. Make all of these egg parathas like this.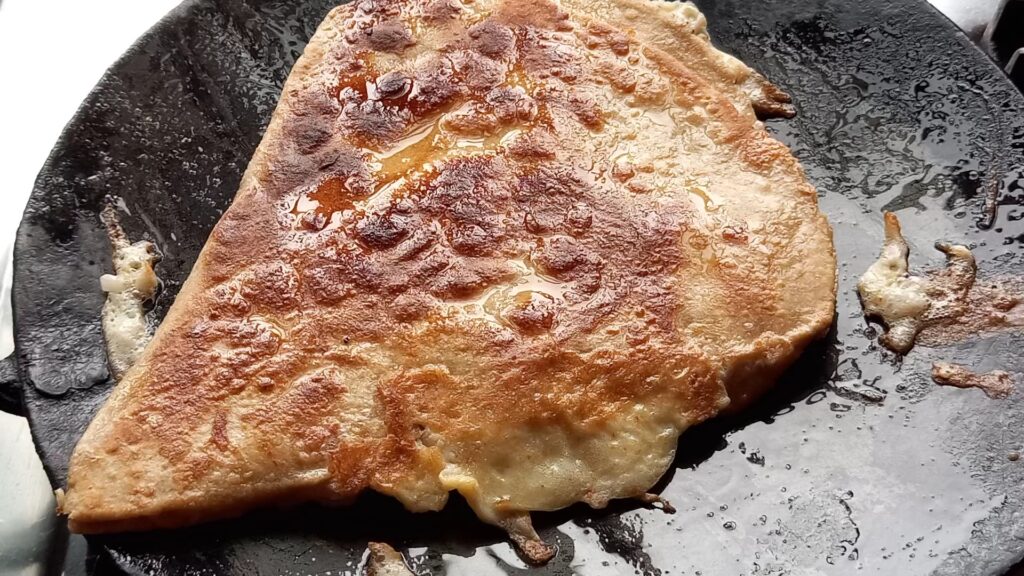 It is ready to serve. Serve this with ketchup.