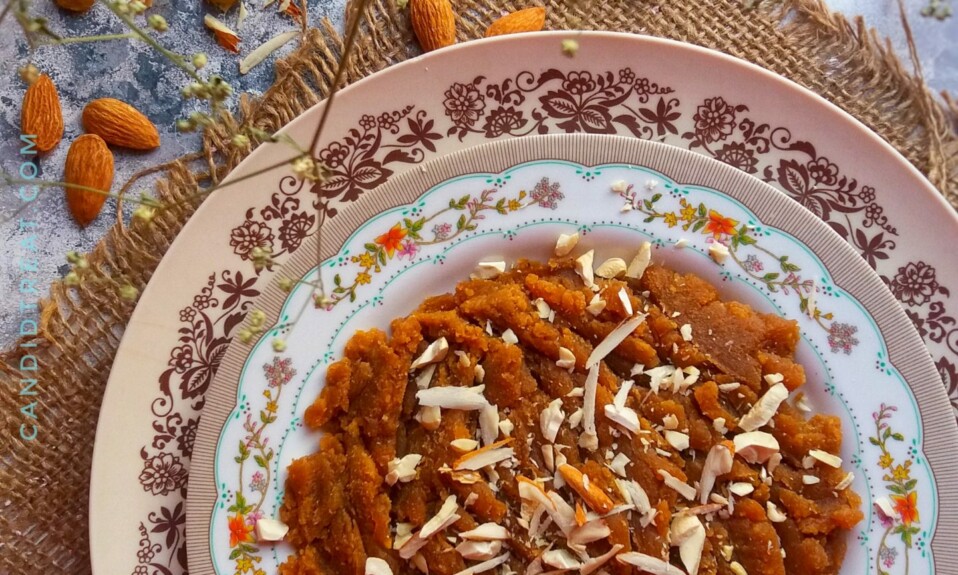 Besan ka halwa is the traditional sweet dish that is made with roasted gram flour, sugar, and ghee. Halwa is a favorite dish made during puja. You can make this sweet halwa in winter because the warm halwa gives a soothing feel in winter. And it is very healthy because chickpeas contain a lot of proteins. Besan is the Hindi name of gram flour. It is also known as chickpea flour or gram flour. In Indian cuisine, besan is used in many kinds of dishes, some are sweet and some are salty. Like besan laddoo, dhokla, besan barfi, Mysore Pak, besan curry, etc.
It is also good for pregnant women. Make this halwa in breakfast or for after-meal dessert. This is a sweet dish which is perfect for any celebration. It only requires a few ingredients. My mom always made this besan halwa for me because I love this halwa instead of suji halwa for any other halwa. The ingredients are easy to find and always available in any Indian household.
What is besan ka halwa?
Besan ka halwa needs gram flour. Gram flour is made with chickpeas. Gram flour needs roasting and it is a very important step to release the nutty flavor from flour. After that add a generous amount of ghee into it and sauté it until it turns brown. Then add sugar and water mixture. Add a little bit of cardamom powder. For the Indian sweet dish, cardamom flavor plays a very important role and also gives the aroma to the dish.
Some other delicious sweet dishes…
Ingredients used for this besan Halwa
Gram flour: use good quality and fresh chickpea flour. And roast them well. You can also buy a packed one. It is easily available in supermarkets.
Sugar: you can adjust the sugar flavor into it. Not necessary to follow the exact quantity.
Ghee: I always use homemade ghee. But you can also buy them. But do not use oil in place of ghee. In this recipe, oil does not go well. Ghee gives earthiness to the dish. Use a generous amount of ghee.
Cardamom: Use the cardamom powder for extra flavor. You can also use crushed cardamom.
Ingredients
200 gram of gram flour/ besan
1 crushed cardamom
4 to 5 tablespoon ghee/clarified butter
8 to 9 tablespoon sugar
20 ml of water
| | |
| --- | --- |
| Total time | 25 minutes |
| Servings | 2 to 3 |
How to make besan ka halwa?
First add sugar in a bowl and add water into it.
Add crushed cardamom. And leave it for 10 minutes.
Take a pan to add raw besan or chickpea flour. Dry roast them on low flame. It takes 7 to 8 minutes. If it is not sauteed well, it will taste raw.
Roast the flour for 3 to 4 minutes to remove the raw flavor from the flour. It is very important, do not skip it.
After that add ghee, stir well. Cook the besan until it turns brown in color. Do not reduce the ghee and pour all of them at a time otherwise, the besan may get lumpy.
Saute the flour until it look like this.
Then add sugar, water mixture and immediately mix it well. You can add milk instead of water.
Cook for more than 2 to 3 minutes. If you want your halwa in gooey consistency then turn off the heat now. or you can add more water to loosen up.
When it looks a little bit dry then turn off the heat. Serve it warm. Add some chopped dry nuts into it.
You can store the leftover halwa in the refrigerator for 2 to 3 days. And when you want to eat take some halwa out and microwave it for 1 minute and enjoy. Warm halwa tastes better.