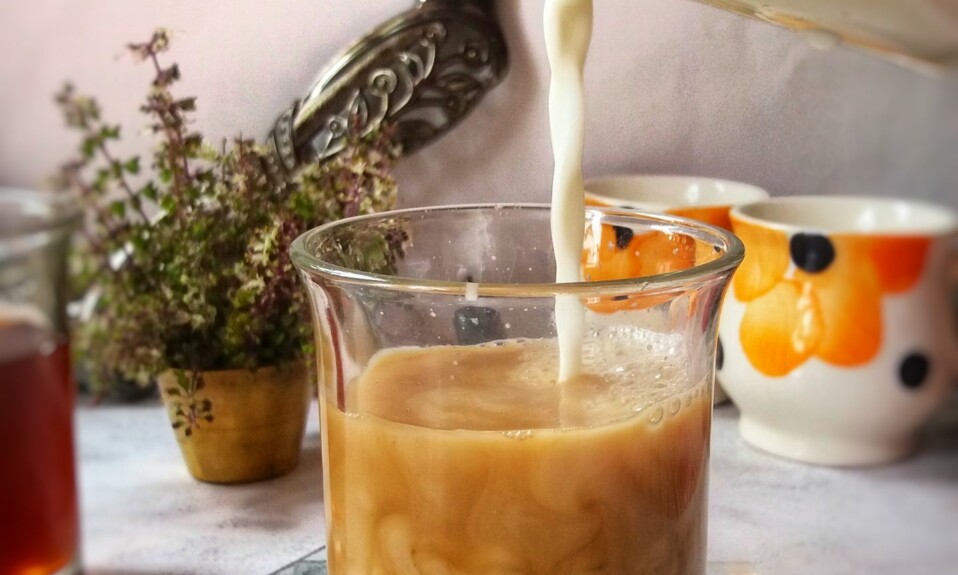 Chai latte has a unique combination of sweet and spicy flavor. Chai is the most popular beverage in India. This chai latte is something different from the regular one. Generally, chai is made with milk, water, sugar, and tea powder. Chai latte is very much similar to a coffee latte. In this post, you can find that this is so easy to make that you need not to go outside for a latte. Make this easy and tasty version of chai latte at home. Here, the full detailed recipe with step by step photos. Scroll down for more…
What is chai latte?
Chai latte is a creamy cup of black tea subtly spices with cinnamon, cloves, green cardamom, ginger and some basil leaves. The milky sweetness is well combined with the warm spices.
Similar to a latte made with coffee, the chai latte is made with Masala Chai. This common spiced tea drink present throughout India. To make this you need to use frothy milk. Masala chai is made with milk but here you have to brew a strong spiced batch of black tea and sweeten it then steam the milk and whisk it until it is frothy. You can try these tea recipes (Lemon Tea ( How To Make Lemon Tea),(Hibiscus Tea (with a simple method to make this tea).
Some tips for making best chai latte
Loose-leaf black tea is best for brewing chai for a latte. But there is no hard and fast rule you can use any kind of black tea.
When it comes to which spices are essential then you can choose the spices which suites to your tastes.
Cloves give the amazing taste to the masala chai.
I usually prefer some basil leaves in my latte because it also gives a nice fragrance. But you can avoid it.
Use full-fat milk. It gives the extra frothiness to your latte.
You can use other sweetener options if you don't want to use regular sugar.
A pinch of salt expands the sweet flavor.
INGRIDENTS
300 ml water
a pinch of salt
2 tablespoon sugar
1/2 cinnamon stick
3 Cloves
2 black pepper crushed
1 green cardamom
1/2 tablespoon ginger crushed
1/2 tablespoon tea powder
200 ml milk
5 Basil leaves
| | |
| --- | --- |
| Total time | 15 minutes |
| Servings | 3 cup |
How to make chai latte
Take a vessel and pour water. Turn on the heat on low flame.
Add salt in it.
Add sugar in it. You can adjust the sweetness as per your taste.
Take some basil leaves. Wash them and add it into the water.
Add all spices. First crush them then add them into the water.
After that add crushed ginger.
Add tea powder. And boil the water on medium flame for 5 minutes or until tea powder released its color.
Now turn off the heat and strain it into cup or any serving glass.
Meanwhile boil the milk on medium flame. It takes 3 to 4 minutes.
Then whisk it with hand whisker or with electric beater until the milk becomes frothy like this.
Then pour it into the brew tea.
Your chai latte is ready to serve. Garnish with some cocoa powder and enjoy. It also gives the same experience as coffee latte.