Dosa Recipe- Learn the dosa recipe with step-by-step photos and video. Here I give you some tips and tricks that will helpful for you. You can make the perfect dosa every time by following these steps. This is the full-proof recipe. You can make the dosa at home without any difficulty, even if you are a beginner. This dosa is crispy, crunchy, and healthy. You can make this dosa for breakfast, lunch, or dinner. Serve the dosa with sambar, coconut chutney, red chutney. Want to know the full recipe, scroll down to read.
What is dosa? How to make dosa batter?
It is a popular south Indian recipe that is made with rice and lentil batter. First, you need to grind and ferment the batter at least for 12 to 16 hours. The fermentation method depends on the weather condition. In this recipe, we need rice, urad dal/ split, or whole black lentil. Urad dal gives a sour taste and smooth, crack-free texture. These are like thin Indian crapes. With this same batter, you can make many kinds of dosa, like plain dosa, masala dosa, set dosa, Mysore dosa, butter dosa, etc. You can also find the recipe of potato masala for masala dosa. here is the recipe: Potato Masala for masala dosa.
Healthy and vegan recipe
Dosa is a pure vegan and healthy recipe. It is full of proteins because urad dal is enriched with proteins and rice contains carbs. It is also good for your kids because you can make different variety and kids love different types of food in their daily meals. It is best to alter for fast food. This is also the most popular dish on the restaurant's menu.
some other recipes…
How to choose best rice for dosa?
Rice is the most important ingredient for dosa. There are many kinds of rice available but choose parboiled/broken basmati/idli rice for this recipe. I prefer broken/ small grain basmati rice. The result of this rice is always good. You can also use short grain-like, sona masuri, small grain half-boiled basmati rice. Or just buy idli rice from the market.
Dosa batter ratio
If you want crisp dosa then follow this ratio. You can use any measuring bowl. Here I use a small bowl. Take one bowl of urad dal and three bowls of rice. This is the perfect ratio for crispy dosa. Add 1 teaspoon methi seeds. You can also use 2 to 3 tablespoon rice flacks. So the ratio is 1:3. 1 part black lentil and 3 part rice. Do not disturb the measurement unless you don't get the super-crisp dosa.
How to ferment the dosa batter?
For fermentation, it needs a warm temperature. And it takes at least 14 to 16 hours in warm weather. In cold places or in cold weather, the batter takes long hours to ferment. In cold conditions, it takes 1 day. Keep the batter in a warm place for fermentation.
Blender and wet grinder
When the mixer grinder was not available, at that time moms, grandmoms use a wet grinder. Now, a grinder is quite easy to handle. For mixing the ingredients, use a grinder.
Ingredients
1 bowl urad dal/black lentil
3 bowl rice
1 teaspoon methi seeds/fenugreek seeds
1 tablespoon salt
Some oil
| | |
| --- | --- |
| Preparation time | 30 minutes |
| Fermentation time | 16 hours/1 day |
| dosa | 15 to 16 pieces |
How to make dosa batter?
In a bowl, take urad dal and wash it few times. Add some methi seeds. Then soak it with a lot of water for at least 6 hours.
Take rice and wash it with water. Then soak it for 6 hours. Soak both items in separate bowls.
Again, wash the soaked rice and dal with water. And, blend it separately. Blend it in smooth pouring consistency. First, take some rice and 2 to 3 tablespoon water and blend it.
We want smooth texture like this.
Then, take dal and add 4 to 5 tablespoon water and blend it.
You can add a little more water if needed. But do not make a thin batter. We need a thick batter. Like this.
After that, mix both rice and dal mixture in the same bowl. You can see the pouring consistency of the batter.
Now mix it well. And keep it in a warm place overnight or for 16 hours to ferment the batter. Do not over ferment the batter. When the batter is ready, you can keep this in the refrigerator for further use.
Next day, when batter is fermented like this. It is bubbly in texture and sour in taste.
When you want to make the dosa, add salt. You can use iodized salt or sea salt. Mix well with a ladle.
How to make dosa?
You can use a non-stick griddle or an iron cast griddle. If you want to use an iron cast griddle then first season them with oil on high flame for 8 to 10 minutes.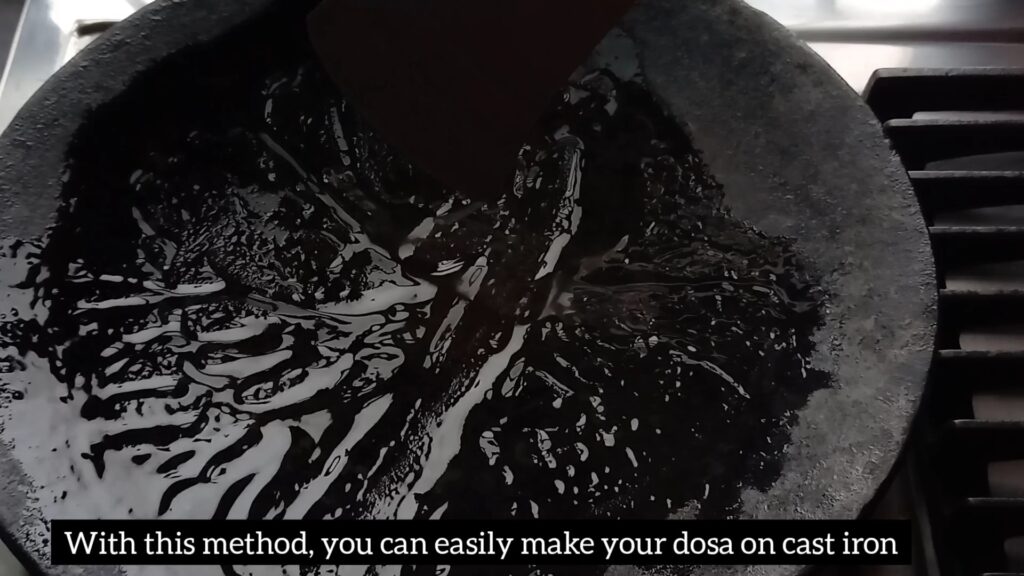 Wipe the extra oil with a tissue or cotton cloth.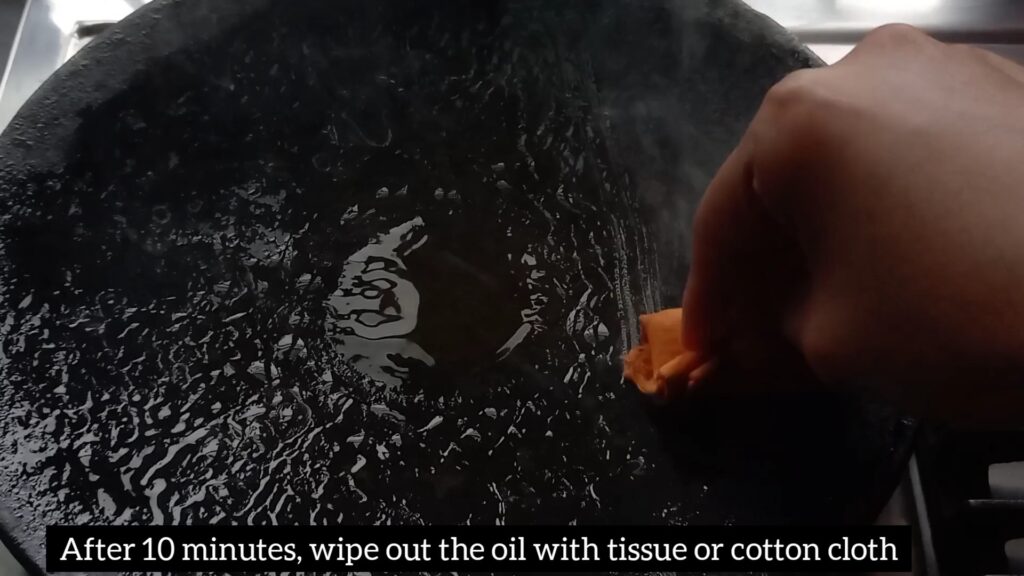 Sprinkle some water to regulate the temperature. Repeat this process, when your Tawa is too hot for making dosa.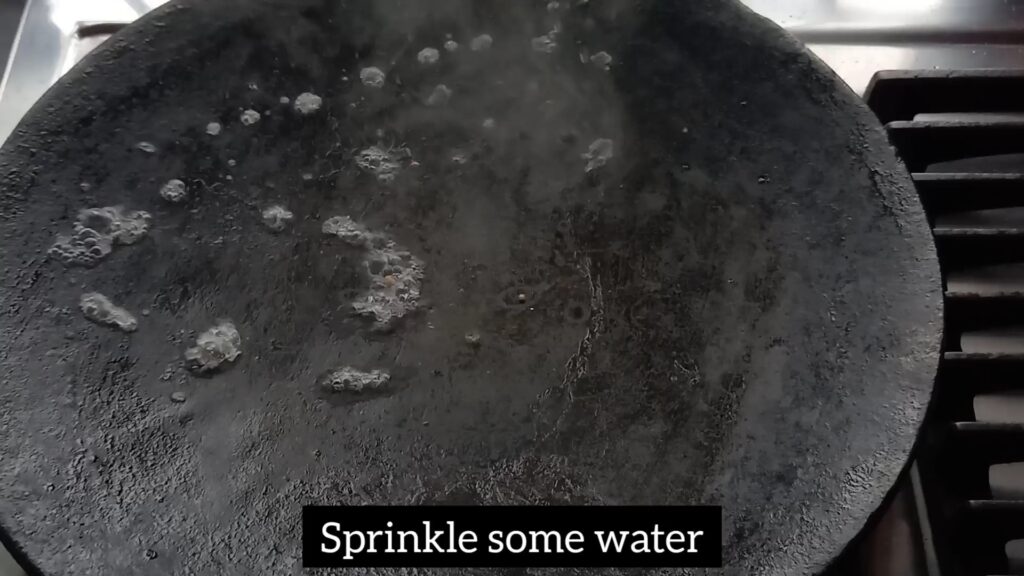 Again wipe it out with cloth. And it is ready for making dosa.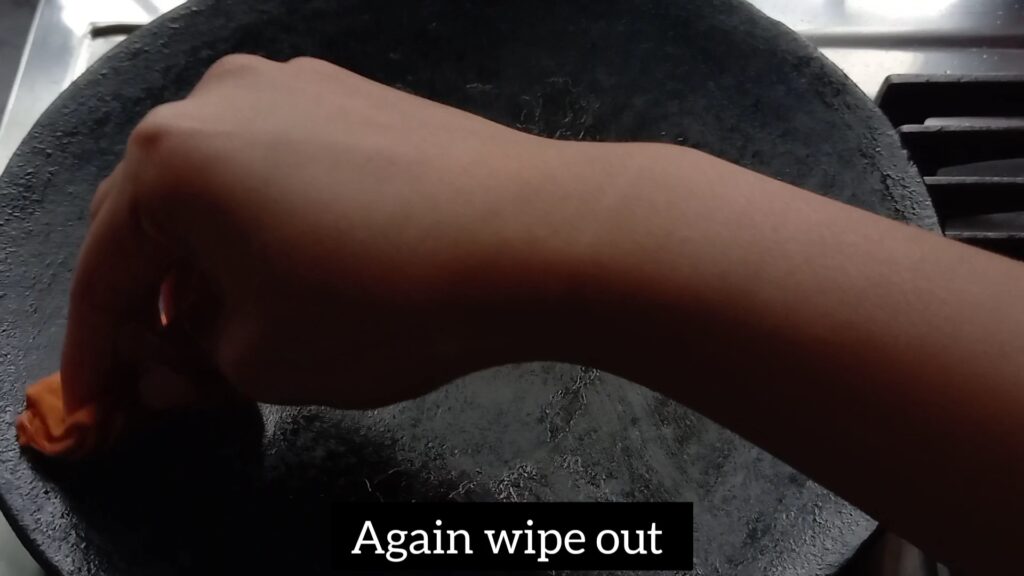 Take a full ladle of dosa batter.
Pour the batter in the center of griddle. Make sure the flame is on medium.
Then, immediately spread the batter from the center to the edge. Spread the batter till you reach the edges. Now regulate the flame on high.
Cook it for 1 minute. Add some butter, ghee to the edge of the dosa. The edges will begin to come off from the pan when it is cooked. And the surface turns golden, crisp. remove it from tava.
Repeat the process. make all of them like this. Dosa is ready to eat. Serve it with sambar, chutney.
Storage suggestion
You can also store the batter in the refrigerator for 2 days.