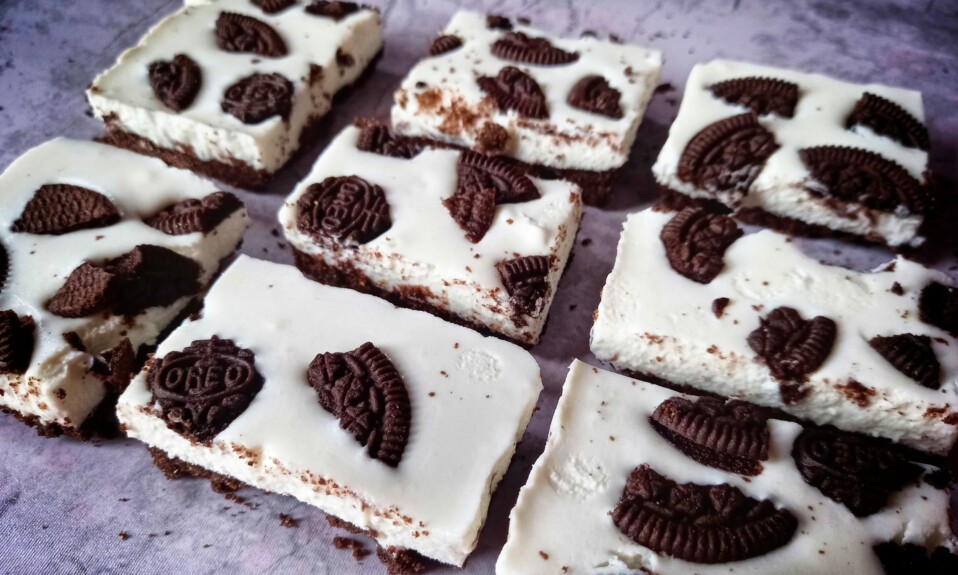 No-bake Oreo cheesecake bars | Oreo cheesecake with homemade cream cheese | Hey, are you a big fan of Oreo cookies then you are in the right place. In this post, you get the super amazing no-bake oreo cheesecake bars recipe. This looks beautiful and tastes heavenly. For this cheesecake recipe, you do not need any mold or gelatin. Because in this post I used agar-agar in place of gelatin which is the best substitute for gelatin. And you also get the homemade cream cheese recipe.
These oreo cheesecake bars are made with Oreos crust and filled with luscious cream cheese cookie filling. If you love desserts then what is better than a no-bake dessert. You can make these oreo cheesecake bars on birthday parties or any special occasion. You can prepare this for 2 to 3 days and store it in the fridge. So it is the perfect dessert recipe for house parties and any get-together.
The best oreo cheesecake bars
Oreo cheesecake bar is a no-bake dessert. The bottom layer of this recipe is made with oreo and butter crust. Then the second layer is made with some cream cheese, whipped cream filling. Lastly, top it with some Oreos. And refrigerate it till serving.
What is agar-agar?
If you are new to this ingredient then read it for more information. Agar-agar is a vegetarian and healthier substitute for gelatin processed from seaweeds which is vegan, gluten-free, non-GMO. Zero calories, no carbs, no sugar, and full of fiber.
Some other easy dessert recipes…
Ingredients
4 to 5 small oreo packets
3 to 4 tbsp unsalted butter
200 to 250 grams of cream cheese
1 to 2 drops of vanilla
4 to 6 tbsp sugar
3 to 4 tbsp of powdered whipped cream/heavy whipped cream
½ teaspoon agar agar
10 ml milk
| | |
| --- | --- |
| Total Time | 15 minutes |
| Servings | 6 to 7 bars |
Oreo crust for cheesecake
Take some oreo cookies and remove the cream of the cookies.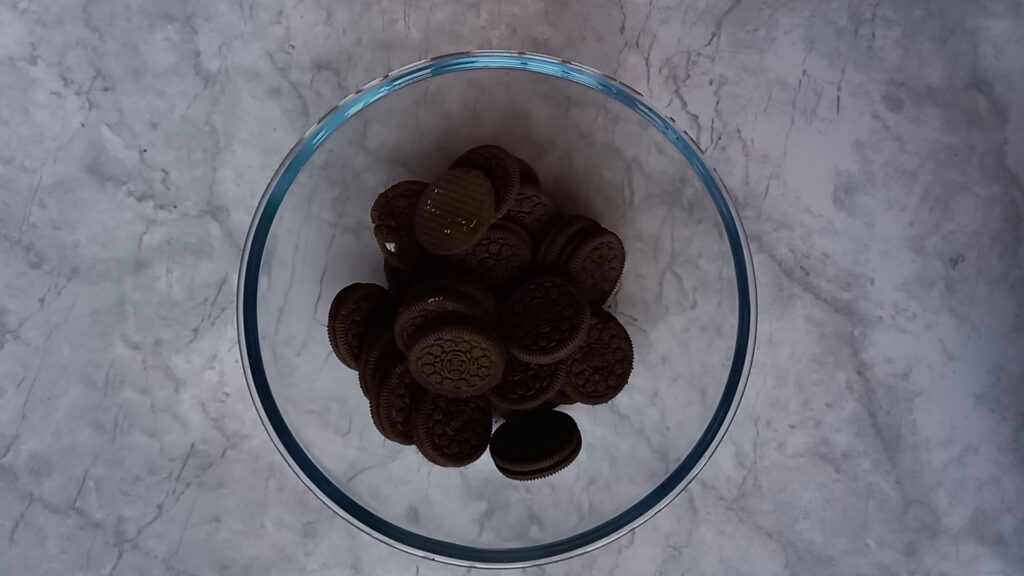 Grind it into fine powder.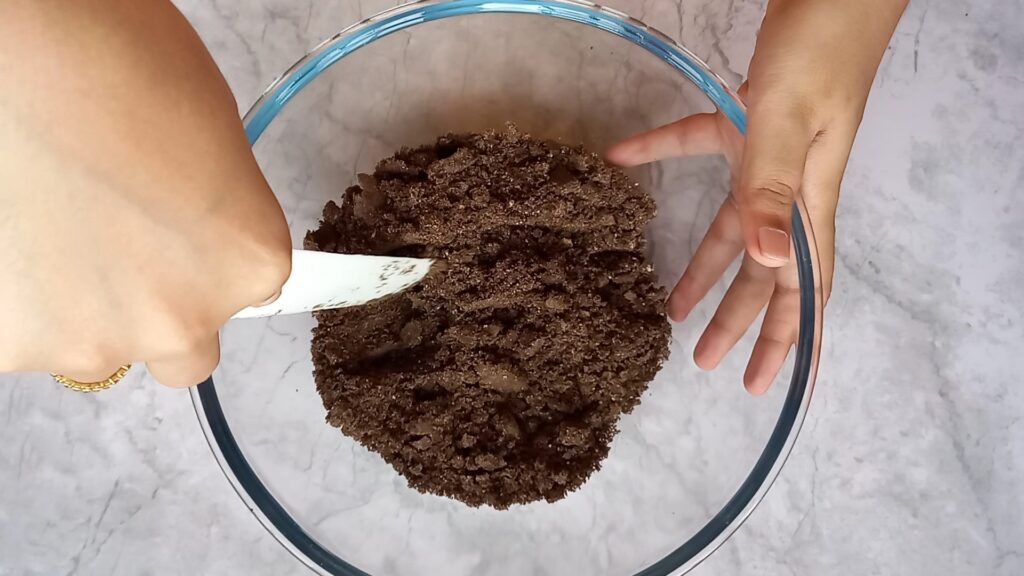 Add 3 to 4 tbsp melted butter. You can also use salted butter in place of unsalted butter.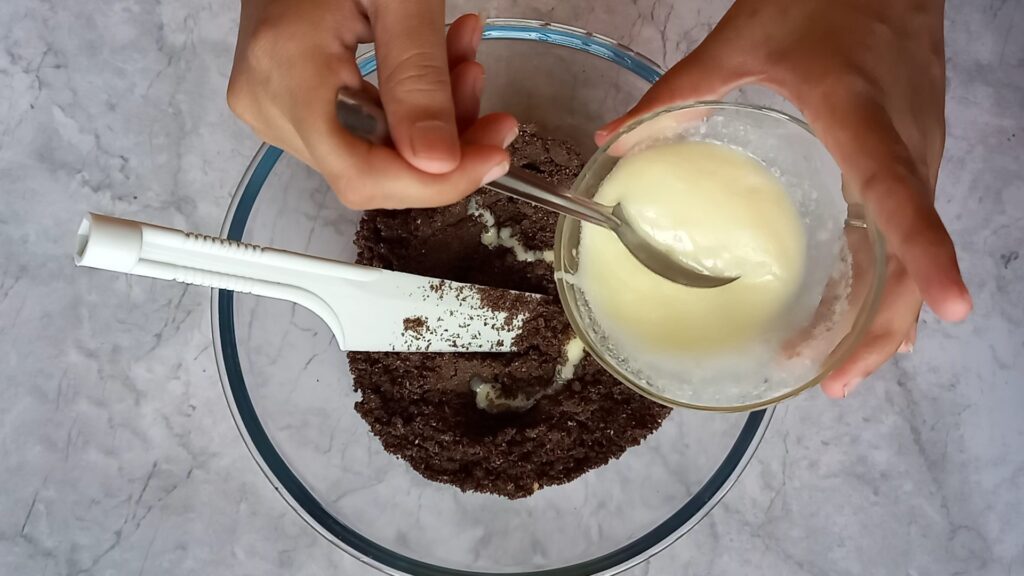 Mix it well. Make sure that crust is not so crumbly. If it looks crumbly then add 1 to 2 tbsp butter and mix it.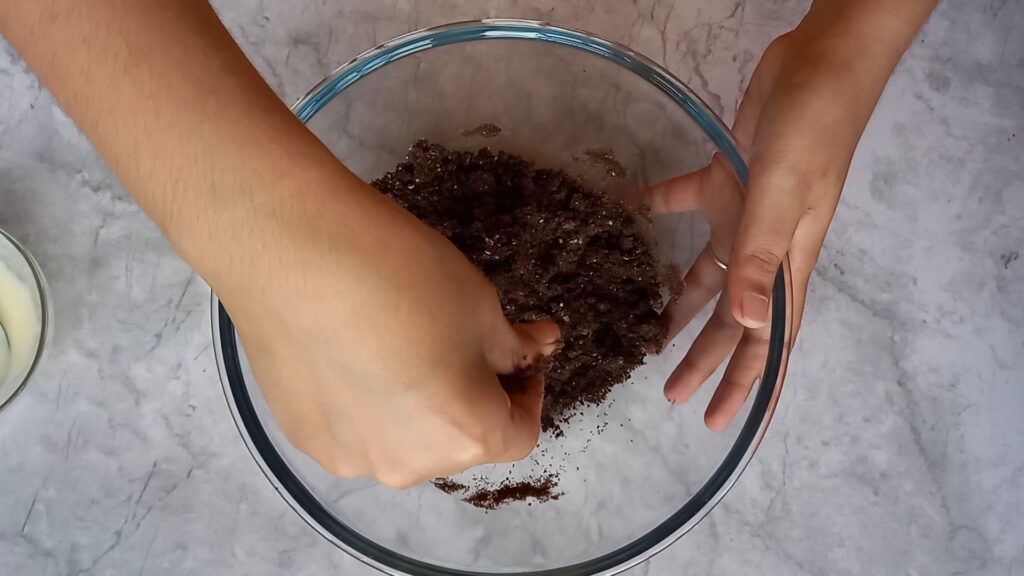 Now, take any square size box that is available in your home. Line it with butter paper.
Add the oreo crumb. And spread it evenly.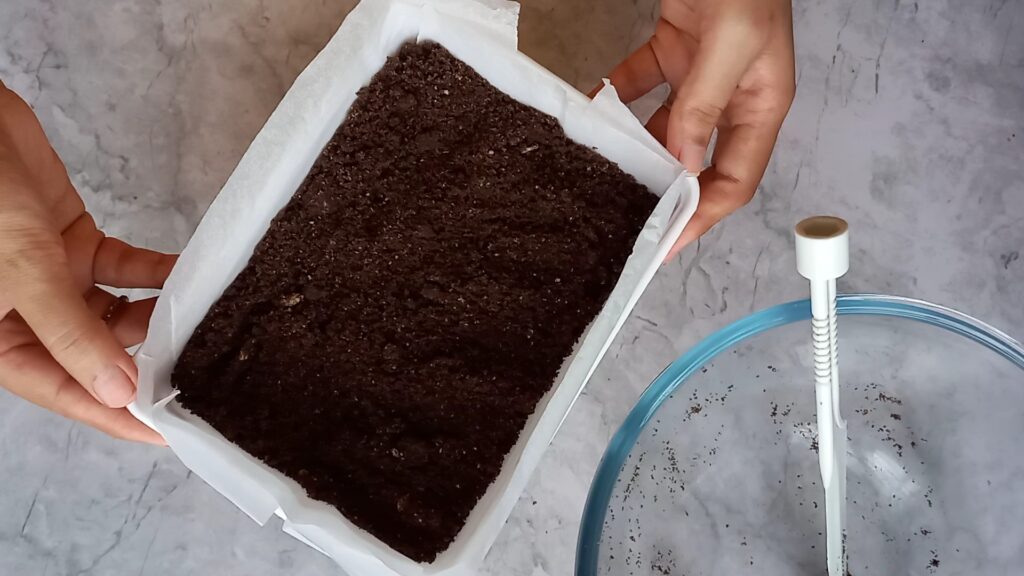 Press the surface a little bit with the help of any spoon of a small bowl. After that refrigerate it for further use.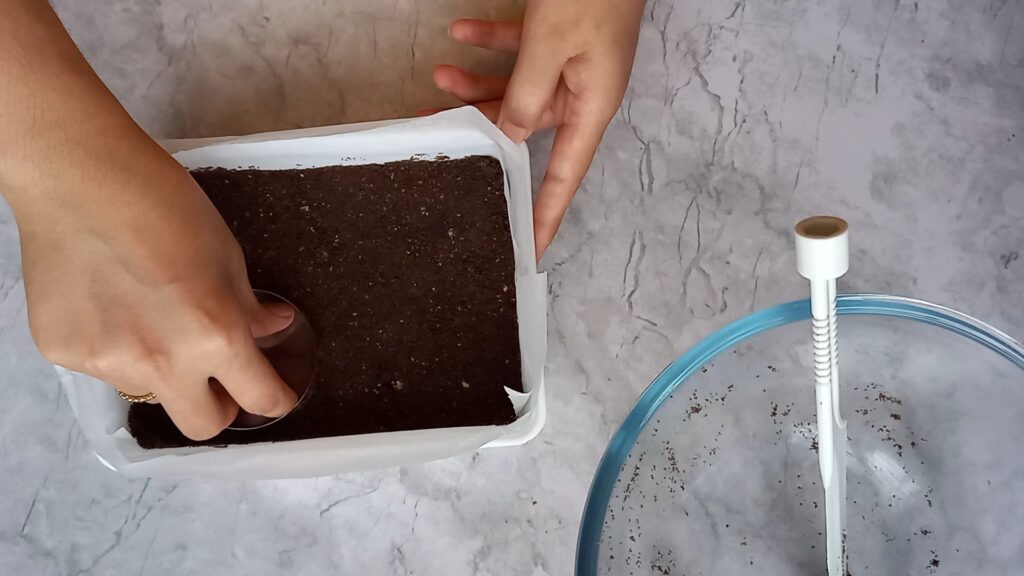 How to make cream cheese at home?
For making cream cheese at home. Take 1 and a half liter of full-fat milk. Boil it on high flame. Then turn off the heat.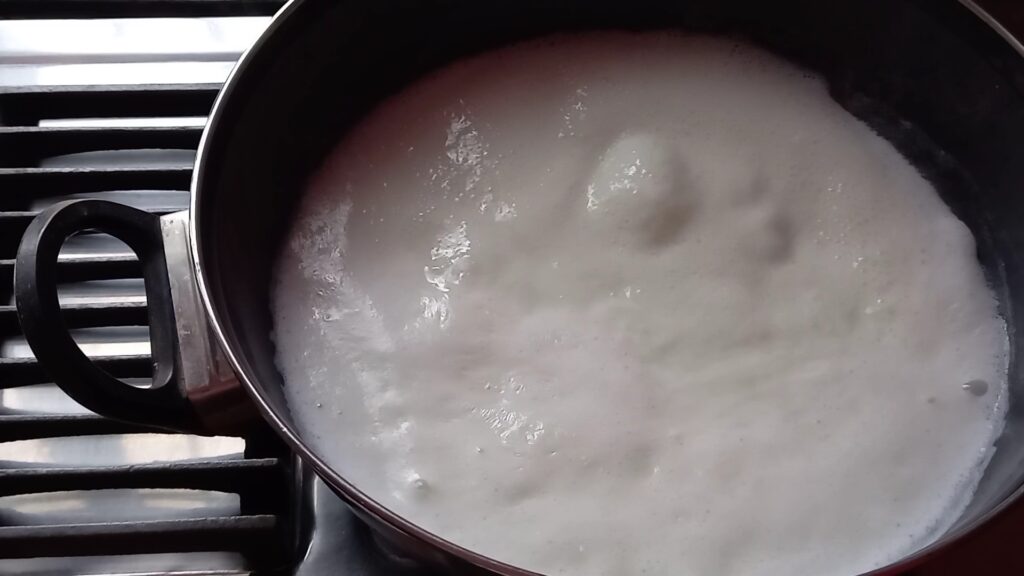 Add a glass of plain water. Mix well.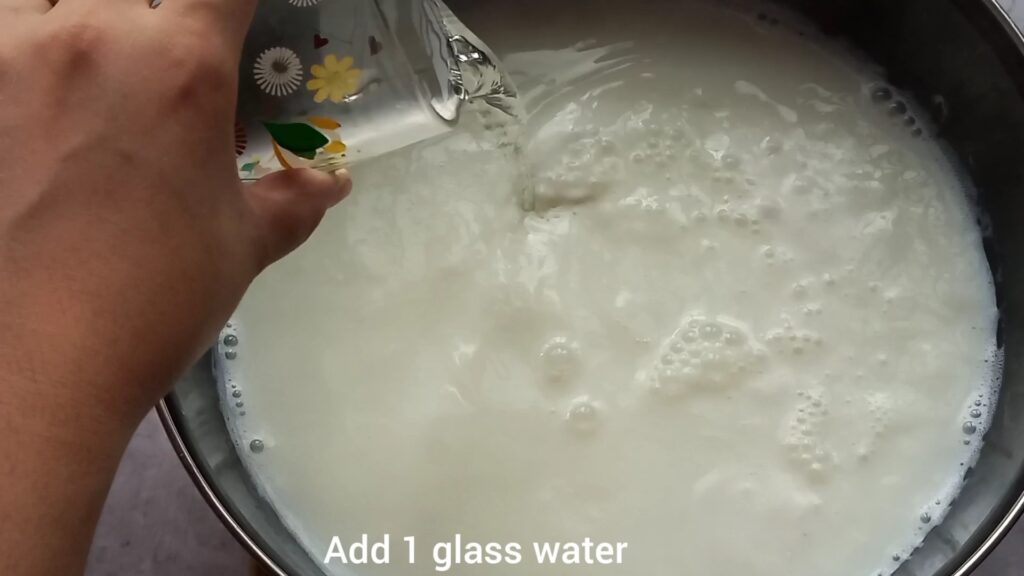 Then add 2 to 3 tbsp vinegar/lemon juice.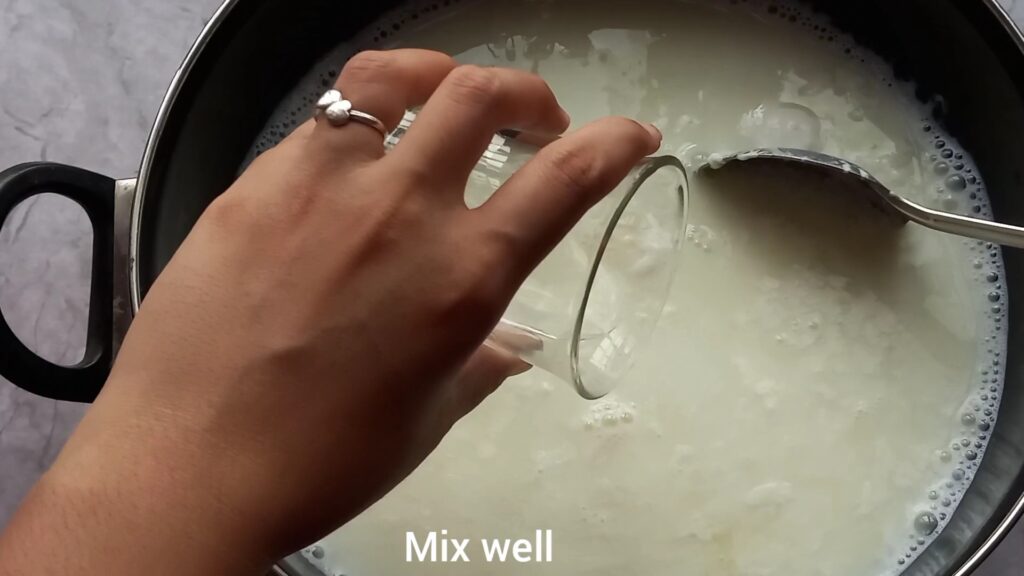 When it starts to curdle. Drain all of the whey from paneer.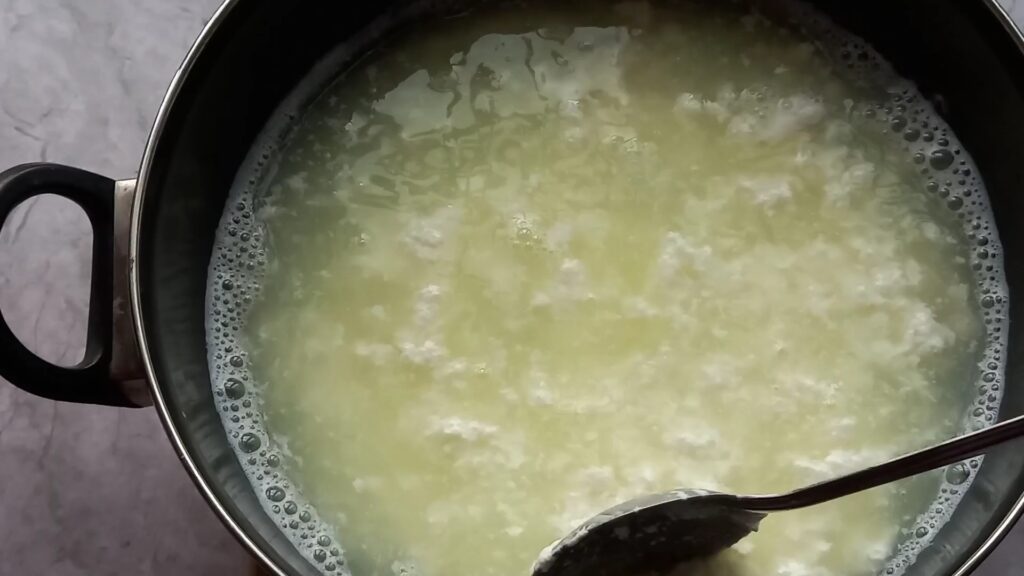 Take a strainer, place a thin cloth and drain it.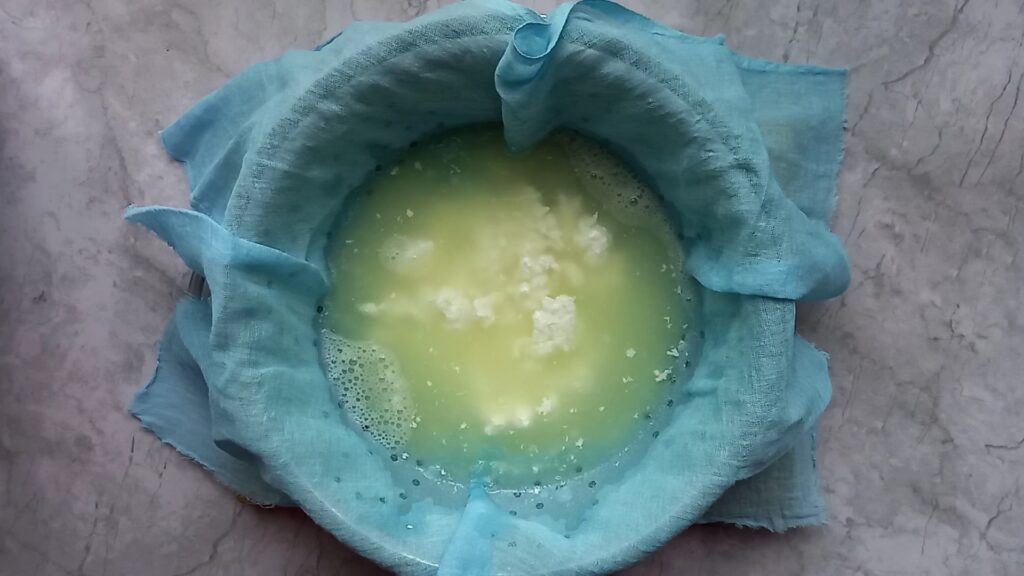 After that wash it with plain water. Wash them 3 to 4 times to remove the sour flavor from the paneer.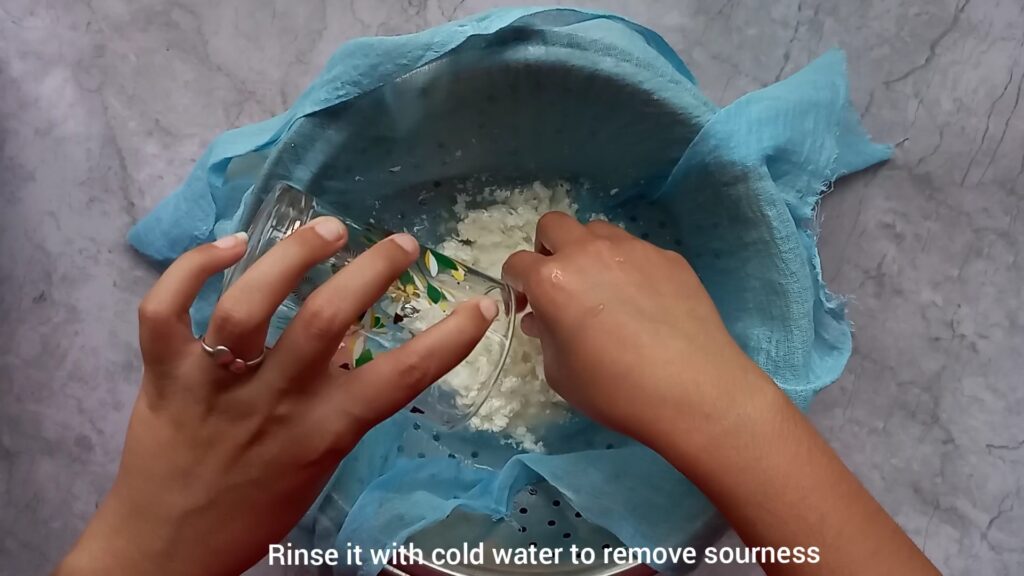 Squeeze the excess water.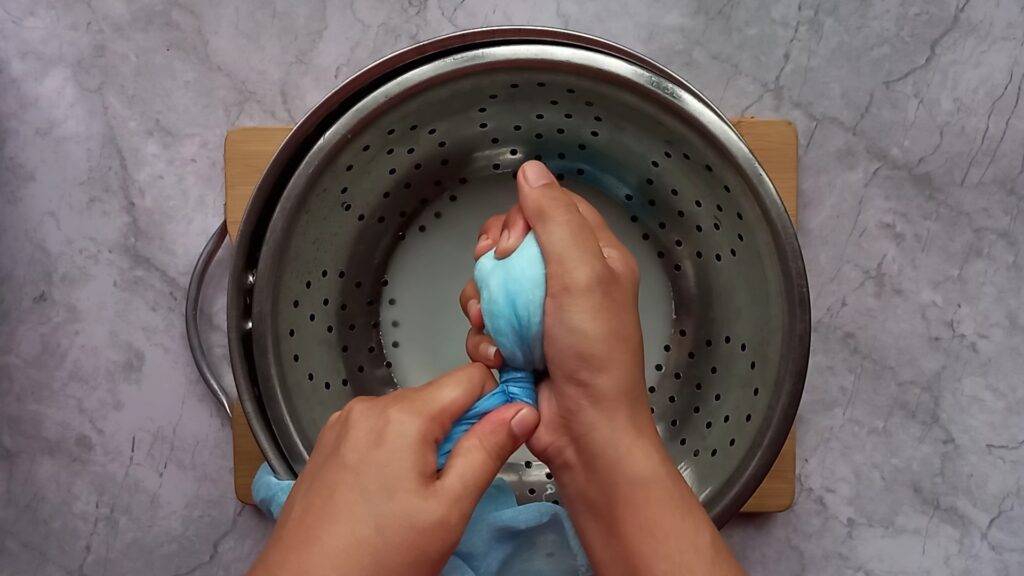 Then add this panner in a grinder. Add a pinch of salt.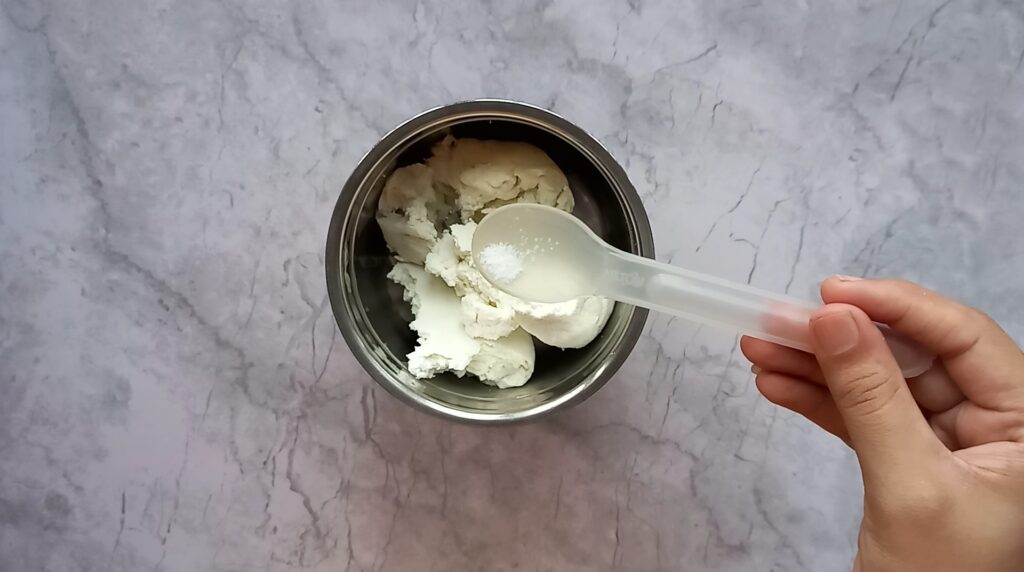 Grind it into smooth cream cheese. If it is dry while grinding add 2 to 3 tbsp of water and grind it.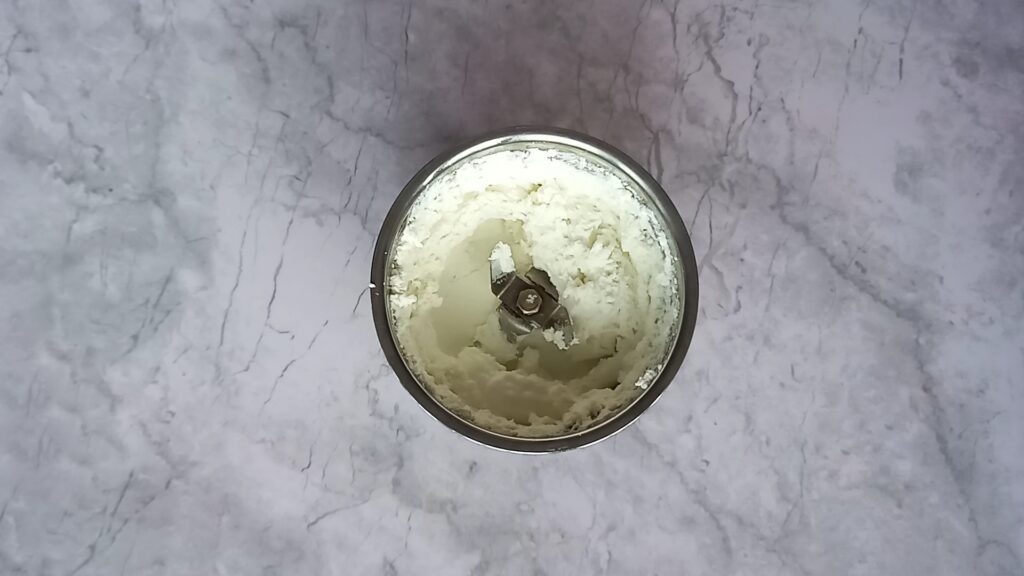 That is it. Your homemade cream cheese is ready to use. Transfer it in a bowl. Mix well.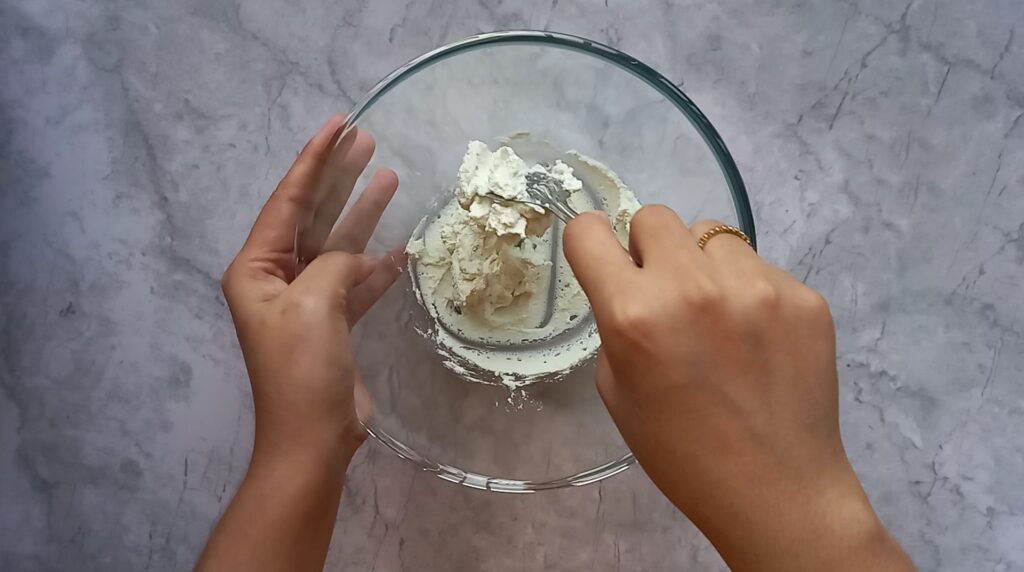 Add sugar. Here I add less sugar because I use powdered whipped cream. Powdered whipped cream has a lot of sugar and vanilla. So if you are using powdered cream for this recipe then add only 1 tbsp powdered sugar. Or, if you are using plain heavy cream then balance the sweetness as per your taste. Here add vanilla.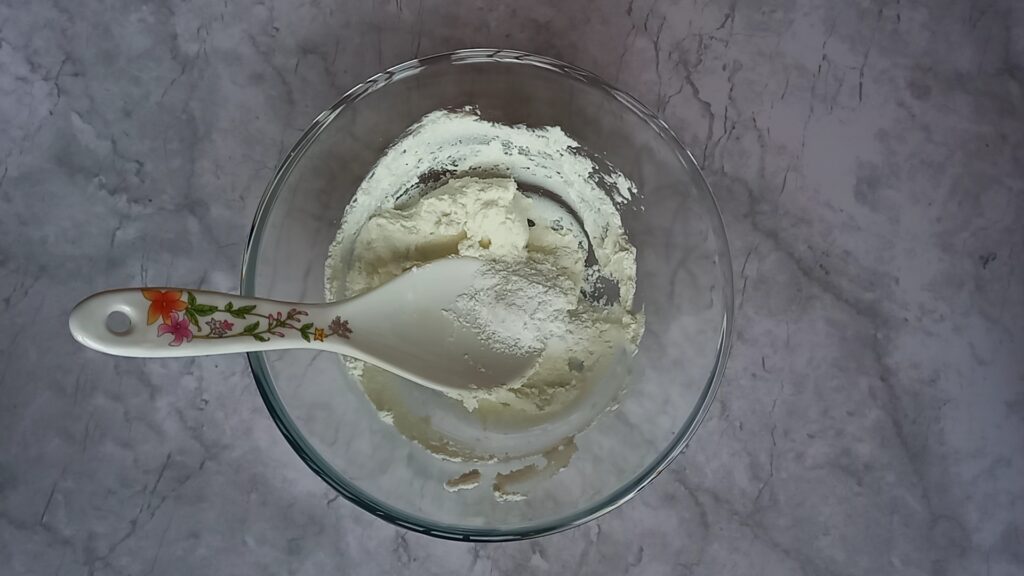 Now, take some milk, add agar-agar. It gives a firm texture to the cheesecake. Mix it well.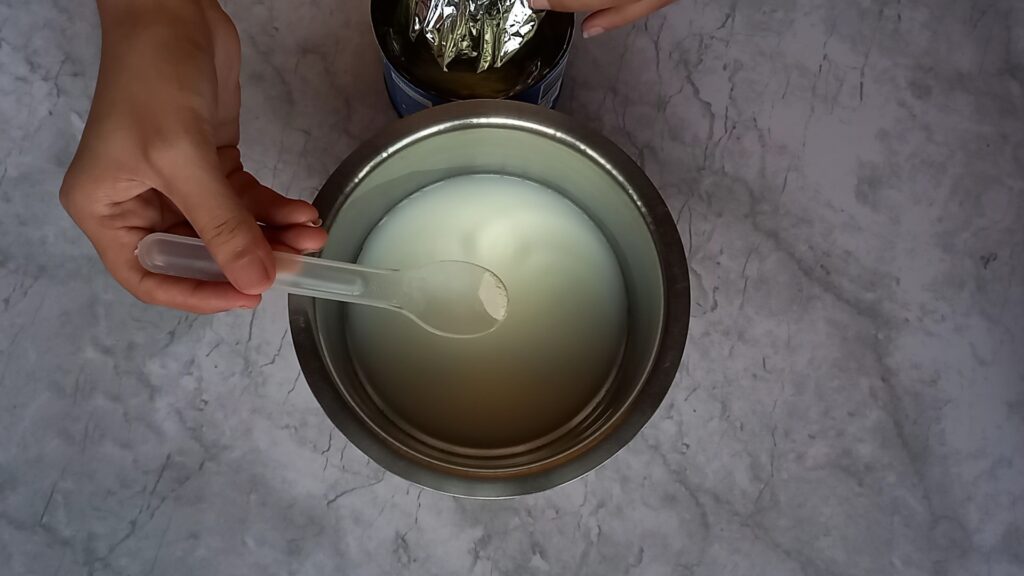 Cook it on a medium flame for 3 to 4 minutes. When it is dissolved completely. Turn off the heat.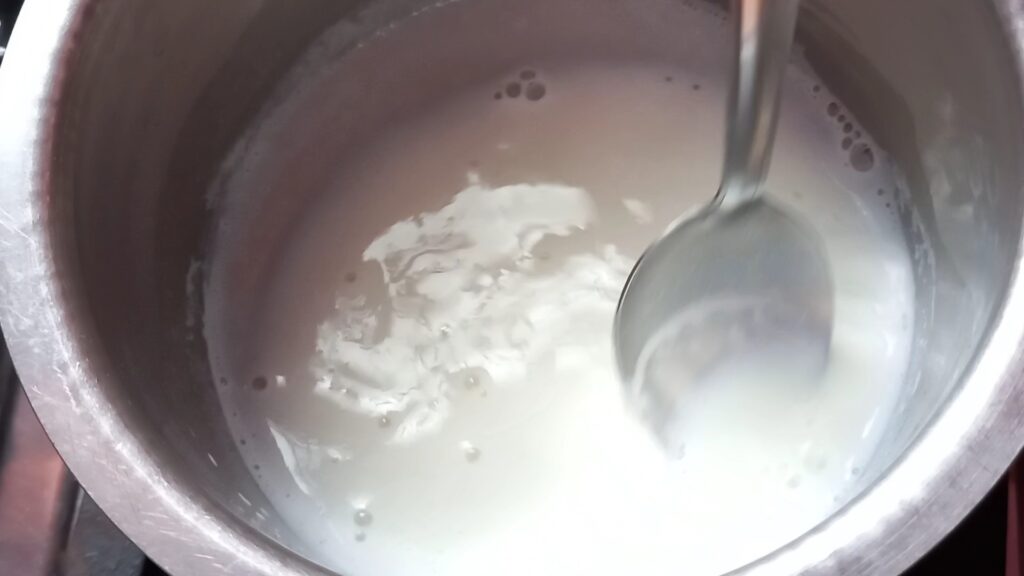 Leave it to cool down for 3 to 5 minutes. Stir it continuously.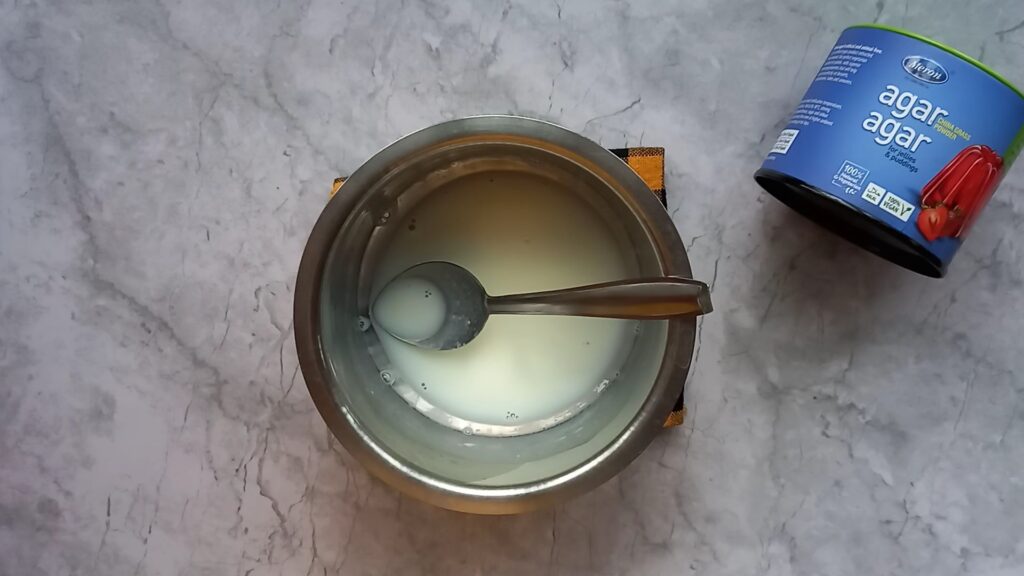 Now, pour this in cream cheese mix. Mix it well.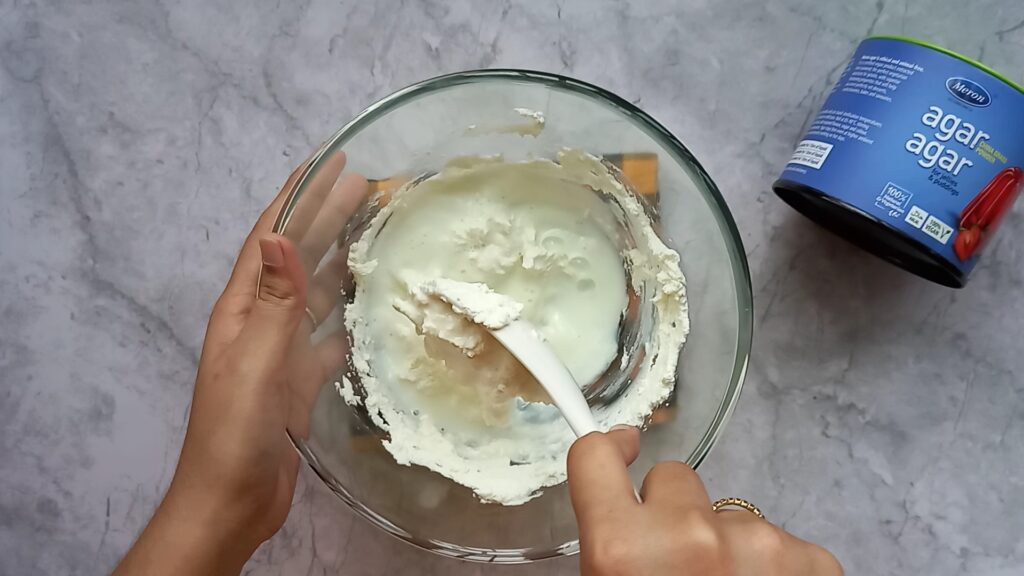 Then take some whipped cream. You can use heavy cream or powdered whipped cream. Make your whipped cream before adding the agar agar mix. Because we need to work fast after adding agar agar.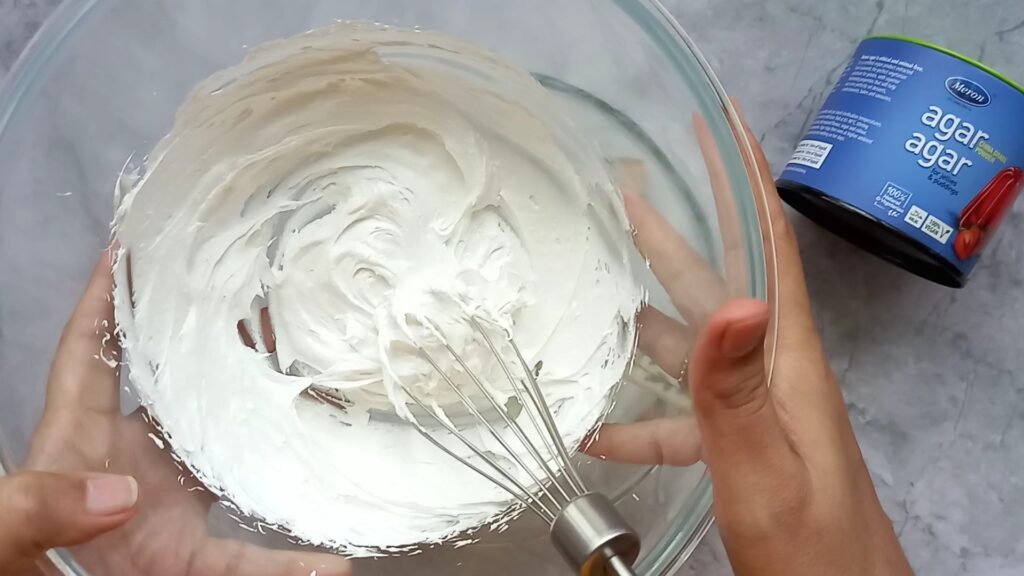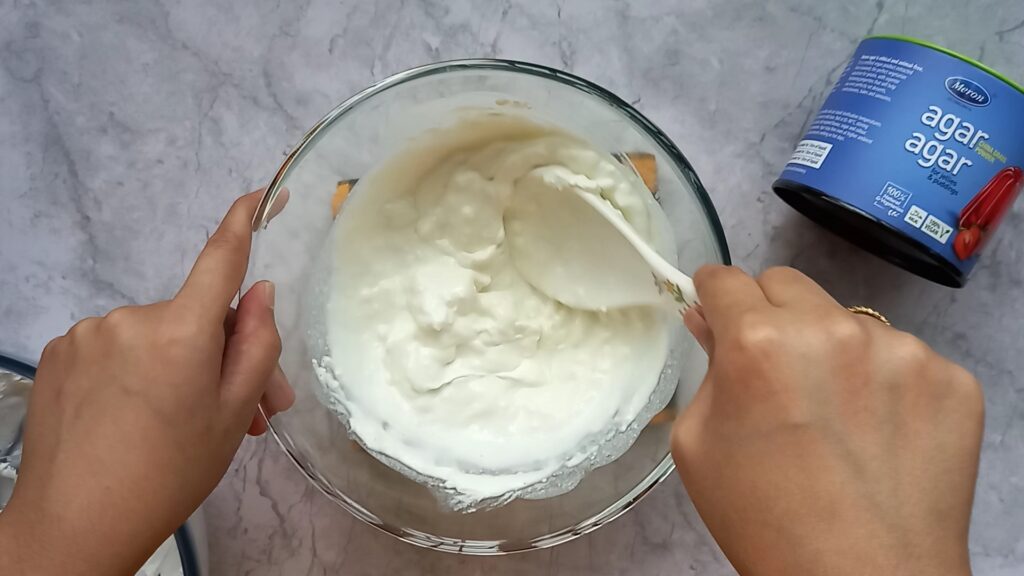 Mix it evenly. You can use whisk. But work fast.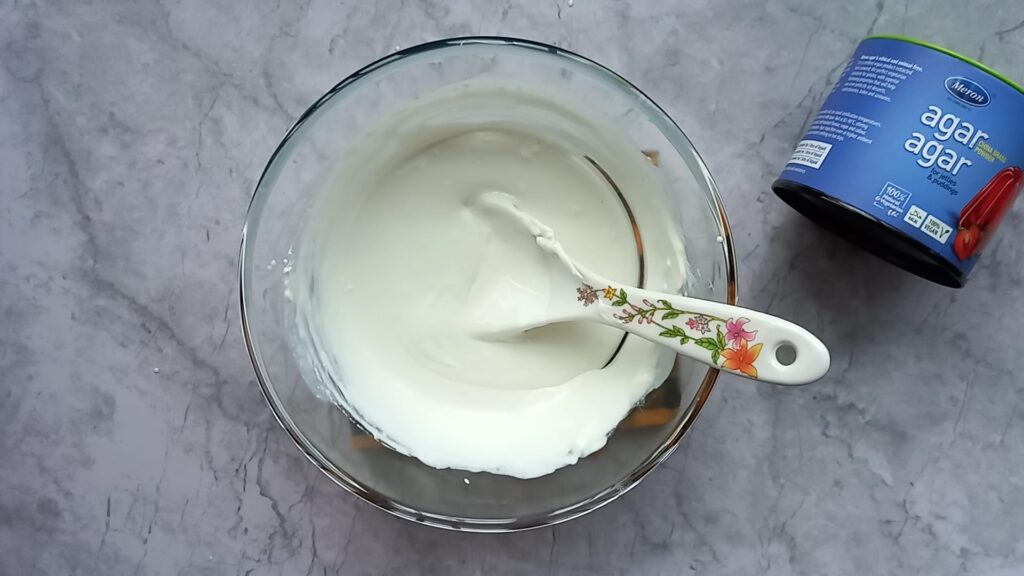 Now, pour this mix over cookie crumb.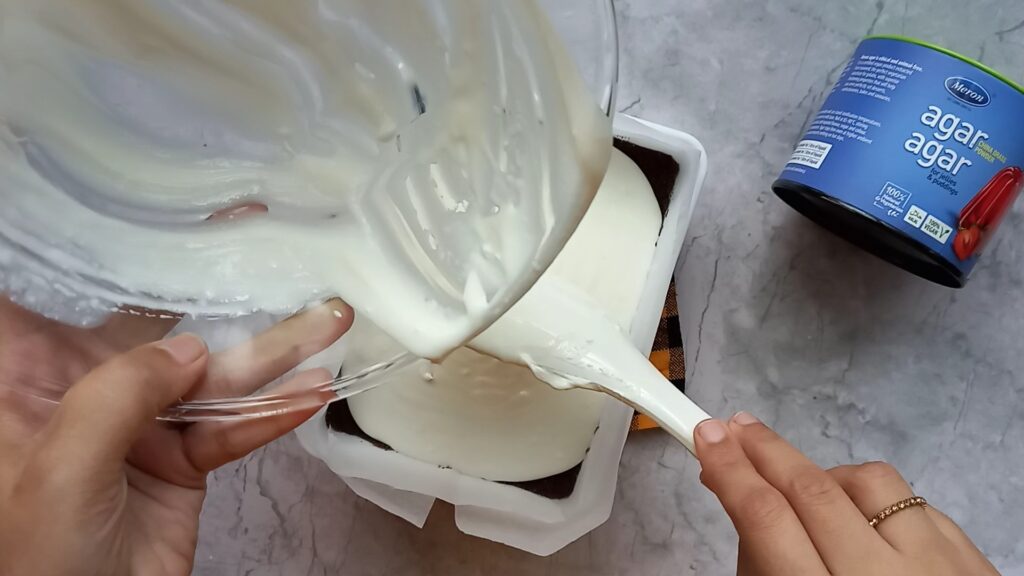 Shake it a bit to level up the cream layer.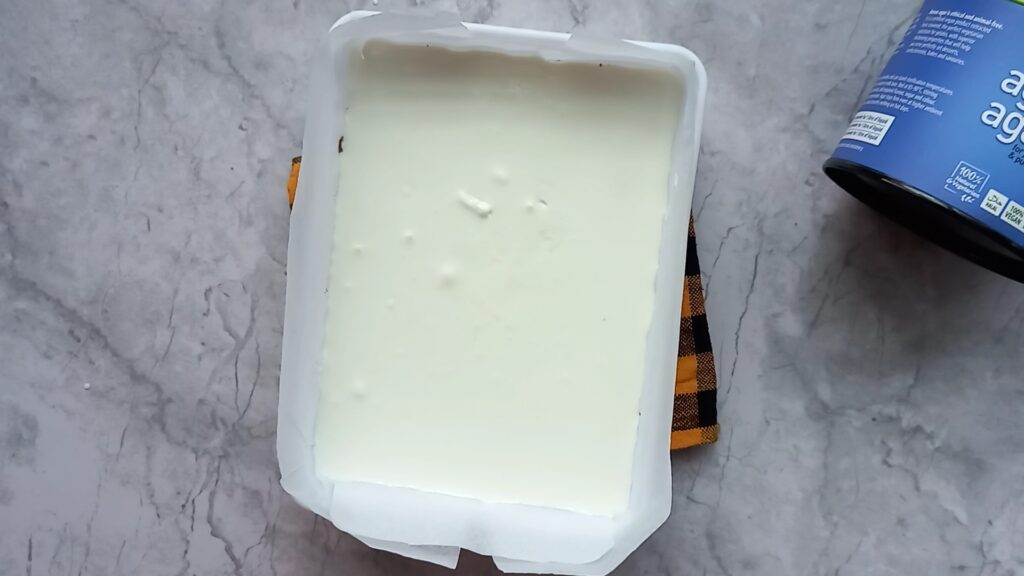 Top it with some oreos. And leave it to set in the fridge for 5 to 6 hours.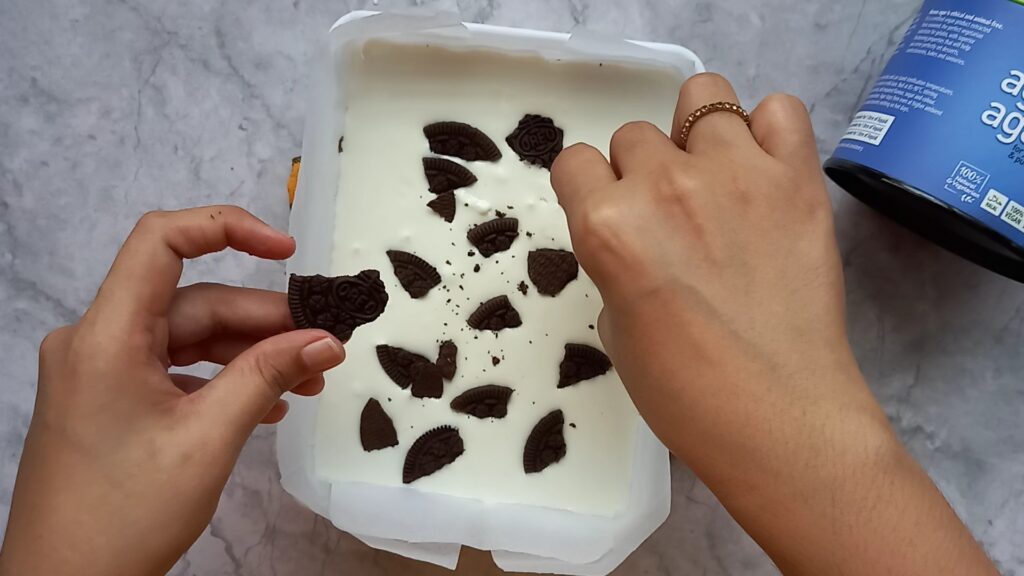 When it is set completely, then unmold it and cut it into equal portions.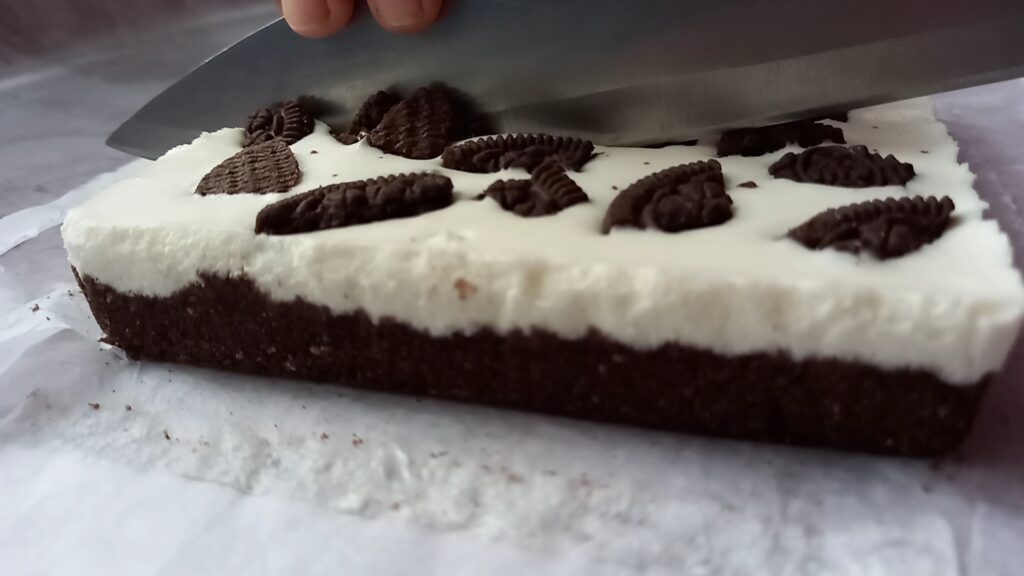 No bake cheesecake bars is ready to serve.