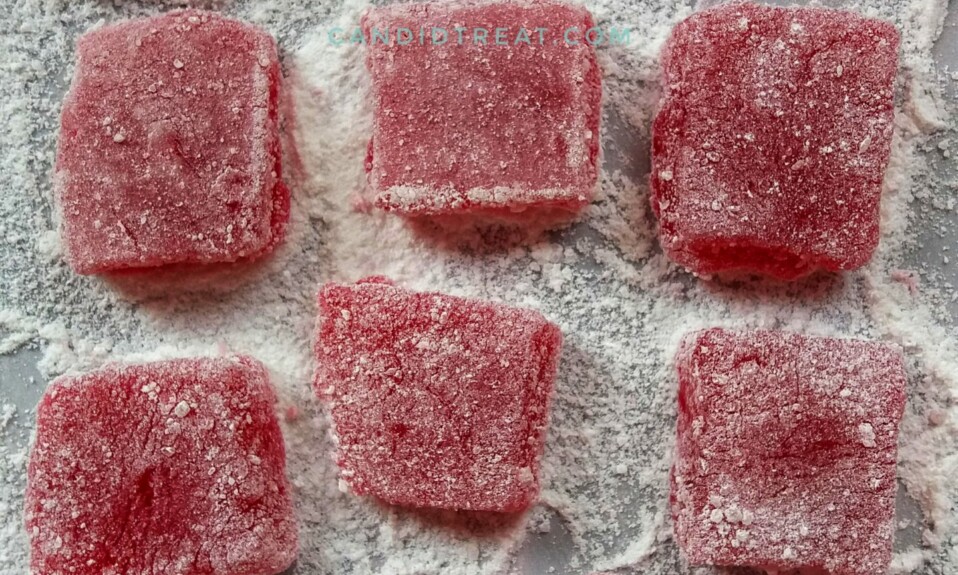 Beetroot jelly- learn how to make beetroot jelly with step by step photos and guidelines. If you think, making jelly is difficult. Do not worry, just follow the steps and you would get the perfect jelly all the time. This beetroot jelly is a healthy and perfect treat for your little ones. You just need 5 ingredients. It is a vegan sweet recipe. The gooey and sticky texture of this jelly is so awesome that it feels like a market one. And the most important thing is that it is made without stabilizers like xantham gum, agar-agar, gelatin. The beautiful purple reddish color has come from beetroot.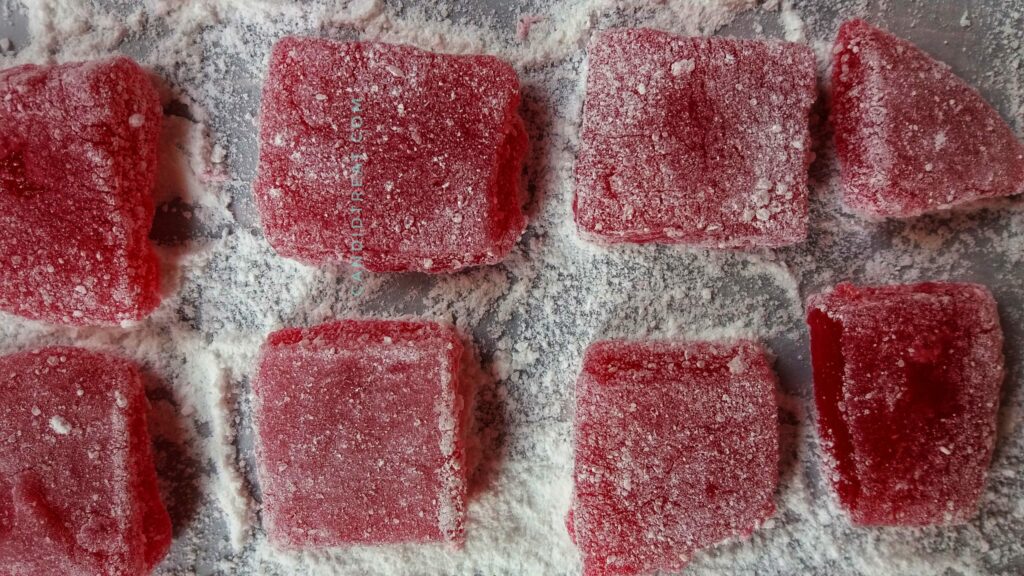 What is beetroot jelly?
Beetroot jelly is the sticky, gooey, and chewy gum candy that is made with beetroot juice, sugar, glucose, lemon juice, and vinegar. This is very simple and delicious. Hey, do not worry about the glucose. It is as simple as making jelly. Yes, you can make the glucose syrup at home.
some other recipe from this site…
How to make glucose at home?
Take a saucepan, add 4 to 5 tablespoon sugar and 2 tablespoon water, and 1 teaspoon lemon juice. Cook the sugar syrup on medium flame and cook it until you get the hard or soft ball consistency. It takes almost 6 to 8 minutes. You can also check the consistency with your eyes, just watch it carefully. When the large bubbles turn into small bubbles then check it by dropping them into water.
How to check the consistency?
Take a bowl with some normal water. Add some sugar syrup into it and check it with your fingers. When you get the sugar like a softball consistency it is ready. Your homemade glucose is ready.
Ingredients
150 ml beetroot juice
6 to 7 tablespoon sugar
15 ml of glucose
½ lemon juice
1 teaspoon vinegar
4 to 5  tablespoon of corn starch
10 ml of water
How to make beetroot jelly?
Take a saucepan to add 1 chopped beetroot. And 180 ml of water. Cook it for 10 to 14 minutes. After that strain the juice.
Now add the juice and sugar. Bring it to a boil on medium flame. Cook for 4 to 5 minutes on medium flame. You can also adjust the sugar quantity. You can also double the ingredients if you want to make a large batch.
Then add glucose. Cook for 3 to 4 minutes on medium to high flame.
Now take some corn starch.
Add water and mix well.
Now add the corn starch mixture and stir continuously on low flame.
Now, add lemon juice and vinegar into it. Mix well.
Then cook the mixture on medium flame.
Cook the jelly until it starts to release from the sides of the pan. Or sticks together and look gooey and sticky. Then turn off the heat.
And pour it onto any plate or mold. First, grease the plate with oil then pour it. Leave it to cool down completely.
When the jelly sets then cut it into pieces with the help of a knife. Grease the knife with some oil. Sprinkle some powdered sugar over it, then turn it on another plate and sprinkle more powdered sugar.
Now, the beetroot jelly is ready to eat. You can also store it in an airtight container in a refrigerator for 1 week or more.