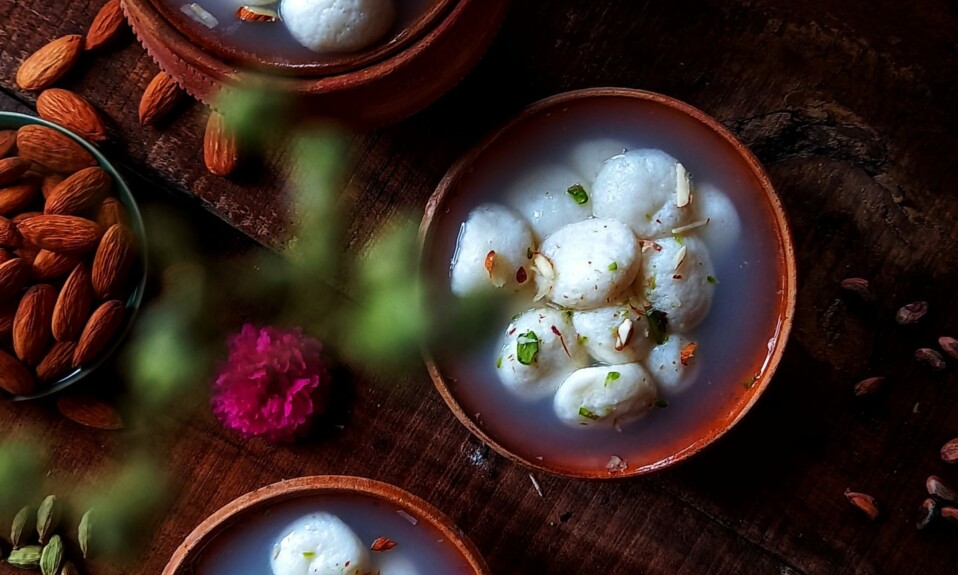 Rasgulla | How to make soft and spongy mini rasgulla | Learn how to make this super spongy and juicy mini rasgulla at home. Watch out for the rasgulla video for more convenience. Rasgulla is one of the most popular sweets in Indian cuisine. It is made with curdled milk. Curdled milk is also known as chena/paneer/cottage cheese. There is a lot of rasgulla variety in India like malai chap rasgulla, ras malai, rasmadhuri, dry rasgulla, etc.
You can make this sweet and juicy mini rasgullas on festivals like Diwali, holi, EID, Dasha Hara, Raksha Bandhan. And I think everyone loves rasgulla. Or if you made this at home, nothing is better than this. So read carefully or watch carefully the entire making process.
What is rasgulla?
Rasgulla is a milk-based dessert and one of the most popular Indian sweet. Rasgulla is widely made during festivals in India. Rasgulla is made with curdled milk. First, we have to separate the chena/paneer/cottage cheese and whey. After the draining process, squeeze the excess water from the chena and knead the chena until it turns smooth. Then pinch a piece of chena and roll it into small round shape balls. After that these small chena balls are cooked in sugar syrup till they are spongy and light. It is very easy to make but you have to follow some steps to make this perfect every time.
Many of them have doubts related to the rasgulla recipe. Their rasgullas shrink and sometimes dissolves in sugar syrup. What kind of milk used for rasgulla? How to knead the rasgulla? In this post, I'll give you the answers to the above questions. So let's start the recipe…
You may like my other recipes from this blog…
Ingredients
1 liter of milk
2 to 3 tbsp vinegar/lemon juice
1 large cup of sugar
1 liter of water
2 cardamom
How to make chena for rasgulla?
First, boil 1 liter of milk on high flame. Keep stirring. Here I used the full-fat packet of milk(mother dairy/Amul). But if possible for you then use cow milk for making rasgulla. If you want to use full-fat milk then you have to boil it and leave it to cool down. Then store it in the fridge for at least 7 to 8 hours. After that remove the excess fat (malai/cream) from the top of the milk. Then use that milk. Because full-fat milk is not good for rasgulla. And here I use that same method for my rasgulla. And it works well.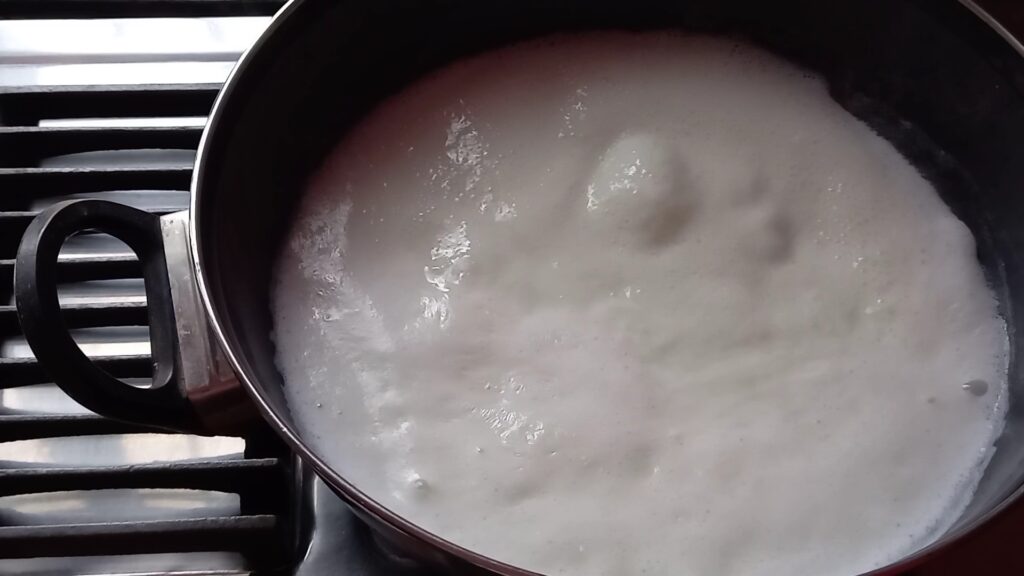 When the milk is boiled then turn off the heat and add 1 glass of plain water. Mix well.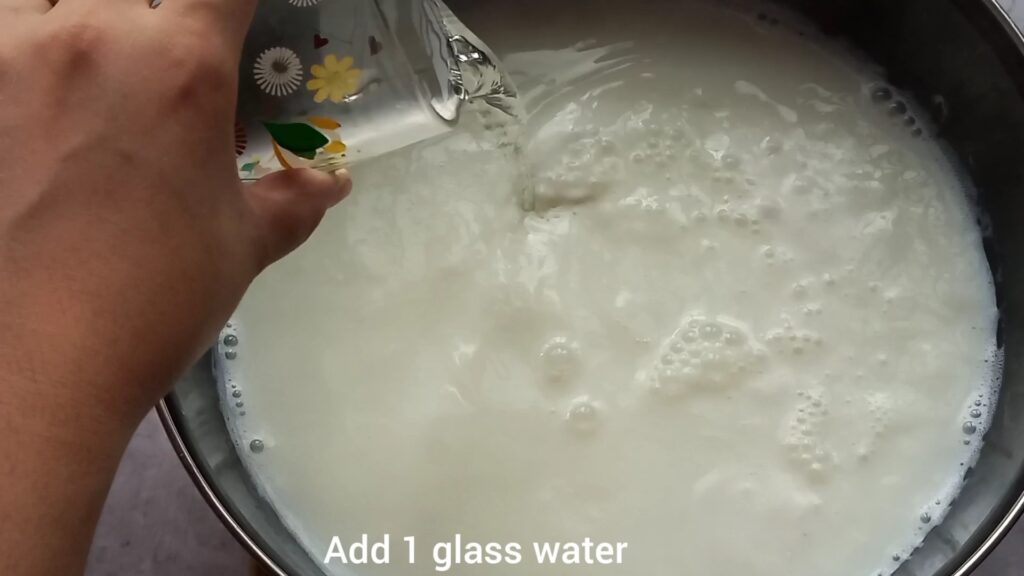 Then add vinegar. And mix it.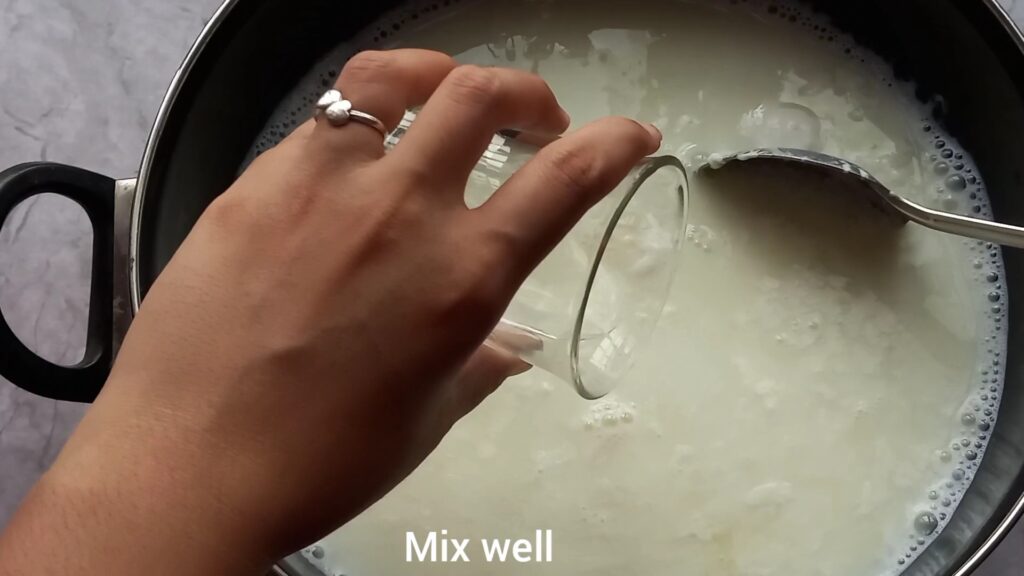 Now you can see the milk starts to curdle.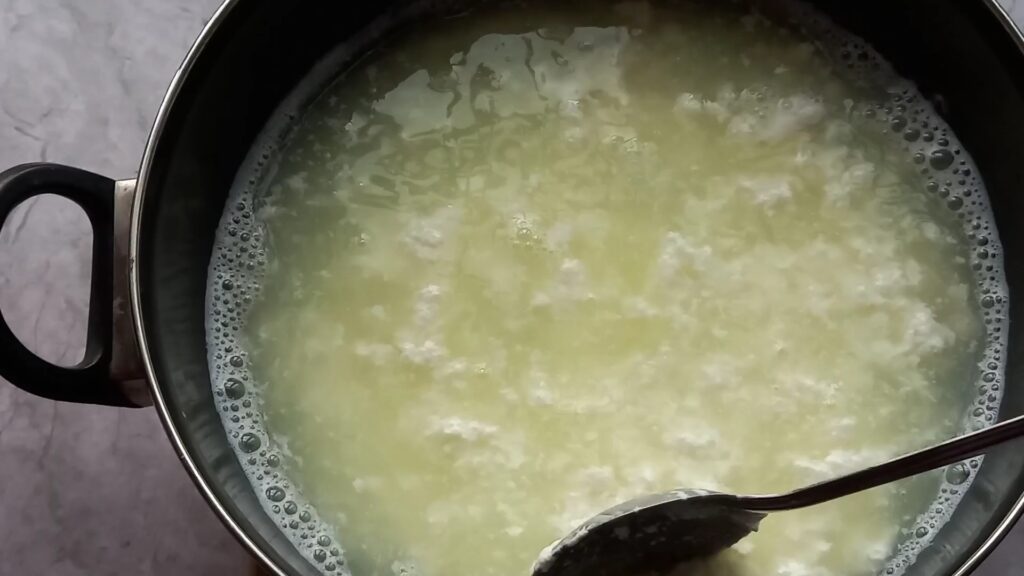 After that take a strainer or colander. Place a thin cotton cloth and drain the chena from water.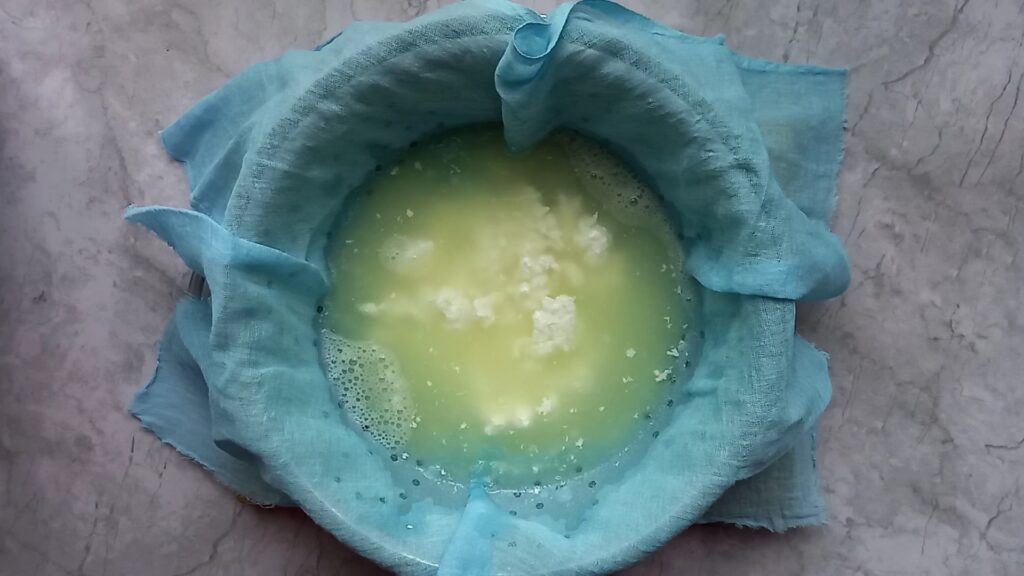 Now rinse the chena with plain water to remove the sourness of vinegar.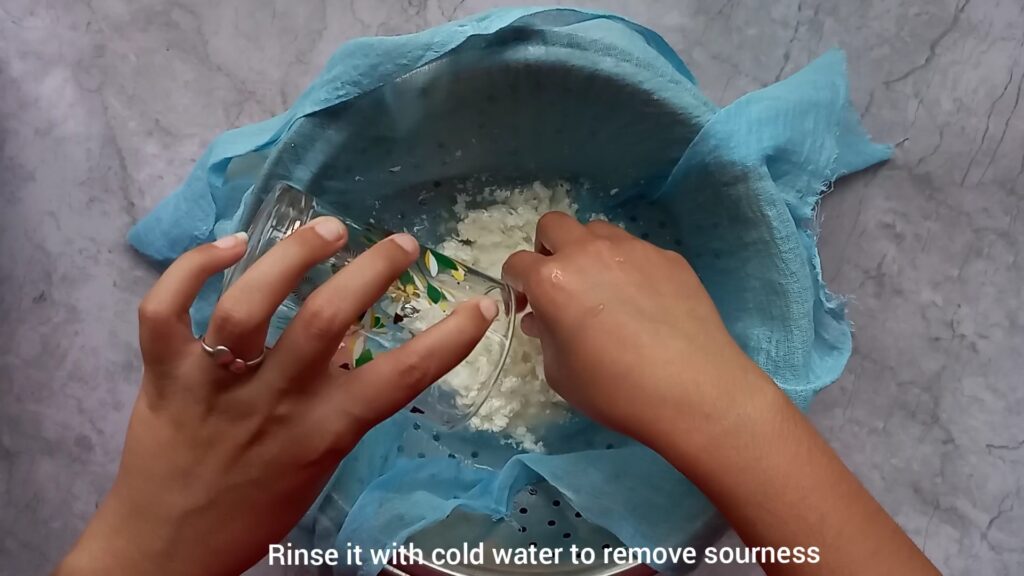 Then squeeze the excess water and place the chena under heavyweight (1 to 2 kg) for 4 to 5 minutes.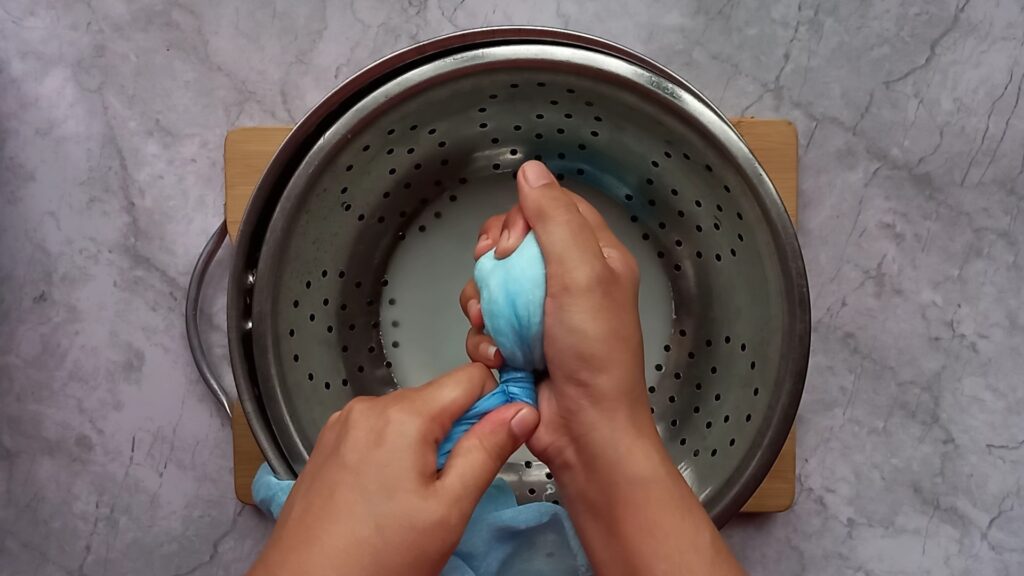 The chena must be moist and not having dripping water from it. For checking it, take a small portion of chena in your fingers and squeeze with little pressure. You can feel the buzzy sound of water and it does not feel completely dry. And the texture of the chena will be moist and crumbly. Then your chena is perfect. Remove it from the cloth and crumble it.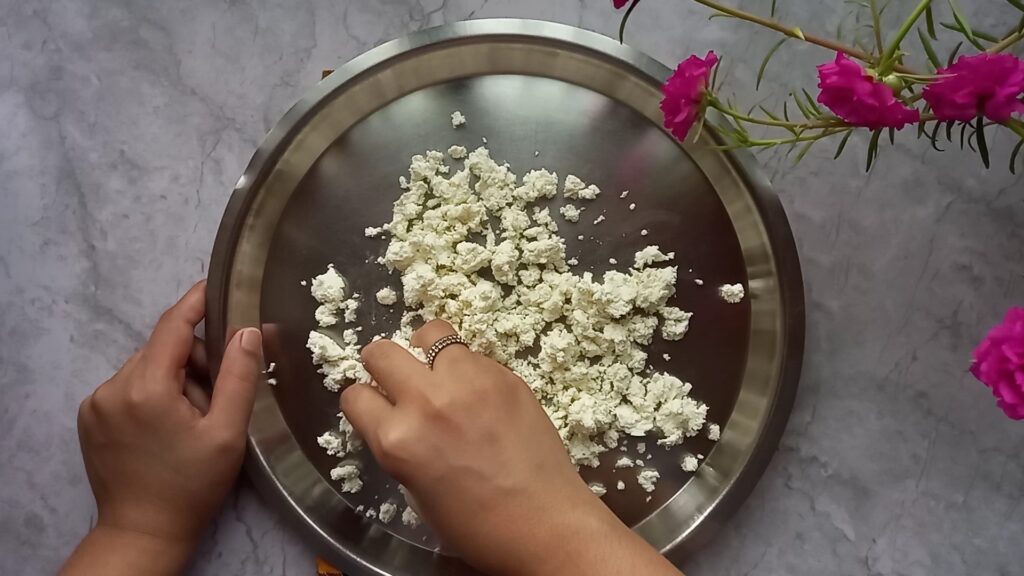 Now, using your palm, start to knead the chena gently until it turns smooth. Do not over-knead it. It takes only 5 to 6 minutes.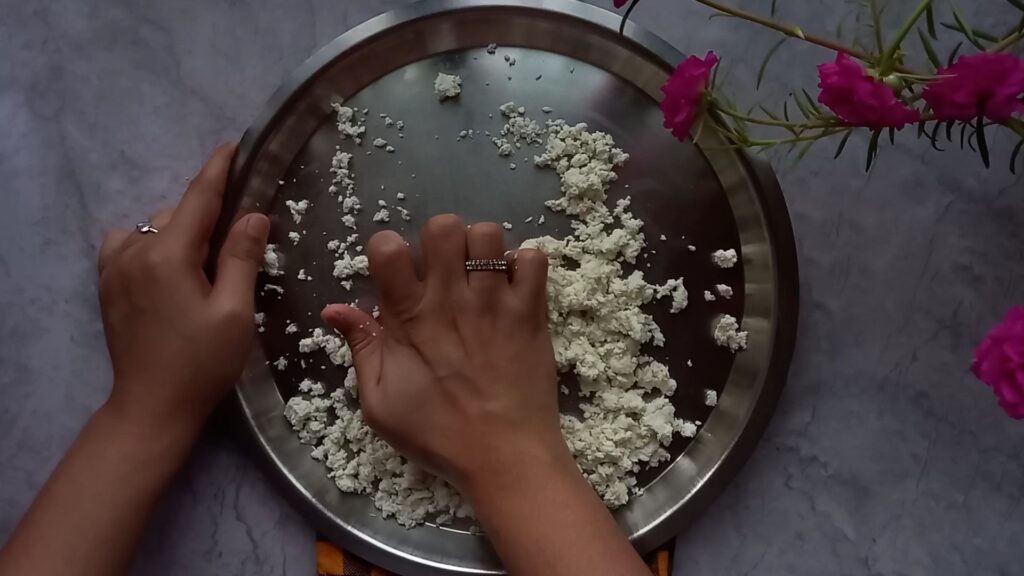 When it is smooth and comes together. Then take a small piece of chena.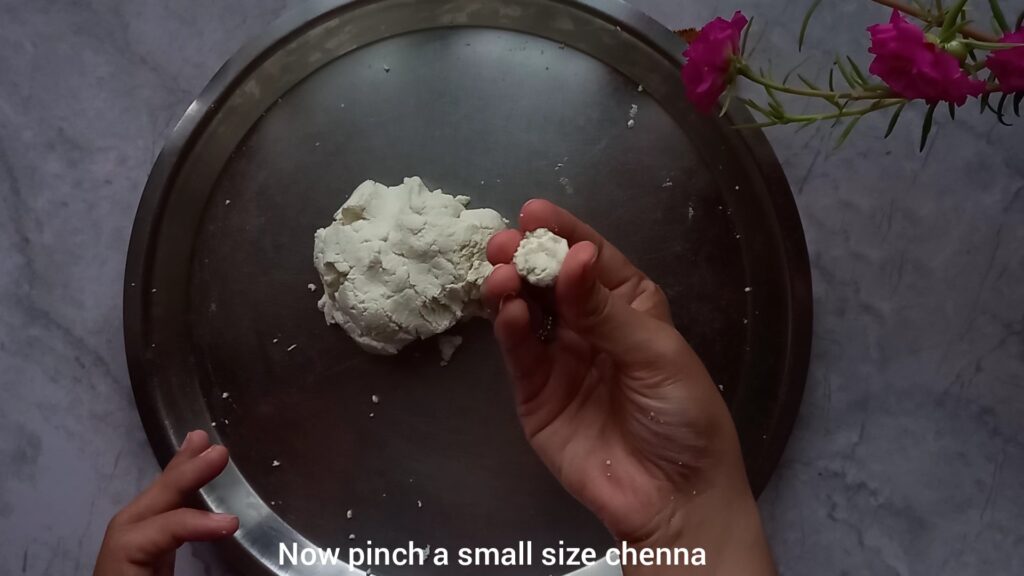 By unsing your hands roll it out.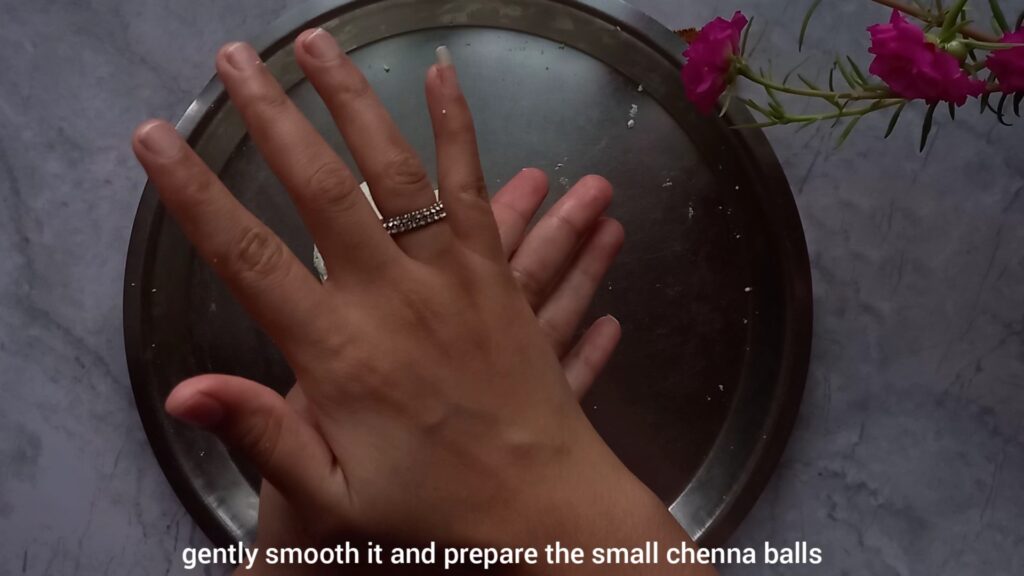 It has to be crack free and smooth.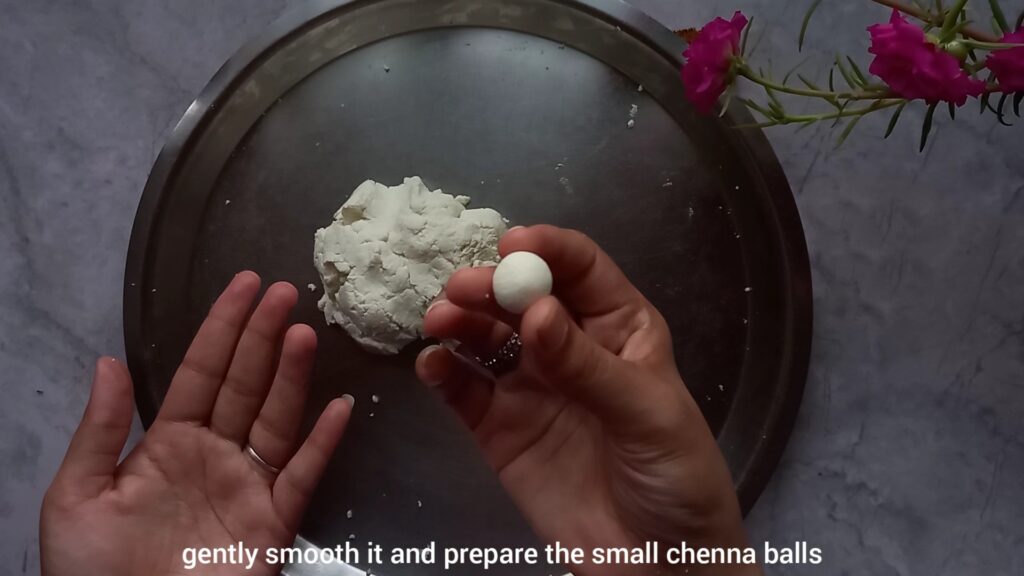 Make all of them like this.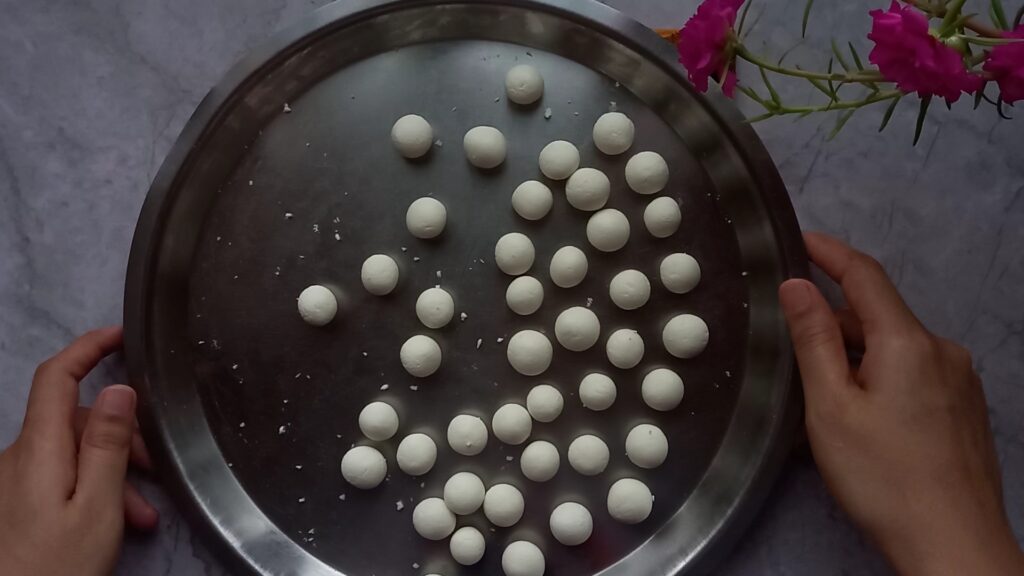 Cover it with any semi wet cloth.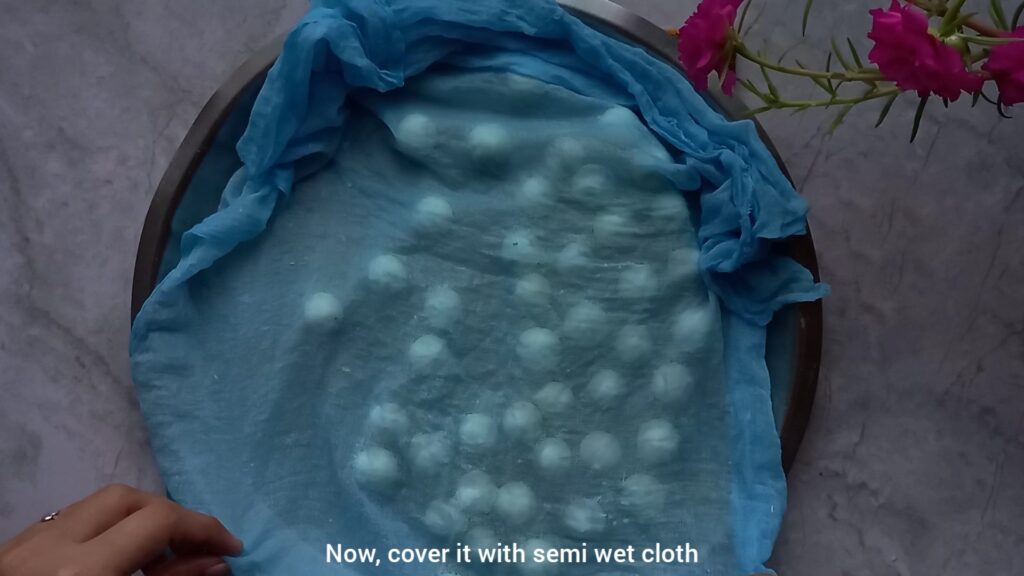 How to make sugar syrup for rasgulla?
Take a large and deep bottom pot. Add water.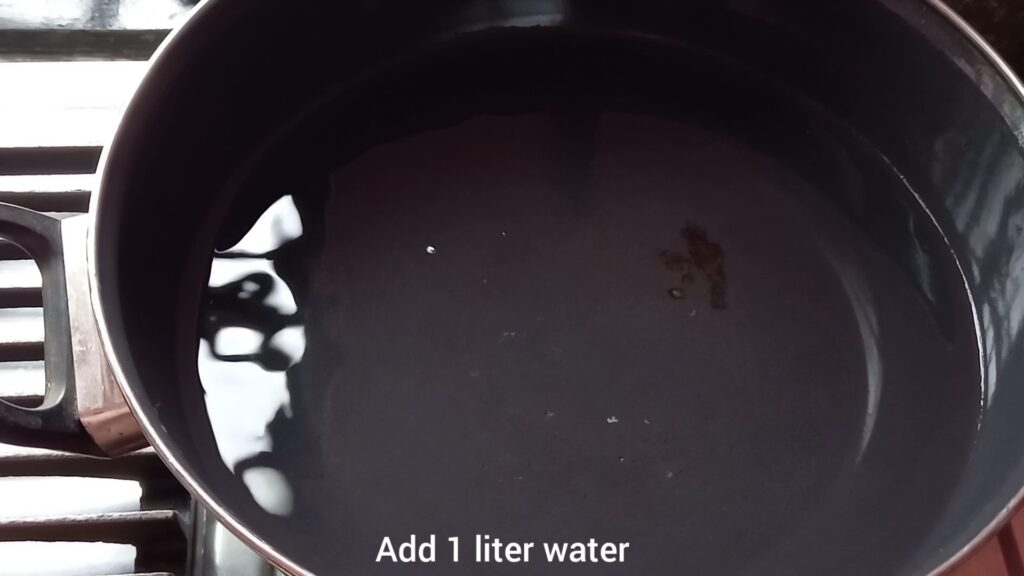 Add sugar. The ratio of the sugar and water will be 1:4 with the same measuring cup.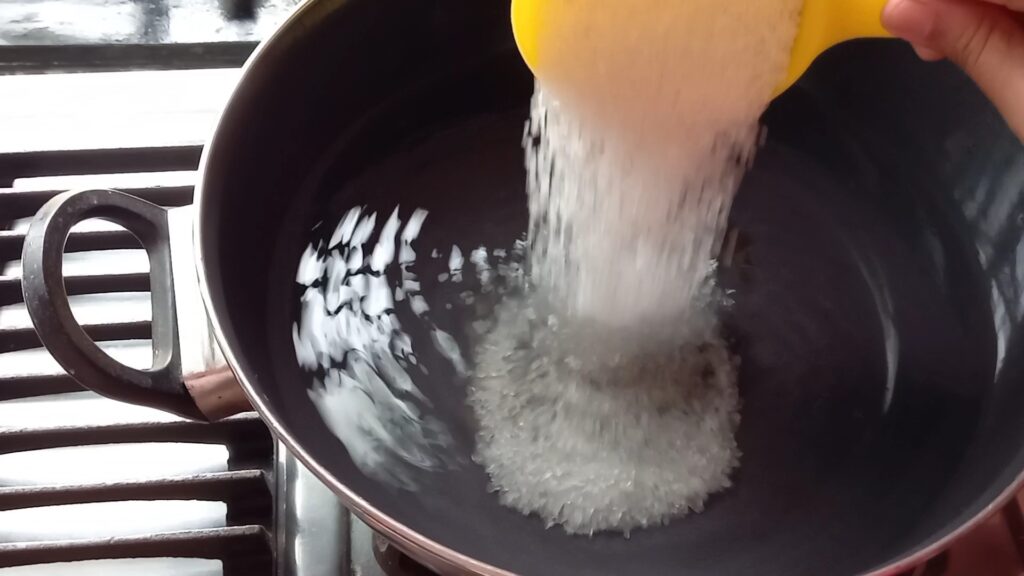 Boil it on high flame for 6 to 9 minutes. Then add cardamom.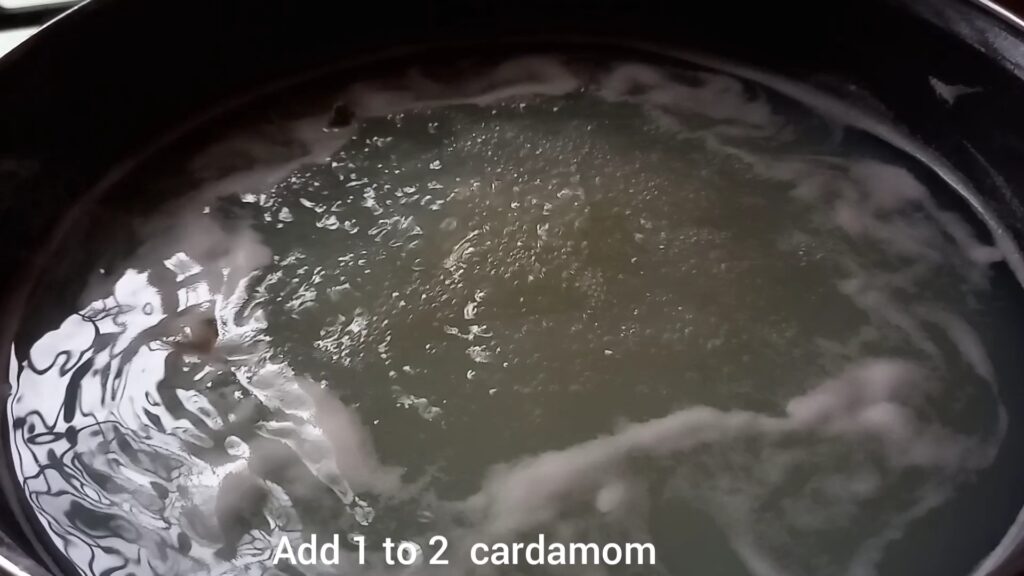 Add chena balls to the sugar syrup. And maintain the flame on high to medium. and do not change the flame while cooking. You have to regulate the flame in that position where the water is boiling.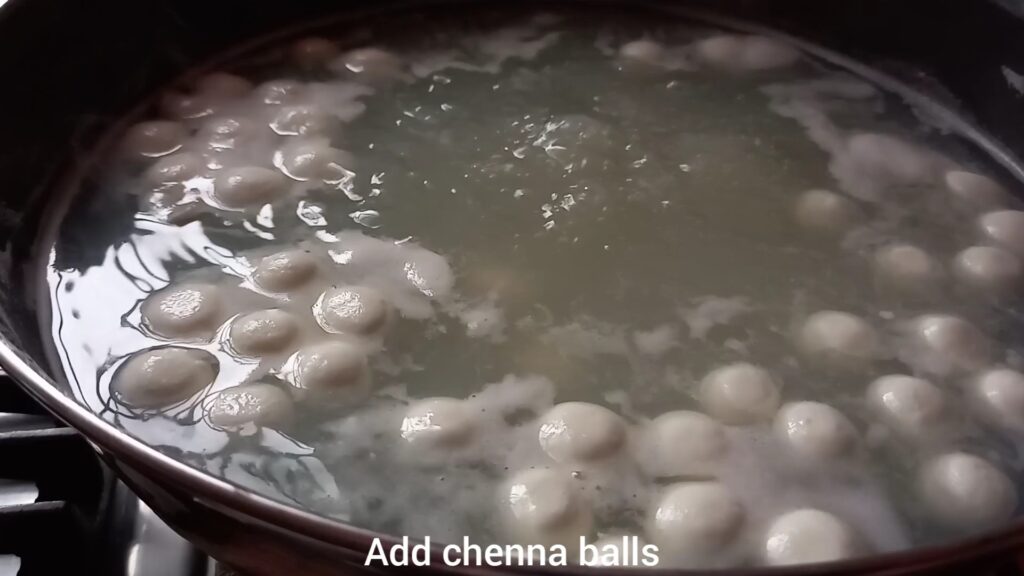 Then cover it with lead and leave it a small gap. Cook it for 12 minutes. After 6 minutes open the lead and gently stir the rasgulla. Again cover it with lead and cook for 6 minutes.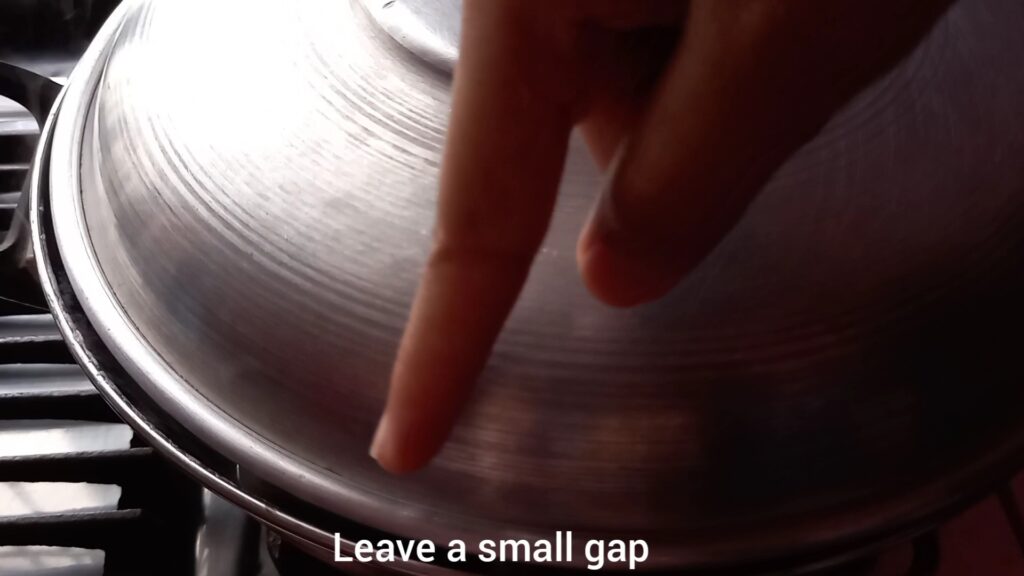 After 12 minutes, turn off the heat. And remove the lead. It may shrink a bit because of the moister release. So do not worry.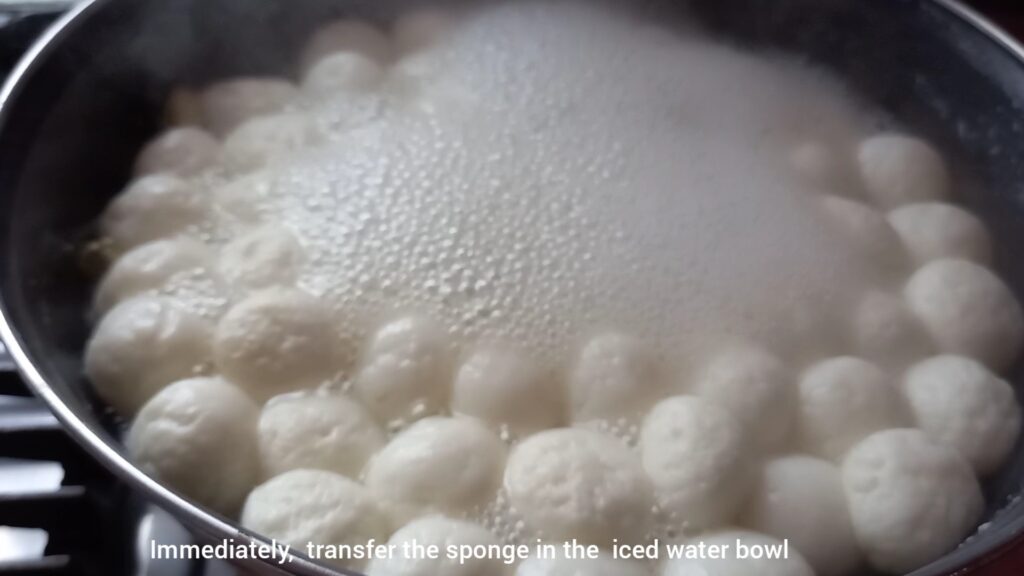 Take a bowl, add some ice cubes and chilled water,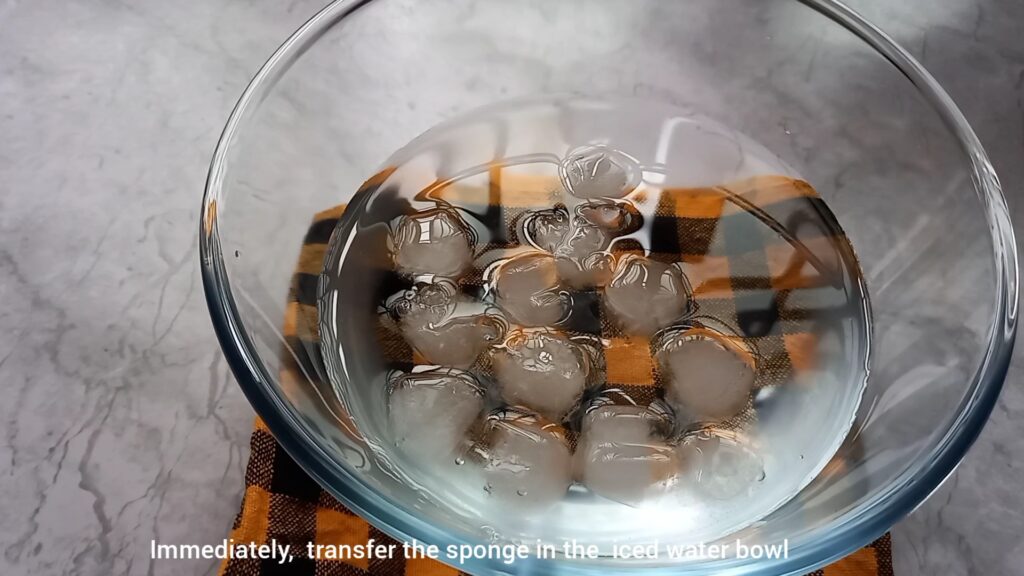 Immediately, transfer the rasgulla to the bowl and leave it for 2 to 3 minutes. It helps to stop the cooking process and prevent it to shrink.
Then transfer it to the sugar syrup. Leave it to cool down completely. Mini rasgulla is ready.
FAQ for rasgulla
Kneading the chena
Do not over knead the chena. Focus on the texture of the chena, not on timing. Knead it with gentle pressure. The texture of the chena has to be moist but not too wet. If your chena is wet then it may dissolve or break while cooking. Or, if you over knead the chenna then it may be shrink after cooking.
What kind of milk use for rasgulla?
Do not use full-fat milk. Use cow milk or packet milk as I mention above. Because excess fat is not good for rasgulla.