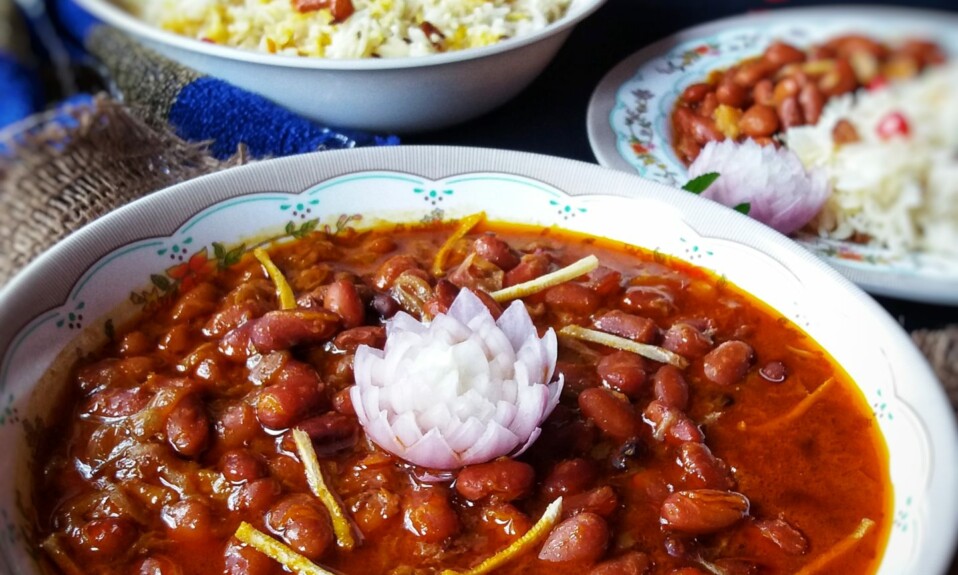 Rajma masala curry- Rajma masala curry is an instant one-pot curry recipe. Spicy and flavorful rajma curry made by pressure cook the beans with some spices and onions. Scroll down for a full rajma recipe with step-by-step photos. These are also called kidney beans. There are many types of beans like some beans that are dark red or brown in hue or some beans are light in color. You can use any type of rajma for this curry recipe. Rajma or red kidney beans are full of protein and fiber.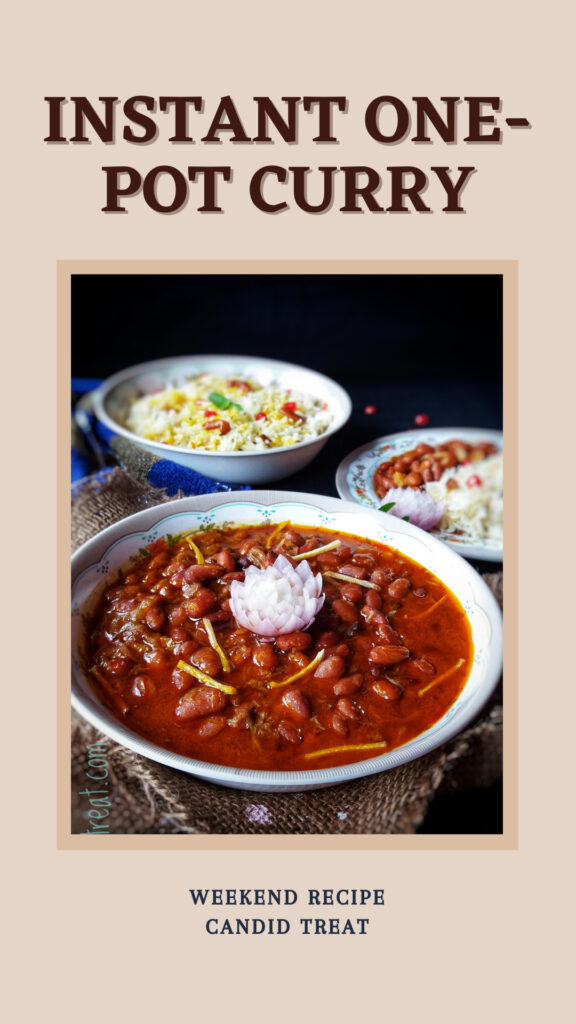 Rajma Masala Curry
Rajma has many benefits. They are high in fiber, folate, and magnesium. That's why we have to use these beans in our meals. Rajma masala curry is paired well with jeera rice, Aloo Dum Biryani (Potato Biryani, Aalu Biryani), or Naan. Add some onion wedges on the side.
Rajma masala curry is the most common yet flavorful and popular vegetarian curry in Indian cuisine. This is made by soaking the red kidney beans overnight and then prepare the spicy curry mix with rajma and pressure cook for 6 to 7 whistles or until rajma cooks well.
Similar Vegetarian Recipes
Some tips for making best rajma masala curry
Types of rajma- Use the best quality of rajma. You can use a lighter or darker one. You can also use tined rajma but using fresh kidney beans give a nice texture and flavor.
Soaking- If you are using fresh one them soak the beans overnight. It is important to step. Or if you are using canned beans then skip this step.
Cooking- Some people cook the rajma alone then again cook with curry. But I don't do this. Just mix all together and cook the beans. It absorbs more flavor of spices. Always cook rajma or kidney beans until tender and soft.
Spices- Use fresh ground spices and also use freshly crushed ginger and garlic. You can adjust chili as per your taste.
INGREDIENTS
250 grams soaked red kidney beans
3 to 4 potatoes cubed
4 medium-sized onions
2 to 3 tablespoon ginger and garlic paste
4 tablespoon curd
Powdered spices(1 tablespoon cumin powder, 2 tablespoon coriander powder, 1 tablespoon garam masala powder, 3 to 4 tablespoon red chili powder)
1 tablespoon turmeric powder
2 And a half tablespoon salt
A pinch of sugar
7 to 8 tablespoon mustard oil
2 bay leaves
1 tablespoon cumin seeds
550 ml water
| | |
| --- | --- |
| Soaking time | overnight |
| Cooking time | 1 hour |
| Servings | 5 to 6 |
How To Make Rajma Masala Curry?
Take some kidney beans and soak overnight.
Another day, slice onions and crush ginger,garlic.keep aside.
Then take a 4 or 5-liter pressure cooker. Heat the oil on a high flame and add cumin seeds and bay leaves.
Add sliced onions and crushed ginger, garlic. You can use ginger, garlic paste too. Saute on a medium flame for 10 minutes or until onions turn golden.
Then add turmeric and salt. Saute for 1 minutes.
Then add all powdered spices and cook on low flame for 5 minutes.
Add sugar into it.
When spices seperates from oil then add potatoes and cook them on low flame for 10 minutes.
Then add curd on low flame and stir it. Cook for 2 minutes.
Now add rajma into it. Cook for 5 minutes on medium flame.
Then add water into it and close the lead. First cook on low flame for 7 minutes then cook on high flame for 7 to 8 whistles until rajma turns tender and soft.
Turn off the heat. Allow to realese the pressure then check the rajma.
If it does not cooked then again cook for more minutes. Because most of the time cooking time is depends on quality of beans. So it is better to check and again cook.
Rajma masala curry is ready to serve. Serve this with jeera rice or with Roti or steamed rice. Garnish with some fresh coriander leaves.