Capsicum curry| Shimla Mirch ki sabji– Capsicum curry with a detailed method with step-by-step photos. Capsicum is one of the healthiest vegetables that are low in calories yet provide many health benefits. Capsicum is used in many dishes like stir fry, noodles, spring rolls, and many more dishes. Capsicum is often used in the restaurant dishes to add flavor. The aroma of capsicum is so good that it always enhances the flavor of any dish.
What is Capsicum curry ?
Unlike other traditional curries, this capsicum curry recipe has a unique combination of spices with poppy seeds and with curd to make this capsicum curry unique. This capsicum curry is very simple yet delicious. It looks so beautiful and appetizing so you can serve this at your house parties and functions. In addition, do visit my other related recipes.
Capsicum curry | When you have nothing more ingredients to add to your curry. Or, want to eat something spicy and tasty with few ingredients then just with capsicum you can make a curry which is so delicious that you'll love it and make it again and again.
The diced capsicum and onions add a hint of sweetness to the gravy. For its gravy, you need onions, tomatoes, crushed garlic and ginger, few spices, poppy seeds paste, and a little bit of curd. This goes well with naan, biryani, flatbread.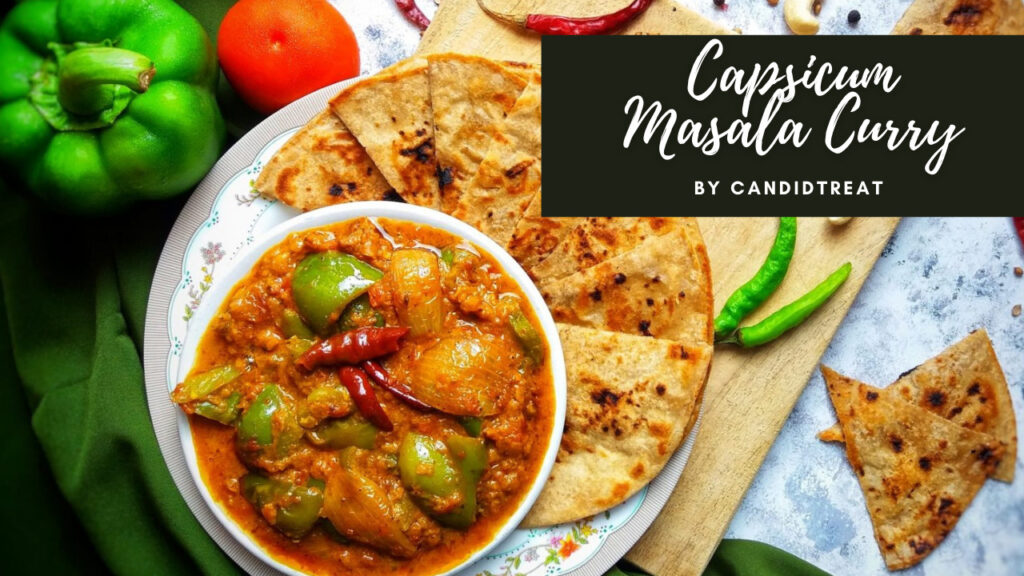 INGREDIENTS
3 diced capsicum
1 onion diced in cubes
3 onions chopped
3 tomatoes chopped
7 garlic crushed
1/2 tablespoon of sugar
4 to 5 tablespoon of poppy seeds paste
1 tablespoon all spices (cumin powder, coriander powder, red chili powder, garam masala powder, turmeric powder)
1 tablespoon of salt
1/2 tablespoon dry fenugreek leaves
2 bay leaves
7 tablespoon mustard oil
1 tablespoon Kashmiri red chili powder for color
5 tablespoon curd
| | |
| --- | --- |
| Preparation time | 15 minutes |
| Cooking time | 1 hour |
| Servings | 5 to 6 |
Procedure of making capsicum curry
First, chop capsicum and onions in cubes.
Finely chop onions and tomatoes. You can use a food processor for chopping. Crush garlic and ginger. Keep aside.
Take a pan add oil and heat it. Add onions and saute for 2 minutes on medium flame and remove it from oil.
Then in the same pan add capsicum and saute for 3 to 4 minutes on medium-high flame. Remove from oil and keep aside. Here we saute these things just to remove raw flavor we want the crunch so don't overcook. Or if you did not like raw texture then cook for more minutes until it is completely soft.
On the same pan add bay leaf and 1/4 tablespoon cumin seeds then add onions and garlic. It takes 20 to 25 minutes on low or medium flame.
Meanwhile add salt in it.
Add turmeric powder. Then cook for 15 minutes. When onions turn golden in color then add spices. Cooking onions are the most important step in restaurant-style gravy.
After that add all powdered spices in it. And cook on low flame for more 10 minutes.
Then add tomatoes and cook for 15 minutes on medium flame.
Add curd into it and stir it continuously for 40 seconds.
Then add poppy seeds paste and mix it well. For poppy seed paste you need to soak the poppy seeds for 20 minutes then grind them into a fine paste. Cook it more 7 minutes.
Add sugar to balance the tartness of curd and tomatoes.
Now you can see the spices separates from the oil. Then add water, not too much just to adjust the consistency of gravy. I used 30 to 35 ml of water.
Cook the gravy for 15 more minutes then add fried capsicum and onions. Cook for 3 to 4 minutes on medium flame.
Finish it by adding dry fenugreek leaves into the gravy and mix well. Turn off the heat and serve hot.
Serve this capsicum curry with paratha or whatever you like to eat with this.