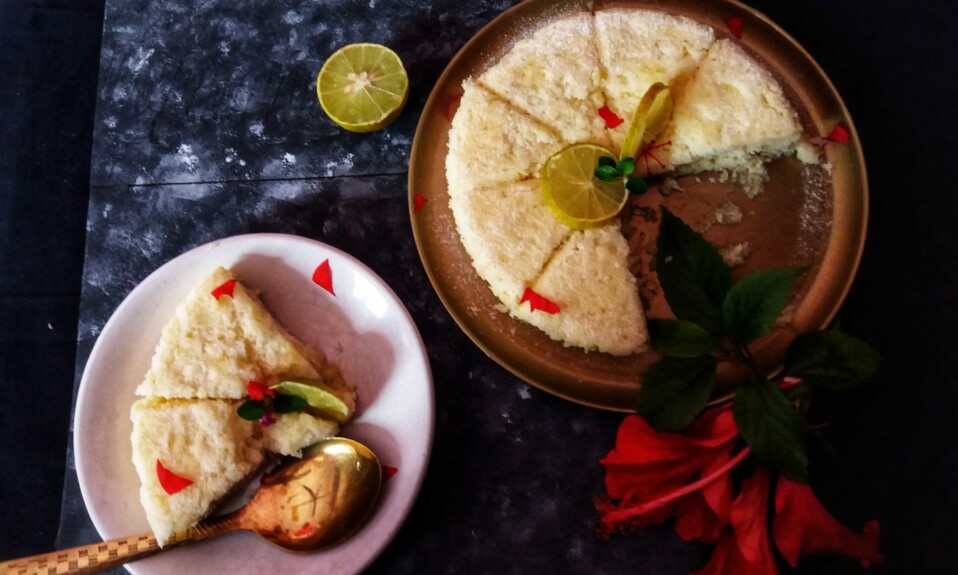 Lemon cake with soft cotton-like texture, also with citrus and tangy flavor of lemon which boost your taste buds. Lemon cake is one of my favorite cake and this time, I made this without oven and it comes out perfectly. You can use an oven or microwave for this recipe. The recipe will be the same for all cooking techniques, whatever you want to use just time setting changed with this, like for oven cooking time 35 to 40 minutes, for microwave 6 to 7 minutes or with pressure cooker 25 to 30 minutes. Later, I'll give you all directions related to the cooking process. If you like this or you want more dessert like this one, go for CandidTreat.
We all love cakes and from always it has been a part of our celebration like birthday, marriage ceremony and on any good occasions. If you are a lover of fresh lemon and you like citrus. This is perfect for you and once you try it you gonna love this cake. If you are thinking about how it is possible to make a cake in a pressure cooker but yes it is true and the final product is awesome. Don't worry about this just follow step by step. It has a perfect blend of citrus and sweet flavor in this cake. You can enjoy this with your tea or like a dessert. It can be served warm if you like warm. But I like my cake chilled. I'll show you step by step photos and details.
Instructions
Always use fresh lemons and for extra kick use lemon zest. Lemon zest contains a lot of flavor of lemon. Use freshly squished lemon juice for this recipe.
a kiss of salt makes better because in all cakes a kiss of salt enhances the sweet flavor.
If you want to use oven then preheat your oven on 180 degrees Celcius for 10 to 15 minutes and bake for 35 to 40 minutes but check it occasionally. If you are using the microwave on convection mode then bake for 6 to 7 minutes, check it after 5 minutes then again back for 2 to 3 minutes depending on your batter how sticky is that.
Or, if you use a pressure cooker then the backing time will 25 to 30 minutes. you can use sand or salt on the bottom of the pressure cooker.
use clean bowls for eggs. It is important to step because if your bowl is not clean then your egg whites not fluff properly.
use icing sugar or you can grind sugar in the mixture for making a homemade icing sugar.
for beating egg whites use 1/2 tablespoon lemon juice or cream of tartar or vinegar. you can use any one of these.
Ingredients
2 eggs
1/2 lemon juice and a pinch of lemon zest
20 grams of refined flour
5 ml of oil
a pinch of salt
1/4 tablespoon baking powder
30 grams of icing sugar
1/4 tablespoon vanilla extract
Recipe
In a pressure cooker add either salt or sand then place a plate or any stand. Turn on the flame and on low flame pre heat pressure cooker.
Take two bowls, separate egg yolk, and white.
Add vanilla extract in the yolk.
add 1/4 of sugar, salt, baking powder and whisk it.
Then add oil and lemon juice, zest, whisk it.
After that add flour and whisk it, don't worry if your batter is a little bit runny. It's ok.
Take a 7 or 8 inches pan and grease it with butter, coat it with some flour.
for beating egg whites add lemon juice and whisk it for 1 minute. I am using a hand blender for whisking.
Then gradually add leftover sugar and beat it for 10 minutes, for until it forms stiff peaks.
Now, add it on yolk batter.
then pour it into the pan and tap it.
place it in a pressure cooker and close it, before closing the lead make sure that remove whistle and rubber band of the lead. Bake it for 25 minutes, then check it with a toothpick or with a knife. Or it comes come clear then turn off the flame or if not then cook for more 5 to 10 minutes.
Then remove the pan from the cooker allow it to cool down, loosen the sides with the help of a knife, and demould it. Keep it into the fridge for 3 to 4 days.