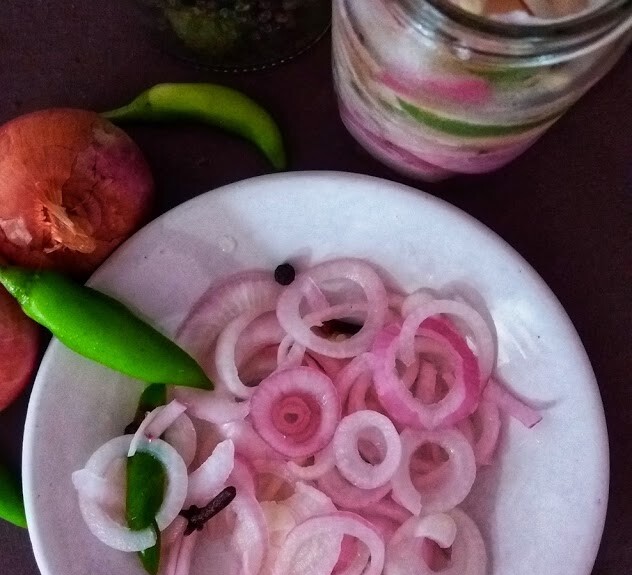 What are Pickle Onions?
Pickled onions are made with a simple solution of vinegar, sugar, and salt, often with some other spices or herbs. I personally love pickled onions with my burger, biryani, chicken and mutton curry, and so on because the list of good food never comes to an end. This bright, sweet, and tangy condiment goes well with countless dishes and adds more flavor to your meal. I am so addicted to pickled onions that I always have a jar in my refrigerator. pickled onions generally used in foreign countries but now, in India, it is very popular as a complement to dishes.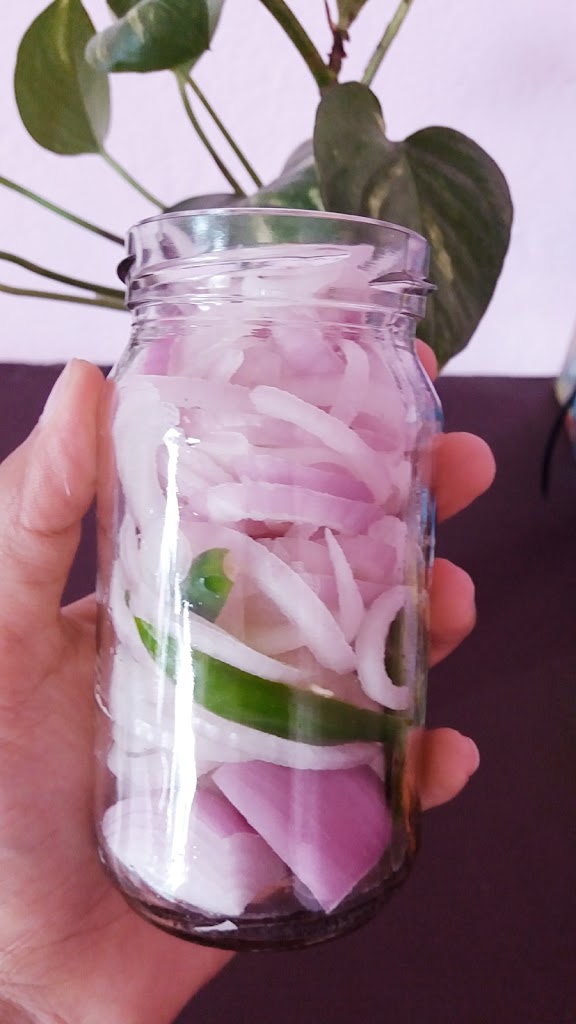 Especially, it is used in restaurants but many people start making it in their house. It takes about 10 minutes to assemble and lasts for 2 to 3 weeks in the refrigerator. Pickled onions served as a condiment for lunch or dinner. The recipe is very popular and people love them with their food and it is generally served in restaurants as a compliment with the food. It can be made with different ingredients and vegetables which is stored and preserved in salt and vinegar water. I personally like it as it is with salt, sugar, vinegar, and some chili and serves it as a compliment with my meal especially with heavy and rich meals like chicken curry, biryani, and so on.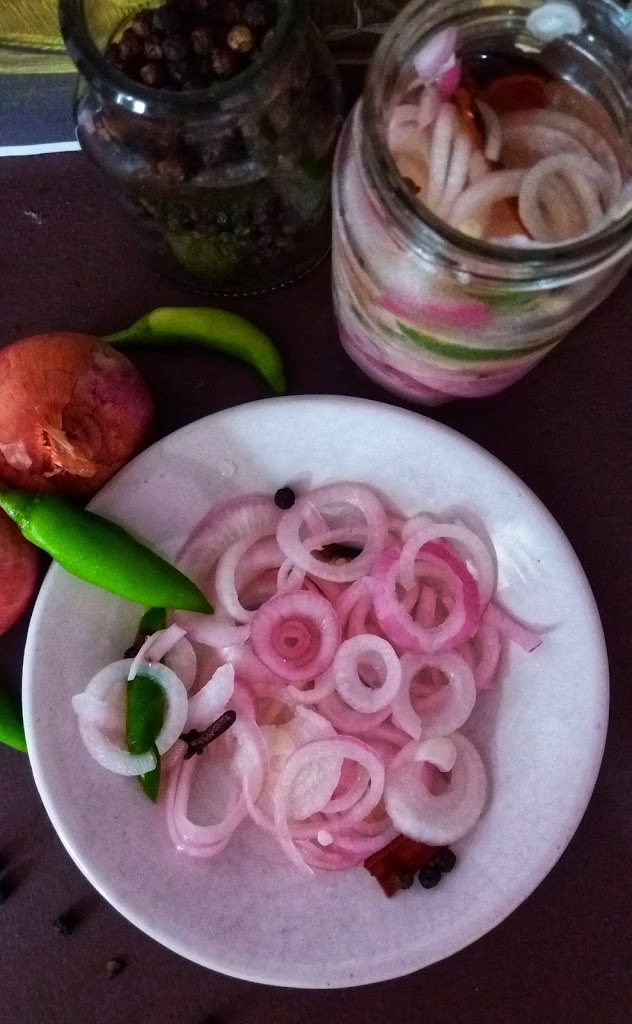 Onions
I usually take red onions for pickling. Red onions have stronger taste rather than white onions but you can use white onions. I prefer sliced onions because it socks more flavor in less time and I love slices because it easily comes out from the jar. But if you want big chunks then just cut in half. You can eat pickled onions with burgers, spicy roast chicken, biryani, mutton curry, and also goes well with tacos, different types of rolls, egg rolls, many more. It just depends on your taste.
Flavors
You can adjust your pickle as your dish requirements. We can use Asian spices like cinnamon, star anise, cloves, bay leaf, or some herbs like oregano or garlic, ginger, red or green chili.
Ingredients
3 onions (this changes with your jar size I use a full jar )
2 tablespoon sugar
1/2 tablespoon salt
1 green chili
half jar vinegar
half jar boiled water
3 cloves
1 cinnamon stick
3 black pepper crushed
honey (optional if you want to avoid sugar)
Method
Take onions and peel the skin and cuts into slices. If you want whole onions then just cuts into a half-moon shape. I personally love sliced onions because it absorbs more flavor.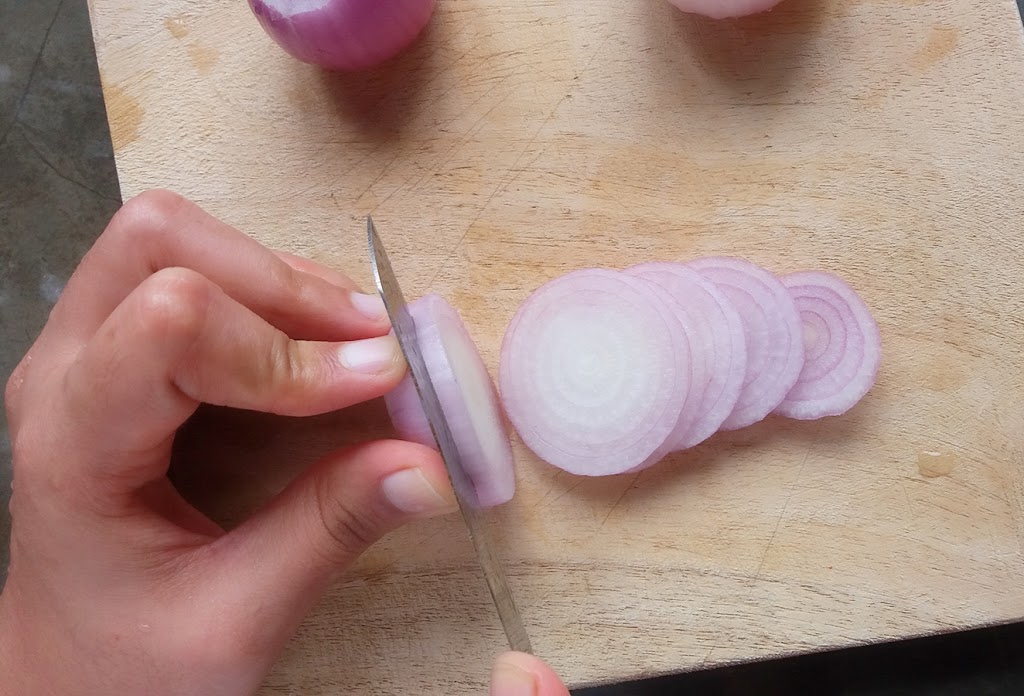 Take that jar which you use for storing and measure half jar water and boil water. When the water boiled. Turn off the flame and add sugar, salt, cinnamon, cloves, black pepper. Mix it and allow it to completely cool.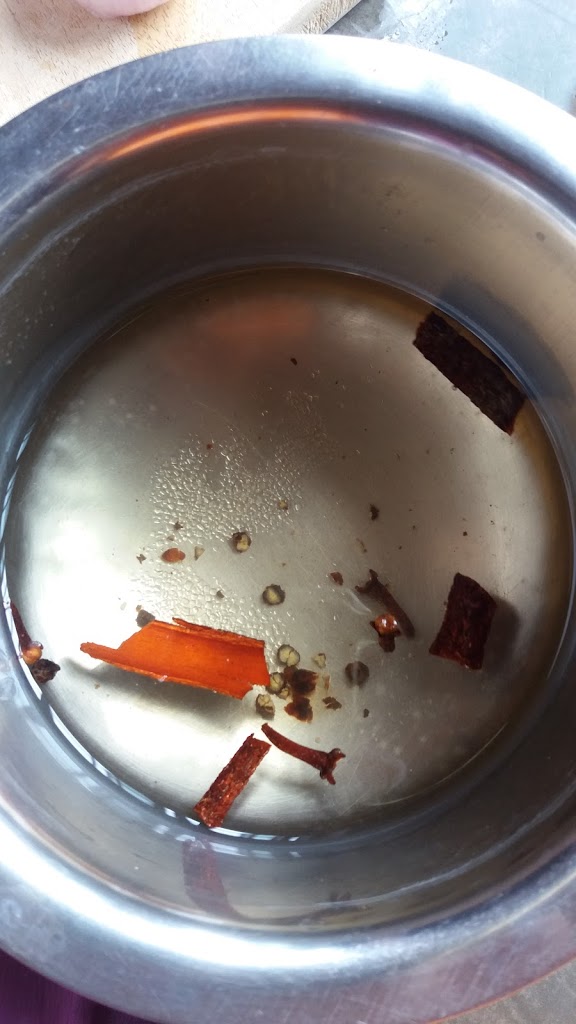 After that pour half jar vinegar and add onion and sliced green chili. then add water and mix it.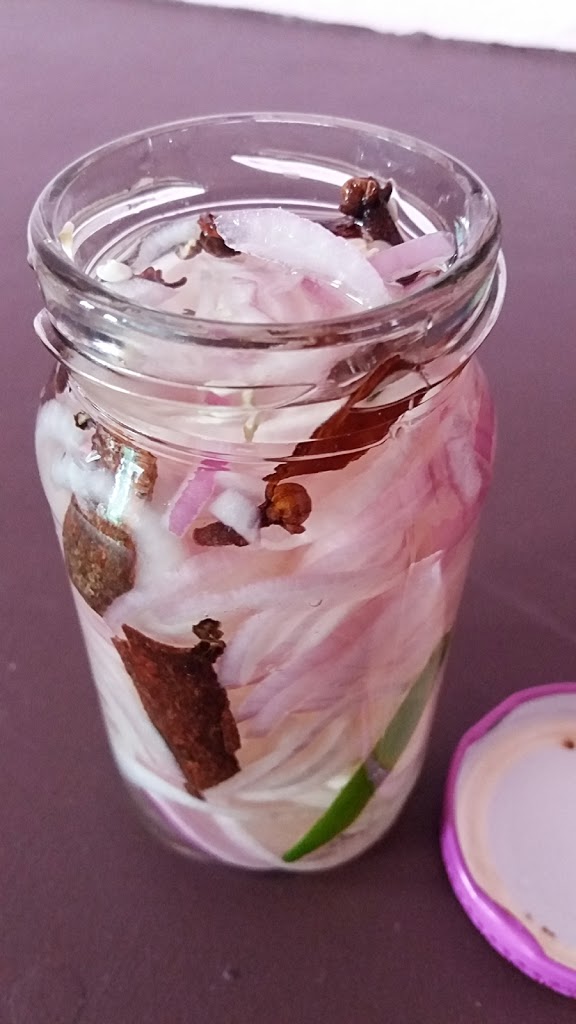 Now, store it in the refrigerator, leave it for at least 24 hours to absorb flavors. It is ready to serve and lasts for 3 weeks to enjoy with food.
You can also use apple vinegar instead of white vinegar or if you want a restaurant like the color then add 2 to 3 cubes of beetroot and boil them with the same water which you use for pickle.and sieve it and pour it in a jar.
With this method, we can make pickles with other vegetables like cucumber, carrot, cabbage, chili.
for more like this recipe updates follow me on Instagram handle candidtreatofficial and on my Facebook page Candid Treat.